The Toronto Maple Leafs are not looking towards the playoff race as we stretch through March, but instead to the 2016 NHL Draft Lottery, where they currently own the greatest odds at winning the sweepstakes and the first overall selection.
This is a franchise looking ahead to the future for optimism, with only four forwards, three defencemen and one goaltender remaining from the season opener of 2015-16.
It has been the young guns who were called up around the trade deadline which have been under the watchful eyes of management, using the remainder of the season as an early try-out before attending training camp next fall.
After trading away six NHL players prior to the deadline, and another four UFA's and seven RFA's pending for July 1st, the Leafs lineup is sure to look much different come October 2016.
Just how different with the lineup be? It is sure to be loaded with young talent, with many prospects primed to play their first full NHL season. Management will also likely need to sign several free agents to fill roster spots, as well as give them a few extra assets for the 2017 NHL Trade Deadline, similar to the deals they made this past February.
Who Will Return From 2015-16?
Forwards: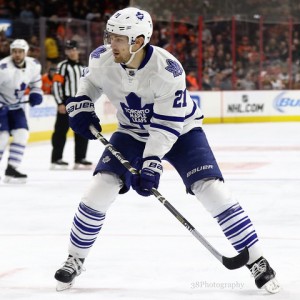 James Van Riemsdyk is far and away the Leafs best forward, and has two years remaining at $4.25M per, a great price in today's market. Tyler Bozak has turned into the Leafs second-line center, behind Nazem Kadri, and also has two years remaining with a $4.2M cap hit. Leo Komarov was the Leafs representative at the 2016 NHL All Star Game this year, and likely their MVP as well. He has two years remaining at $2.95M.
Among the list of pending free agents, the Leafs will certainly bring back Kadri to either a bridge deal, or a long-term contract. He has been a bright spot this season, and will battle to be the number one center with Bozak. Peter Holland has also had a decent year, and should re-sign with the Leafs for a few more seasons, adding 26 points in 63 games thus far.
Of the four UFA's, the Leafs do not necessarily have a need for any of them. Boyes and Arcobello could return, but would likely spend the majority of the season in the AHL, and would serve as trade assets at the trade deadline.
Defence: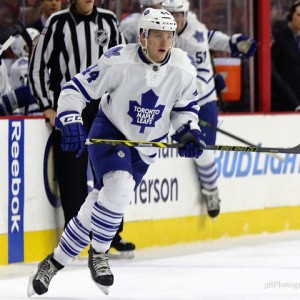 Mike Babcock is fond of Jake Gardiner, who is signed through 2018-19 with a $4.05M cap hit, and will be one of the top defencemen on the team. Matt Hunwick has also been solid in a leadership role this season, and has one more year at just $1.2M.
Pending RFA, Morgan Rielly, will be the number one priority for the Leafs this offseason. He has become a tremendous defenceman and should be signed long-term. The other two RFA's will be much more interesting. Martin Marincin, 24, and Connor Carrick, 21, will both need new contracts, not to mention several RFA's in the AHL as well. They would definitely love to re-sign all of them, but Marincin and Carrick should stick around for sure.
Goaltenders:
Jonathan Bernier is signed for one more season, and will need to have a bounce back year in order to earn a contract, but regardless, he will at least split time in the crease again in 2016-17. Garret Sparks has been promising in his rookie season, and as an RFA, will likely be brought back on a two-way deal. However, it may be smart to give him the starter's role in the AHL for 2016-17, instead of having limited time with the Leafs.
Who is On Their Way Out From 2015-16?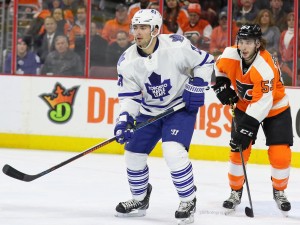 Joffrey Lupul and Milan Michalek both have ugly cap hits for guys who struggle to stay healthy. The Leafs will try to trade both of them, with a buyout imminent if there are no valuable offers. Buying out Lupul would cost the Leafs $1.5M over four years, saving them $3.75M in '16-17 and $2.25M in '17-18. As for Michalek, a buyout would cost $1.33M over two years, saving the team $2.67M next year. Jared Cowan is also likely to be bought out, which will cost Toronto just $750,000 for two years, saving them $3.75M next year.
Four UFA's, Michael Grabner, P.A. Parenteau, Brad Boyes, and Ben Smith will likely all be let go.
Being sent to the minors would be Colin Greening and Zach Hyman, who have both impressed the Leafs' brass and would present two solid call-up forwards. Rinat Valiev and Viktor Loov should also be returned to the AHL, where they would represent a very talented top-pairing, both of whom would be available for call-up, as well.
Who Could Be Brought In for 2016-17?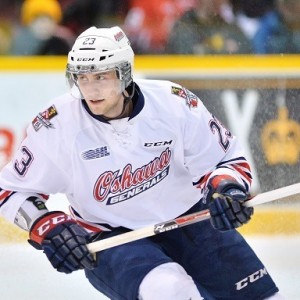 Internally, the Leafs look prepared to add a number of young prospects into their lineup. William Nylander and Nikita Soshnikov seem to be virtual locks to start the season in the NHL, while Tobias Lindberg and Dmytro Timashov seem to be intriguing considerations as well. Mitch Marner should at least start the year with the Leafs, as he is unable to report to the AHL, and is simply too talented to return to the OHL's London Knights again.
From the KHL, the Leafs have long been rumoured to be on the verge of signing Nikita Zaitsev – a top-pairing defenceman on CSKA Moscow – at the end of the season.
The Leafs also have an extremely high probability to select a player in the top-three at the 2016 NHL Draft, given that the are currently 30th in the NHL. Odds are, that whomever that draft pick turns into, they will begin the year in the NHL.
Among the free agent class, the Leafs should have the available cap space, about $15M, to add a few extra pieces. Given their remaining roster, they could potentially sign a fourth-line center as well as a backup goaltender to allow Garret Sparks to play full-time in the AHL. However, multiple pieces could be signed if they want to leave their prospects in the minors for another year.
Toronto Maple Leafs 2016-17 Lineup
Forwards:
Van Riemsdyk – Bozak – Soshnikov
Nylander – Matthews – Marner
Komarov – Kadri – Holland
Leipsic – Lewis – Laich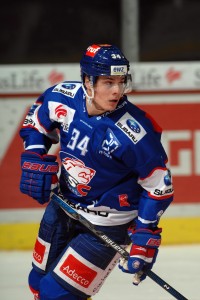 Up front, the Leafs will boast a plethora of young lads to begin the season, including their first overall pick, Auston Matthews (assumed the Leafs would pick first overall given their current position in the standings). Joining him will be their previous two first round picks, William Nylander and Mitch Marner, forming a second-line with enormous potential.
While it has been rumoured for quite some time that Brendan Shanahan may entice Steven Stamkos to come home to Toronto, I predict that he wants to join a team which can win right now. In sticking to the plan not to rush the rebuild, the Leafs make one minor signing. Trevor Lewis, 29, was a first round pick in 2006 and has a tremendous work ethic from his time with the Los Angeles Kings. Lewis is an excellent penalty killer, but could use work in the face-off department. He centres the "L" line, between Leipsic and Laich.
Other notes of interest; Soshnikov carries his terrific 2015-16 tryout into '16-17, starting on the first-line with Bozak and JVR. Kadri slides down to the third-line, giving the Leafs exciting depth down the middle, as he centres 2016 All Star, Komarov, and Holland on the right side.
Defence:
Rielly – Carrick
Gardiner – Marincin
Hunwick – Zaitsev
On the blue line, the Leafs will be much younger than a year ago. Connor Carrick, who Lou Lamoriello considers to be an 'A' prospect, starts on the top-pairing beside Rielly. Together, they can add an intriguing offensive element to the blue line.
Marincin and Gardiner are both underrated defencemen for those who believe in the analytics side of the game, boasting great possession numbers, with a 56.1 and 53.9 CF%, respectively.
On the third pairing, Zaitsev is added from the KHL, where he played on the top-pairing for CSKA Moscow in 2015-16. The 24-year-old can add a lot offensively, and should adapt well to the NHL playing alongside veteran, Matt Hunwick.
Goaltenders:
Bernier
Enroth
With Reimer out of the picture, barring a return via free agency, the Leafs are stuck with Jonathan Bernier who has had a tough 2015-16 season, but has shown flashes of his prior brilliance lately. With Sparks currently backing up, it would be in the organization's best interest to allow the 22-year-old to be the full-time starter with the AHL Marlies instead.
As a result, a backup spot will be available. There are plenty of free agent backups on the market, but Enroth, 27, may be the guy to bet on. After posting a .931 SV% in '15-16, Enroth will be looking for an opportunity to see more pucks. Where better to solve that problem than with the Leafs? He could split time with Bernier, installing a healthy competition in between the pipes for two goalies who need to show their true value in the league.
Who do you hope to see in a Leafs jersey for the 2016-17 season? Let us know in the comments below!
Contributor for the Toronto Maple Leafs and Prospects. Scout with the Oakville Blades of the OJHL. For questions, concerns, or comments, contact me at devinslawson123@hotmail.com or on twitter @SlawsonTHW.