Aside from their 8-1 thrashing of the Carolina Hurricanes in the Next Century Game, the Toronto Maple Leafs had hit a mini slump over the past couple weeks. Losses to the Flyers, Wild and Red Wings without Auston Matthews in the lineup had Leafs Nation wondering what this team was going to do on a night-to-night basis.
Questions surrounding their long-term sustainability based on their shot differential were brought forth by this panel last week and for the most part we agree that something would have to change if the Leafs wanted to remain one of the top three teams in the Atlantic Division.
So this week, we asked one question that gave our panel a chance to discuss what the Leafs need to do to turn their fortunes around for the remainder of the season. With that, here's what the panel (made up of Petrie, Slawson and myself), had to say.
The Leafs have hit a mini-slump with scoring at a slight premium. What do they have to do to clean up their game? Can they fix it on the fly?
Forbes: It's exactly what it sounds like – a mini-slump. It's going to be hard to avoid these in any 82-game schedule. Add to that the Leafs were without Matthews for an extended period of time and it's understandable why the team might've had some trouble scoring. After all, aside from his ability to put the puck in the net, Matthews also has the ability to maintain puck control and manage the pace of play.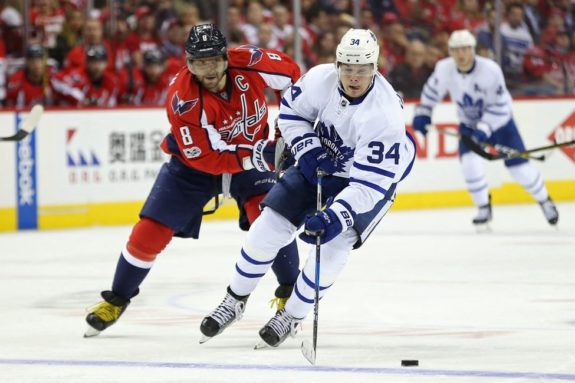 But the Leafs need to avoid slumps like this if they want to, firstly, maintain home ice come playoff time, and secondly, gain the confidence they will need to go on a prolonged playoff run.
On top of that, the Leafs will need to develop stronger depth scoring. Matthews has missed 10 games this season. However, he still leads the team in points (28) and sits second in goals (14). Knowing now that he was dealing with the concussion symptoms, the Leafs will need to see players like Connor Brown, Tyler Bozak and especially Leo Komarov step up just incase any of those symptoms are recurring.
While I wouldn't say it's time to panic yet, the Leafs will have to be careful not to go on any kind of prolonged dive – especially against sub-.500 teams. That said, they still sit two points up on the Bruins in the Atlantic Division and aren't in any immediate danger of falling out of a playoff spot with the Canadiens nine points back with just one game in hand.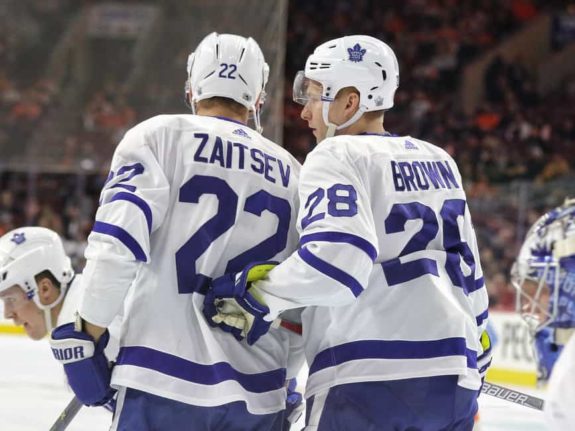 Petrie: Some of the Leafs' scoring issues will self correct. For a start, Matthews will eventually return to the lineup, which makes the top line much better and also relieves some of the other Leafs from having to face opposing teams' best defensemen. William Nylander and Mitch Marner will break out of their shooting slumps eventually as well. They are shooting at six percent and three percent respectively and one would expect both to be above 10 percent long term.
Then we have to look at Mike Babcock's role in this. Babcock has shown a willingness to demote his young stars to the fourth line when they are underperforming, but I'd like to see that applied to veterans as well. Leo Komarov has just five points in his last 34 games played. That should warrant a short stint in the press box or at least the fourth line if his penalty killing is seen as irreplaceable. In his place, Kasperi Kapanen or Josh Leivo should be given an opportunity in a top-nine role and on the power play.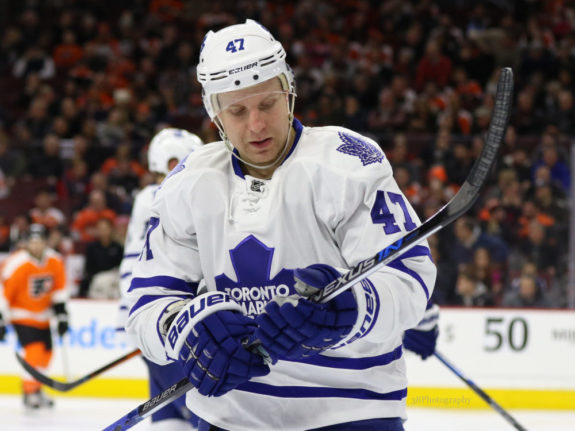 That brings us to the Leafs' style of play. Much has been made in the media lately of the new, boring, dump-and-chase Leafs compared to the old, fun, run-and-gun Leafs. For now, rather than criticize Babcock for this, I'm going to go out on a limb and have faith in one of the best coaches in the league.
You have to ask yourself, do you believe the fun Leafs from earlier this year that gave up three to five goals per game could win the Stanley Cup? If the answer is no, as it would be for me, then in order to win it Babcock needs to teach this young team how to play different styles and reduce scoring chances against. If that looks like a bunch of ugly, low scoring games in December, so be it. Hopefully they will be better for it in the long run.
Slawson: What do the Leafs have to do in order to turn around their game? Nothing at all.
Slumps and periods of inconsistency are common throughout the NHL during the long and arduous 82-game season, so stretches of poor play and underperformance should be expected rather than reacted to. With this being said, the Leafs should make little to no adjustments in order to burst out of their current slump, as the team is simply too skilled and too well-coached to remain mired by incompetency for a long period of time.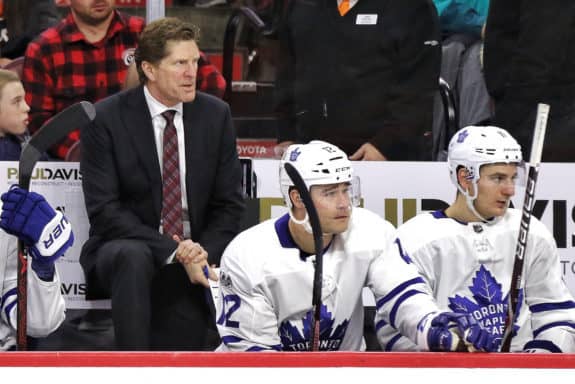 However, there are two specific areas of Toronto's game which the team must attempt to improve if they wish to succeed both now and long into the future.
Despite their periods of success this year, the Leafs have become accustomed to allowing a considerable number of shots against per game while generating a much lesser amount for. In fact, through the team's first 34 games played, Toronto had claimed 15 of their 20 total victories while being outshot by their opponents – an odd and unsustainable ratio which has seemingly begun to even out and, in doing so, play into the hands of the Leafs' opposition.
Unless Toronto can generate more offence while reducing the number of scoring chances which they allow against, the Leafs' current game plan will continue to remain flawed, and increasingly so. With cracks clearly beginning to develop within Toronto's previously pristine foundation, no personnel changes need to be made, although slight alterations to the Leafs' approach should clearly be considered.
The Leafs return to action following their holiday break in Arizona December 28 where they will look to capitalize on a struggling Coyotes franchise and put more breathing room between them and the rest of the competition.
As always our panel would love to hear your thoughts on the Leafs recent mini-slump and look forward to next week as we discuss more issues surrounding the team as we hit the midway mark of the season.