We're back and while we've missed the first quarter of the season, there's a lot to talk about when it comes to the Toronto Maple Leafs. While our round table panel is relatively similar to the one we've carried over the last year, we did have to say goodbye to one of our panelist as we welcome on David Petrie – who will join Brett Slawson and Jeff Langridge to discuss some of the biggest topics surrounding the Leafs this season.
With that in mind, here's what the panel discussed this week.
Giving up as many opportunities and shots as they have this season, is the Leafs' position in the standings sustainable? Why?
Forbes: Sustainability is a funny thing in this situation. If the Leafs were in any other division, I don't think their spot among the top three teams would be sustainable with the amount of shots they're giving up this season. That said, they aren't. They're in a weaker Atlantic Division with teams like Boston, Montreal, Florida and Detroit all have issues of their own with the Sabres bringing up the rear.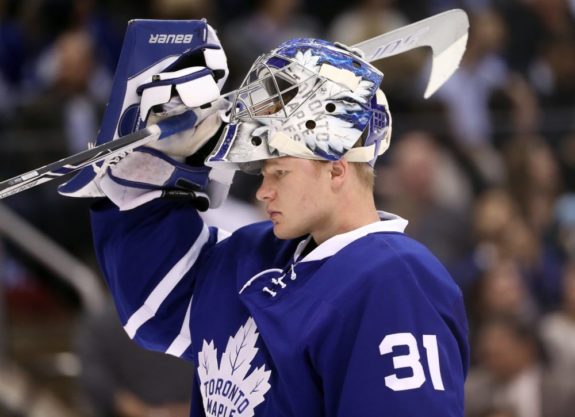 The sustainability question will come up when the Leafs ultimately make the playoffs. Can they play a tighter game in their own end? After all, the saying is that defence wins championships. Now, it's fortunate for the Leafs that they have Frederik Andersen in net. Andersen has faced 934 shots to date – stopping 861 of them. That's a .922 save percentage. The next closest in terms of shots against? That would be Calgary's Mike Smith who's seen 836 shots. That's nearly 100 shots less than Andersen.
Still, the Leafs are sitting second in the Atlantic and showing no signs of giving up that spot. So on a regular season level, the sustainability might not be that difficult if Andersen can keep up his play. But the Leafs better hope they can sure up the play in their own end if they wish to make a strong playoff push.
Petrie: Yes. I believe the Leafs will finish the season exactly where they are now in the standings. The shots and opportunities against are huge issues and are ones that likely won't be fixed until more personnel changes are made, but the Leafs have enough talent on offence and in net to overcome it. To date, the Leafs have a .922 team percentage and 3.3 goals for per game, neither of which are unsustainable for this team, so I don't think their current pace of 105 points for the year will slip more than a couple of points.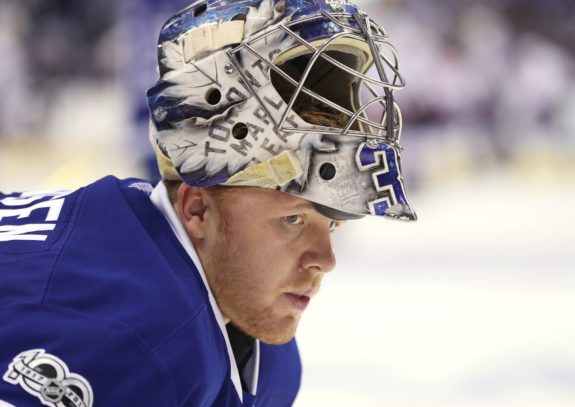 Fortunately for the Leafs, the Atlantic Division is weak this year. Are any of Boston, Montreal, Detroit, Florida, Ottawa or Buffalo a threat to pass them? I say no. A total of 98 plus points for the season will likely be good enough for second in the division.
Slawson: No, the Leafs' position in the standings is not sustainable, and I'll tell you why.
Prior to Toronto's 29th contest of the 2017-18 season, the team had allowed 33.4 shots against per game – the fifth-highest total in the entire NHL. Of the four teams who had allowed more shots against per game, just one held a higher point total, the shockingly successful New Jersey Devils.
If we look back at the 2016-17 season, just two franchises allowed greater than 33 shots against per game over the course of the campaign, and neither of which cam remotely close to claiming a playoff berth. So, with this being said, it would appear to be only a matter of time until Toronto's poor defensive play forces them to slide down the standings.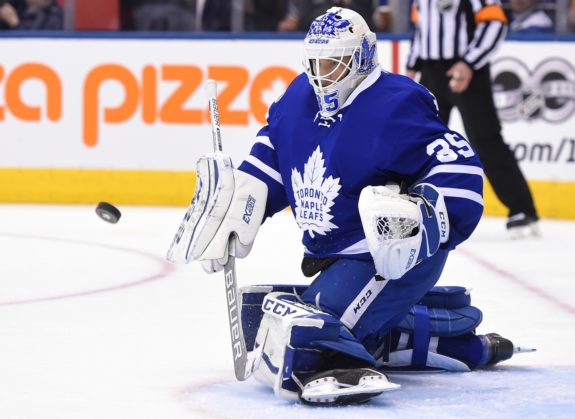 However, allowing a ton of shots against is nothing new for the Leafs, who allowed an average of 32.6 last season yet were still able to contend for the Stanley Cup. Yet, despite this success, the mountain of shots which Toronto allows per game has and will continue to take an incredible toll on their goaltenders, who are often called upon to support the Leafs in games which they have no business competing within.
So, in short, the bombardment faced by Toronto's goaltenders on a nightly basis will eventually lead to a decreased level of success. Fortunately, Frederik Andersen has been sensational this year following his slow start and is a major reason why the Leafs find themselves situated rather comfortably within the standings.
Langridge: Normally, I would say no. However, just look at the Atlantic Division right now. Every team other than Tampa seems to have a problem. The talent the Leafs have should keep them afloat in the mess of a division they are in.
Will the Leafs be able to re-sign all of their big three – Matthews, Marner and Nylander or is it a Blackhawks scenario where one of them is on their way out of town? Which one?
Forbes: It'd be tough for Leafs' management to explain why they let one of these three core players go. That being said, they wouldn't be the first team to do so. We all remember how the Chicago Blackhawks had to maneuver their roster not once, but twice following championship runs. They lost players like Kris Versteeg, Andrew Ladd, Dustin Byfuglien and Artemi Panarin and all because of salary cap issues.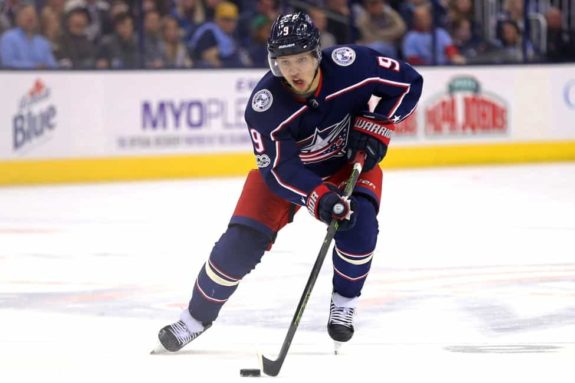 Now, chances are the cap will be going up next year. But the Leafs have decisions to make. Nylander's contract is up at the end of the year. He has 95 points in 135 regular season games and 21 through 32 games this season. Marner has 81 points in 109 career games with 20 through 32 this season. Finally, Matthews has 26 points in 26 games this season and 95 over 108 regular season career games.
With that in mind, Matthews is the face of the franchise. He'll likely get a McDavid type contract. With McDavid's contract that kicks in next season, he'll make up nearly 17 percent of the Oilers cap. Assuming the cap goes up to $82 million if the players agree to use the five percent increase, Matthews would make $13.65 million per season.
However, that would leave both Marner and Nylander who are set to see a substantial increases at the conclusion of their respective contracts – likely in the range of $6-6.5 million.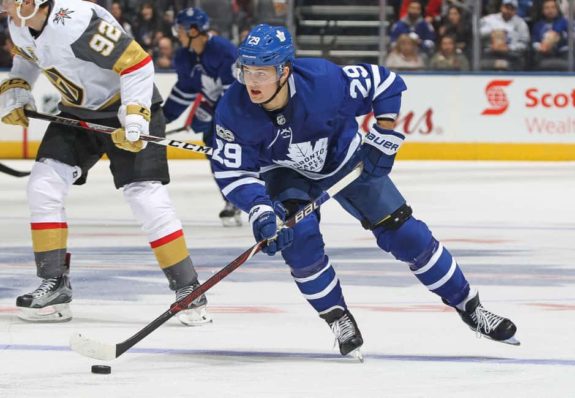 That leaves the question of James van Riemsdyk and other unrestricted free agents on the team. While I don't see them bringing back the majority of them, JVR is an interesting case. He leads the team in goals this season and is one of just a few on the team willing to stand in front of the net in the offensive zone. If the Leafs can make room for him, he'd be worth signing. But they would have to find a way to bring him back on a $5-5.5 million contract – something that will easily be beat on the open market.
Petrie: Yes, the Leafs can and should re-sign all three of Matthews, Marner and Nylander. I'm expecting Marner and Nylander to get matching deals, somewhere around six to seven years and a $6-6.5 million annual average value (AAV) – slightly less than Pastrnak and Gaudreau – with Matthews coming in around eight years and $11 million. It's an expensive trio for sure, but this is the team's core.
Unfortunately, those large contracts will come at the expense of the veterans of the team. The Leafs' van Riemsdyk, Tyler Bozak, Leo Komarov, Dominic Moore, Eric Fehr and Roman Polak are all unrestricted free agents (UFA) at the end of the season and all of them are unlikely to be re-signed.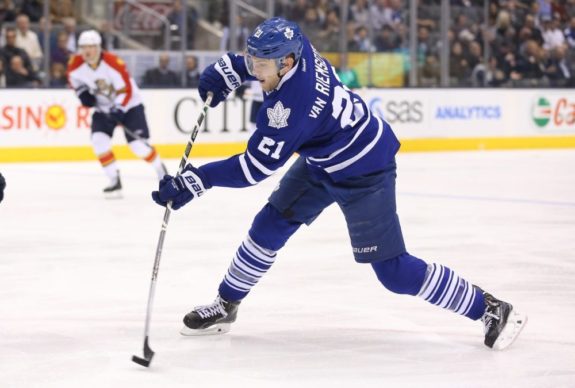 The one that hurts the most is JVR, who plays a unique role for the Leafs, providing a net front presence and banging in rebounds and other garbage goals. No other Leafs forward, on the roster or prospect, can play that role as well. However, JVR's age and production is comparable to Cam Atkinson and T.J. Oshie, who have both recently signed six-year deals around $6 million, and the Leafs just can't afford that sort of contract if they want to keep Matthews, Marner and Nylander, so JVR will be gone too.
Slawson: Yes, the Leafs will be able to re-sign all three, however it is ensuring their presence within Toronto's roster over the long-term which will be the true challenge.
Fortunately for the Leafs, Nylander requires a contract renewal one year earlier than both Matthews and Marner. As a result, his inconsistent play should lead to a two or three-year bridge deal in the range of $3-5 million per season. Now if Toronto does, in fact, go with a bridge deal for Nylander it will afford the team much greater financial flexibility with which to work out deals for both Matthews and Marner.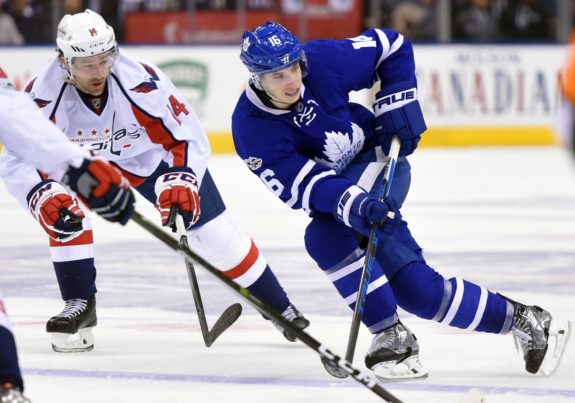 When it comes to Matthews, the Leafs should bite the bullet and ink the star center to the long-term contract which he undoubtedly deserves. However, with Marner, a bridge deal similar to the one I have proposed for Nylander could be the best bet, as it would allow Marner to find consistency within his game while also allowing all three young stars to remain on the roster.
Langridge: The Leafs are not going to be trading any of the big three anytime soon. The cap should be going up in the coming seasons and that will alleviate some of the issues the Leafs will have. Also, with van Riemsdyk and Komarov more than likely in their last seasons with the Leafs, more money is available. If there is any casualty of the Leafs core, it's Jake Gardiner.
You've heard what our panel has to say about these topics, so now it's time to have your say. Do you think the Leafs can secure all three of their core players? Will they finish among the top three in the division? Be sure to check back next week as our panel will discuss more issues surrounding the Leafs at the Maple Leafs Round Table.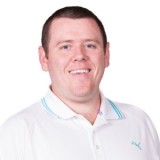 Andrew is in his 8th year reporting for The Hockey Writers covering the Toronto Maple Leafs. He began his broadcasting with CBC's Hockey Night in Canada team as well as being part of their coverage of the 2014 Winter Olympic Games in Sochi. He's the former play-by-play voice of the London Jr. Knights for Rogers TV and currently hosts the Sticks in the 6ix podcast. You can follow him on Twitter at @AndrewGForbes.