It took a bit of time but guess who is on the verge of taking his rightful place atop the NHL scoring race? After fighting off illness for the better part of a month, Connor McDavid seems to have finally regained his health and appears to be on the verge of one of his "supernova" stretches. With their playoff chances hanging in the balance, the Edmonton Oilers could not have asked for better news.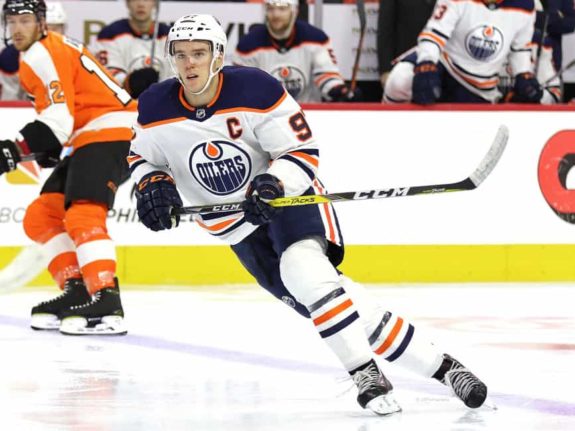 With last night's four-point performance against the Columbus Blue Jackets, McDavid jumped to third in league scoring with 39 points and sits only three back of the Tampa Bay Lightning's dynamic duo of Nikita Kucherov and Steven Stamkos. Not too shabby for a player who is in the midst of another fine campaign but has been short on those signature moments that we have come to expect from No. 97.
McDavid Has Been Great But…
McDavid's opening night torturing of the Calgary Flames set the bar awfully high heading in the season and made his mere mortal start to 2017-18 rather underwhelming. Understandable to be sure but there are a few important factors to keep in mind when looking at his so-called slow start…most notably the aforementioned illness that lingered for weeks on end.
There is no question the Richmond Hill native was missing his usual jump on many a night over a good portion of the past month and the reason for it was obvious. It is no secret McDavid lost somewhere in the neighbourhood of 10 pounds during his initial illness and it zapped the kid of his strength. To make matters worse, he had a second bug hit him shortly thereafter but thankfully there were no lingering effects. With that being the case, it is rather difficult to blame a player for a slight slip in performance.
"We've had streaks where we've been alright. We need to see it more. We need to string (together) four, five or six." @cmcdavid97 on #Oilers finding stride pic.twitter.com/euOD0b3aqA

— Edmonton Oilers (@EdmontonOilers) December 13, 2017
When you take that into consideration and add a roster that has been in search of answers all season long, the team results are not going to be pretty. Not surprisingly, confidence and a lack of belief became an issue for the collective. However, with pressure being at an all-time high following their impressive showing in 2016-17 and their roster shortcomings being what they are, it was never going to easy.
Oilers Slow Start Hasn't Helped
With that said, the club has played much better in recent weeks and while it hasn't helped much when it comes to closing ground on a potential playoff spot in the Western Conference, the group seems to have found their "mojo" and their young captain has led the charge. With last night's showing against Columbus now in his back pocket, McDavid has produced three stunning performances in succession.
Though he only picked up a pair of assists against the Canadiens on Saturday in Montreal, bad luck was the only thing that kept him from putting up a four or five-point effort. Same holds true for what he delivered on the very next night against the Maple Leafs, in which an almost out-of-body experience from netminder Curtis McElhinney helped the Toronto edge Edmonton 1-0, in a game they had no business winning.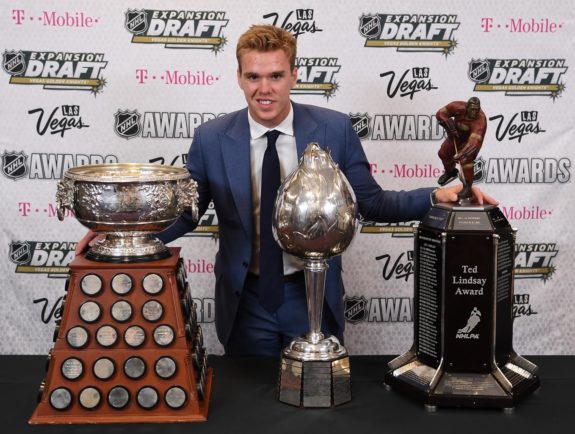 Despite being held off the scoresheet against the team he grew up cheering for, one would be hard-pressed to find a more dominant performance by any NHL player this season. Think about that for a second. Over his last three games, McDavid has picked up six points but with the odd bounce here or there, we are talking about that total growing into double digits and he seems to be ramping up.
No. 97 Looks to Be Back to Full Strength
For the first time in what feels like an eternity, the No. 1 pick in the 2015 Entry Draft has looked his usual blazing self every time he hits the ice and opposing teams look as perplexed as they did facing him in 2016-17. While we saw flashes of that player over the first couple of months of the season, it was obvious his explosiveness wasn't there every shift but that no longer appears to be the case.
As wonderful a campaign as the likes of Kucherov, Stamkos, Blake Wheeler, Anze Kopitar, Johnny Gaudreau and Brayden Schenn are having, not one of them will be able to keep pace with McDavid if he continues playing at this level. Mix in the chemistry forming between him and one Jesse Puljujarvi and there is no reason to believe that he won't easily eclipse his 100-point total from a year ago.
#Oilers Connor McDavid has an NHL-best 40 multi-POINT games since the start of last season

— Sportsnet Stats (@SNstats) December 13, 2017
From an organizational standpoint, the goal over the final 51 games of their schedule is to find a way to grab a playoff spot. In order for the Edmonton Oilers to have any hope at all of achieving that goal, Connor McDavid is going to have to be at his best and put this time on his back from here on out. It will certainly be a challenge but betting against the soon-to-be 21-year old may not be the smartest of moves.
Also available from Rob Soria: