While the Toronto Maple Leafs and their fan base have to be pleased with how their current rebuild is developing, there's no denying the inevitable. Like all great NHL teams in the salary cap era, the Leafs front office is going to have their job cut out for them in the very near future.
With their big trio heading towards restricted free agency, William Nylander in July of 2018 and Auston Matthews and Mitch Marner in July of 2019, the Leafs must find somewhere in their roster to create cap space. And lots of it.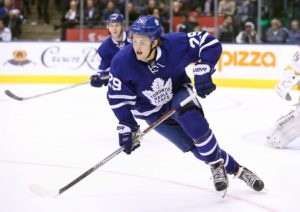 Today, Toronto sits approximately $4.58 million over the cap ceiling. Once the first day of the regular season rolls around, October 4, they can place Nathan Horton and Joffrey Lupul on LTIR, long-term injury reserve. That move will bring them back down to the salary cap, giving them $0 in projected cap space. All figures are courtesy of Cap Friendly.
However, when their big trio sign, it will add roughly $18-21 million to their salary, ultimately creating a need for a ton of additional cap space, assuming the cap ceiling won't change too drastically. What does that situation spell out for Leafs' management? Someone needs to go.
Maple Leafs Salary Cap Options
Let the Free Agents Walk
The Leafs will face a number of decisions next offseason, with eight UFA's and 13 RFA's. Without those contracts, Toronto will have $27.88 million in cap space to work with, but only 13 roster players. That cap space will need to be worked around 10 players. Sure, they could probably call up six or seven young guns to fill those spots with a minimalistic cap hit, but that isn't exactly plausible for a team with a winning mindset.
In reality, Nylander will be the top priority. He will likely pull in the $6-7 million dollar range per year. Next on the list is James van Riemsdyk and Tyler Bozak. Coming off of similar deals, as well as career-best point totals in 2016-17, both players will be looking for a raise. Van Riemsdyk should fetch around $6 million, if not a tad more. Bozak will likely find himself in the $5-5.5 million range.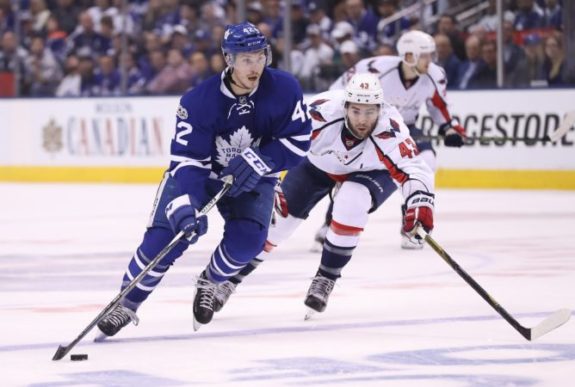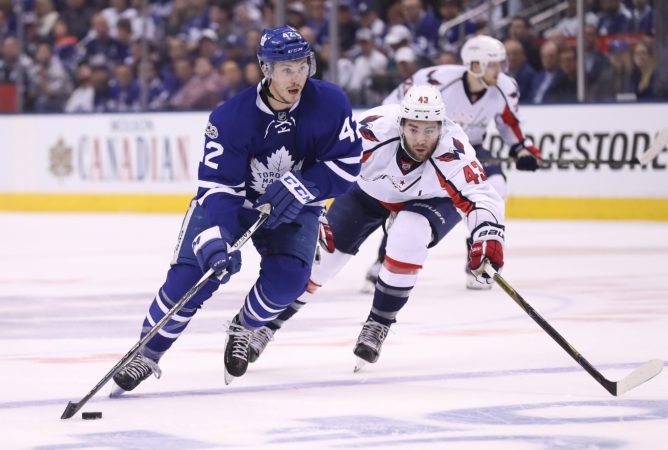 Ultimately, the cost of bringing back all three would cost the Leafs something like $18 million, as a rough estimate. That doesn't leave the team with very much wiggle room, especially with Matthews and Marner's contracts coming up the following offseason.
If Toronto hopes to keep their entire core in place, someone will need to take a discounted contract or they will have to let a huge chunk of their depth players walk in free agency. The likely conclusion? One of van Riemsdyk or Bozak has to go.
Trade Tyler Bozak or James van Riemsdyk
With the unlikelihood of being able to re-sign both of these players, the wise move would be to trade one or the other while you can still receive value for them. Of course, that decision depends on the Leafs position in the standings as the season approaches the NHL Trade Deadline.
Worst case scenario, let's say the Leafs are out of a playoff position come late February. How should the Leafs decide which of Bozak or JvR to deal? Consider a combination of who the Leafs believe may re-sign, as well as who could fetch the greater return in a trade.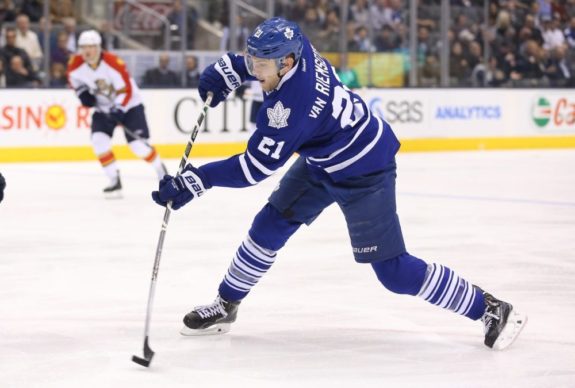 First of all, van Riemsdyk will be nearing his 29th birthday, still in the strong years of his career. Bozak will be almost 32 years of age, likely meaning an imminent decline in his performance and value. As for trade clauses, JvR can submit a 10 team no-trade list, while Bozak can draw up a list of 12 teams he can be traded to. So, the Leafs will be able to negotiate a deal with far more teams for van Riemsdyk than they will for Bozak.
As for time on ice, the two are virtually identical on special teams, while Bozak played about one more shift, 32 seconds, per game at even strength. The only true advantage that Bozak has over JvR is his ability a centerman. In 2016-17, Bozak ranked sixth among full-time centers with a 56.7% win percentage in the dot.
Perhaps the bottom line is the assumption that van Riemsdyk will be able to produce at a more consistent rate for a longer time than Bozak. While the question could also come down to positional needs, the Leafs seem set with Auston Matthews and Nazem Kadri as their top two centers for the foreseeable future.
Bozak on the Outside Looking In?
With all the possibilities and benefits considered, it seems like a relatively easy choice for the Leafs to deal Bozak at the 2018 NHL Trade Deadline, if they're in the position to sell. If they choose not to make any significant trades, this team will be in serious cap trouble before they have a shot at making a Stanley Cup run.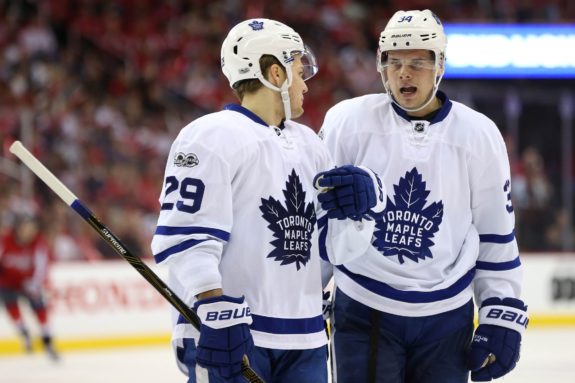 The only negative aspect to having so many talented young players on a roster is when their contracts come up. We've seen it before with the Chicago Blackhawks, almost annually tearing apart their bottom-six forwards and bottom-two defencemen in order to keep their core intact long enough to capture three Cups in this era. Will the Leafs look to head down a similar path? How much of their depth will they be able to keep around if they hope to maintain their current core? These questions are ones that Leafs' brass will consider before making a judgment call on any significant trades.
It's a long-term process, and the Leafs' management needs to make their decisions based on this fact. Every successful team in the salary cap era has played jump rope with the cap ceiling, making sly decisions to be able to improve their team while staying under the cap. In just their third year of a major rebuild, we are going to learn a lot about how this team plans to operate in the hunt for a Stanley Cup. One telling decision along that road will be whether or not they trade Bozak during the 2017-18 season.
Contributor for the Toronto Maple Leafs and Prospects. Scout with the Oakville Blades of the OJHL. For questions, concerns, or comments, contact me at devinslawson123@hotmail.com or on twitter @SlawsonTHW.