Over the next couple of months, The Hockey Writers will be releasing a series of bold predictions. Team by team, this series will take shape as we look at some of the more questionable possibilities that could come into fruition during the 2017-18 season.
Projected to be the NHL's youngest team in 2017-18, the Arizona Coyotes will be starting a new era when the puck drops on the new season. The club will be driven by youth and will start the season without the leadership of Shane Doan for the first time in 21 years. So, after bottom-feeding for a number of years, how will the Coyotes fair this coming season?
Recapping 2016-17
Only two teams finished lower than the Coyotes in the Western Conference – just one of them resides in the Pacific Division.
They recorded a 30-42-10 record over the 82-game span and finished the year with 70 points. Their goal differential bettered only the Colorado Avalanche (minus-112) as they scored 63 fewer goals than they allowed.
That being said, they had Max Domi for just 59 games and witnessed a disappointing season from forward Anthony Duclair.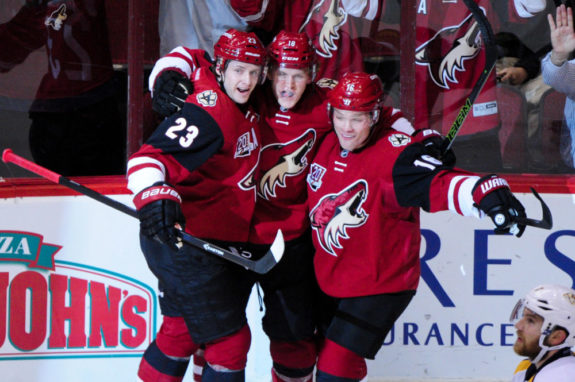 Offensively, they were led by veteran Radio Vrbata who notched 20 goals and 55 points in 81 games. Behind him was Oliver Ekman-Larsson who finished with 39 points in 79 games, with Domi closing out their top three.
In net, Mike Smith carried the load, but finished with a 19-26-9 record in 55 games. His goals against average was 2.92 and he carried a .914 save percentage through the season. He also faced just over 1,800 shots – an average of just over 34 shots per game.
Backing him up, the Coyotes' Louis Domingue saw ice-time in 31 games last season. He finished with an 11-15-1 record while allowing just over three goals per game.
Clayton Keller, Dylan Strome, Jakob Chychrun, Lawson Crouse and Christian Dvorak all got their first taste of NHL action – along with a number of other prospects. With that said, the future does look bright for the franchise.
Coyotes Building a Pack
It started with Smith. The Coyotes traded their long-time goaltender in mid-June to the Calgary Flames. They followed that up by moving a 2017 first-round pick and defensive prospect Anthony DeAngelo and finished June off by moving Laurent Dauphin and Connor Murphy to the Chicago Blackhawks.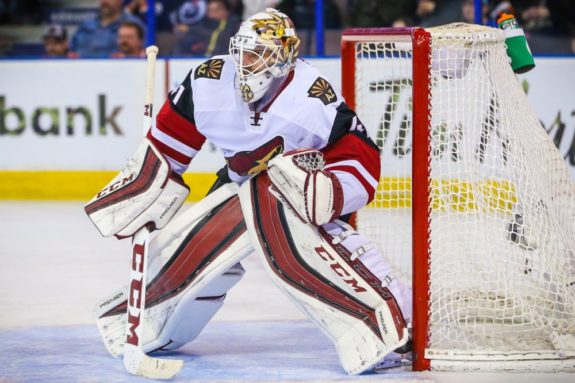 In return, the Coyotes did bring in a fair amount of help. From Calgary, they acquired Chad Johnson, Brandon Hickey and a conditional 2018 pick. In the DeAngelo trade they grabbed themselves another goaltender in Antti Raanta and a top-end center in Derek Stepan. Finally, they grabbed Niklas Hjalmarsson from the Blackhawks, before signing Michael Latta and Emerson Etem to kick of July.
While the club will love their new additions, they will heavily rely on their youngsters to take the next step forward in their development. Domi, Duclair and the list of players who made their debut in 2016-17 will have to carry the load for the Coyotes in 2017-18. But it could come to one player in particular who could get Coyotes' fans excited for the near future.
2017-18 Bold Prediction: Clayton for Calder?
He came up at the end of 2016-17 and played just three games for the Coyotes to close out the year – averaging just under 13 minutes of ice-time over that span. But fans only got a taste of what Keller has to offer.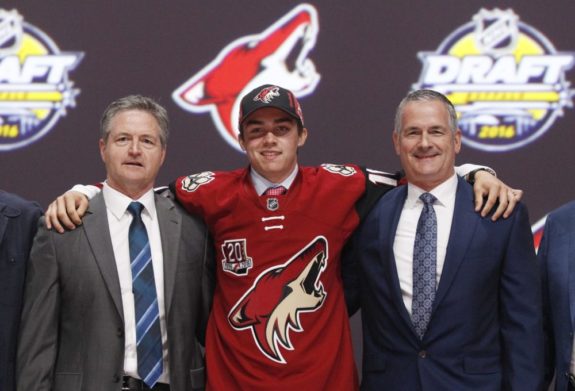 A first-round pick for Arizona (seventh overall) in 2016, the 19-year-old center notched two assists and saw some time on the power play in his short stint with the big club. So why did he come up so late?
Well, before he pulled on the Coyotes' colours, Keller was shining at Boston University where he scored 21 goals and 45 points in just 31 games at the NCAA level. So the ability to score and have a presence on the offensive side is there. Otherwise he likely wouldn't have been a seventh overall pick.
So what should the fans in Arizona expect from the kid this coming year? Don't be surprised to see a Calder-type season from Keller.
Sure, we'll see our fair share of Nico Hischier and Nolan Patrick this season, but the kid in the desert may just be the sleeper for rookie of the year. While we can't base predictions off of a three-game stint at the NHL level, he did have two points in those three games. Assuming he gets the ice-time, which is possible under new head coach – Rick Tocchet – Keller could put up a 40 to 50-point season.
Last season, Toronto's Auston Matthews earned himself the award with a 40-goal and 69-points season. He played all 82 games and averaged 0.84 points per game. Behind him, Patrik Laine averaged 0.88 points per game, but finished with 64 points in 73 games – missing nine games.
While we can't expect the same kind of output from Keller, a 50-point season in this year's rookie class could earn him the honours.
That said, expect Keller to either win or be runner-up for the Calder Trophy in 2017-18. If his junior and collegiate careers are any indication, he'll find a way to succeed at the NHL level next.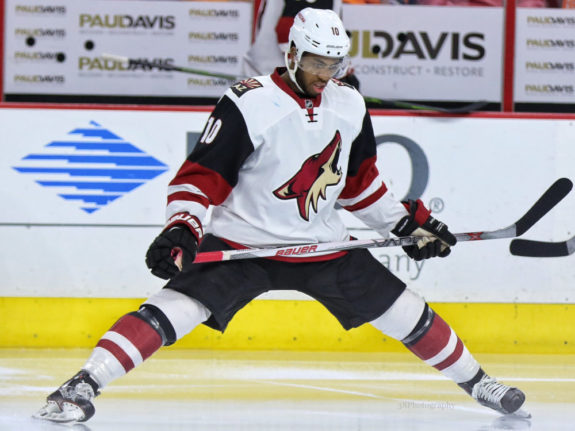 On top of that, expect Keller to out-produce a teammate that had an off-year last season. Coming off a 44-point season in 81 games, Duclair scored just five goals and 15 points in 58 games in 2016-17. In response, the Coyotes re-signed Duclair to a one-year deal worth $1.2 million.
While he should (and likely will) have a bounce back year – tallying around the 40-point mark – expect Keller to top Duclair offensively as the Coyotes better their standing from one year ago.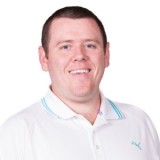 Andrew is in his 8th year reporting for The Hockey Writers covering the Toronto Maple Leafs. He began his broadcasting with CBC's Hockey Night in Canada team as well as being part of their coverage of the 2014 Winter Olympic Games in Sochi. He's the former play-by-play voice of the London Jr. Knights for Rogers TV and currently hosts the Sticks in the 6ix podcast. You can follow him on Twitter at @AndrewGForbes.