With the conclusion of William Nylander's second year of his three-year entry-level contract (ELC), he has one more season before a new contract is needed. Since Nylander only played 22 games at the end of the 2015-16 season, he still qualified as a rookie this past season.
At the same time, he burned his second year off of his ELC after the conclusion of this past season. His first year was burned since he played over 11 NHL games in 2015-16. Therefore, it's time to begin predicting what kind of term and value to expect for Nylander's next contract. I will analyze Nylander's current accomplishments to date since signing his ELC, and explain why he is due for a massive pay raise.
Nylander's Impact With Maple Leafs
Nylander is an experienced rookie, having played a total 103 regular-season NHL games in the past two seasons.  Throughout his tenure in the NHL, he has a combined 74 points. The Swede was named the NHL's Rookie of the Month for both October and March. Nylander was the only player to be named Rookie of the Month multiple times in the 2016-17 season.
He finished the regular season tied for third in team scoring, with both Nazem Kadri and Mitch Marner. Where Nylander set himself apart from his skilled teammates was his use as a weapon on the power play. He scored a total of 26 power play points, good for first on the entire Toronto Maple Leafs' roster.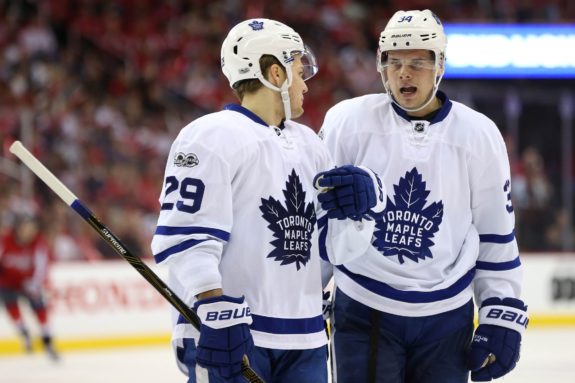 The Leafs made the playoffs after finishing dead last one season ago, Nylander was a key factor in the sudden rise in the standings. He was one of five Leafs players to reach the 60-point plateau, a good indication of a very deep forward group. His play continued as the games became more difficult, as Nylander contributed four points in six playoff games.
Nylander's International Success
In the most recent World Championships, Nylander had a tournament to remember. He finished 4th in tournament scoring, with 14 points respectively. The Canadian-born Swede developed instant chemistry with fellow countryman Nicklas Backstrom. They combined for 21 points together, including this insane give-and-go.
William Nylander and Nicklas Backstrom are just insane together 😱👏🏻… #IIHFWorlds pic.twitter.com/U5aQQy6qeG

— Bar South N Celly™ (@BarSouthNCelly) May 14, 2017
A number of plays in the tournament had Leafs' fans drooling at the thought of this Backstrom-Nylander combination, but it was Nylander who took home the tournament MVP honours. He was Sweden's most important player, and the statistics and his gameplay proved it. Nylander clearly felt he still had something to prove after an already phenomenal rookie season.
Most importantly, Sweden won gold. In the picture below, Nylander celebrated like a little kid on Christmas morning, tackling Henrik Lundqvist to the ice as they won the gold medal in a shootout.
https://twitter.com/AlexJamesFitz/status/866664613458440193
That's pretty much how excited Leafs' fans are when thinking they have to argue about who's better between Nylander, Mitch Marner, and Auston Matthews.
Nylander's Contract Comparables
To get a better idea of the value and term of Nylander's next contract, I will compare his statistics to other NHL players around the same age. From there, I will look at the contracts of these comparable NHLers, and use them to estimate Nylander's next contract.

Nylander's career PPG totals are the third highest on this particular list of players. His statistics already place his value around that $6-6.3 million AAV range. Keep in mind Nylander still has one more season to prove he deserves to get paid like an elite NHL player.
Where my argument comes into play, is that I'm predicting Nylander to be better than all of the players mentioned above on a PPG basis. That may seem like a bold prediction after 103 NHL games, but allow me to explain.
Predicting Nylander's Paycheck
In the past I have written an article on Nylander contract predictions, predicting a 6 year, $36 million deal. Before the season was over, his statistics were very similar to Filip Forsberg, who signed a 6 year, $36 million contract at the end of the 2015-16 season. This was the basis of my assumption, but Nylander has had a huge recent couple of months, which makes me think he has a chance to earn more.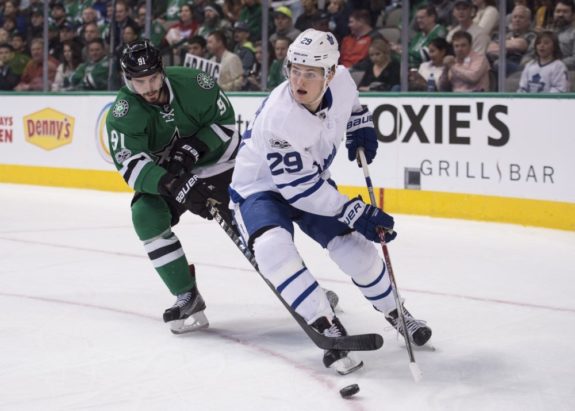 Given Nylander's recent accomplishments and the fact that he still has one more year on his ELC, it's his money to lose. If he continues trending upwards and establishes career highs next season, we could see a larger contract. Therefore, my prediction has changed.
If Nylander establishes career-highs in points next season, I could see him getting the same term, but around $6.5 million AAV. Don't forget that Nylander still has the ability to adapt to the centre position, although Mike Babcock already stated he would start next season on the wing.
To earn this kind of money, I would predict that his next season's point total needs to be at a minimum of 65 points. If Nylander were to accomplish this career-high, his career-PPG would jump to at least 0.751, topping the charts on the above table. For William Nylander, this isn't out of reach. With his skill-set, he could reach the 70-point plateau.
In conclusion, if he reaches at least 65 points in the 2017-18 season, he should be paid the highest AAV out of the whole table above. This is a very realistic possibility, therefore locking Nylander up long-term would be the best option. As Nylander approaches his prime, this contract will look better and better.
Prediction: 6 Years, $39 million, $6.5 million AAV