The Grand Rapids Griffins barely gave their fans a chance to get settled into their seats before giving them a reason to stand up and cheer during Game 5 of the Calder Cup Western Conference final on Saturday at Van Andel Arena.
Just 24 seconds into the game, Brian Lashoff ripped a slapshot from the top of the left circle past San Jose goalie Troy Grosenick, as the Griffins beat the Barracuda 4-2 to clinch a berth in the Calder Cup final. The Griffins remain undefeated at home during the playoffs, winning all seven games.
"I think we fed off our crowd tonight," Griffins captain Nathan Paetsch told The Hockey Writers. "It wasn't our best game. First period where they really hit us, held us in there, and we got two goals, which was huge. But we got a great goaltender, and the team feeds off of that, and I thought we played a lot better in the second."
The Griffins will face the Syracuse Crunch, who beat the Providence Bruins in the Eastern Conference final. The Griffins beat the Crunch to win their first Calder Cup title in 2013. Game 1 of the Calder Cup final begins Friday at Van Andel Arena.
Griffins have scored four or more goals nine times this postseason

— Griffins Game Day (@GriffinsGameDay) May 28, 2017
Tomas Nosek and Tyler Bertuzzi registered assists on Lashoff's goal. Nosek also added another assist on a Matt Lorito goal. Nosek has 14 points (seven goals, seven assists) in 13 playoff games, and Bertuzzi has 13 points (six goals, seven assists) in 13 playoff games. Lorito added a second goal to bump his point total to 12 (seven goals, five assists) in 13 games, and Matthew Ford also scored for the Griffins. Jared Coreau made 39 saves en route to the win.
Veteran Paetsch Relishes Playoff Hockey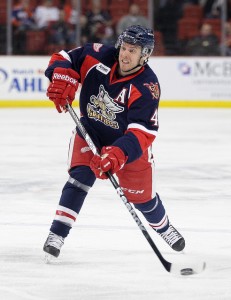 Paetsch, a 14-year veteran, will be playing in his second Calder Cup final. He, along with Lashoff, helped the Griffins win their first title in franchise history in 2013.
"It's just fun," Paetsch said. "Playoff hockey, there is nothing better in the world. We had fun, and everybody was blocking shots. You could see the emotion in guys; they just wanted to be that guy to have the crowd cheer for you, and some guys made huge plays for us.
"Playoff hockey is the best."
Paetsch has spent most of his hockey career in the AHL, playing for the Rochester Americans from 2003-06 before spending six seasons in the NHL with the Buffalo Sabres — the team that drafted him in 2003 — and the Columbus Blue Jackets. After his NHL stint, he played for Rochester, Syracuse and has spent the past five seasons with the Griffins.
As a veteran, he said he relishes the opportunity to play for a Calder Cup title, even if it might not come with the glory that playing for a Stanley Cup title does.
"I mean, this is my 14th year, I know how hard this is," he said. "It's hard, it's my second trip to the (Calder Cup final) in 14 years; it's really special. I hope everybody, especially the young guys, realize this, this is a once-in-a-lifetime opportunity — maybe twice for some guys, maybe never. We're just lucky to be able to be in that situation and have this type of team that management built and coaching staff that we have and everything coming together.
"I'm not getting any younger guys, this stuff means a lot, maybe more to me than the young guys."
Mike Knuble, now an assistant coach with the Griffins, played in one game for Grand Rapids during the 2012-13 season. He spent the rest of the season with the Philadelphia Flyers before retiring at the end of the season.
FINAL – #Griffins 4, @sjbarracuda 2.

GR wins the series 4-1 to move onto the Calder Cup Finals!#FINishSJ #GoGRG pic.twitter.com/nfC6Efzufi

— Grand Rapids Griffins (@griffinshockey) May 28, 2017
Fourth-Line Heroics
Fourth-line players generally serve one purpose: to stop the opposing team's top lines from scoring. If they can contribute on the scoresheet, it's an added bonus, but they aren't expected to score every night.
However, the Griffins fourth line of Ford, Dominic Turgeon and Colin Campbell has been a nightmare matchup for opposing teams during this playoff fun. Ford has nine points (seven goals, two assists) in 13 playoff games and is shooting 19.4 percent, which is second behind Bertuzzi's 26.1 percent for all players who have played all 13 games. Fittingly enough, Turgeon and Campbell assisted on Ford's goal Saturday.
"That's been our thing all year," Paetsch said of the team's depth. "Teams have a hard time matching up against that fourth line. There's no other fourth line that good in the league, from what I've seen. … We're deep, we got guys sitting in the stands that are really, really good hockey players. You need that depth to win a Calder Cup."
Griffins coach Todd Nelson echoed Paetsch's statements, speaking not only to their ability to shut down opposing lines but on their ability to kill penalties, as they killed all four penalties Saturday.
"That line was excellent tonight," he said. "It was nice to see them get a goal for us. All three guys on the penalty kill are very dependable. They are a big part of our hockey team. We have to have different parts to a hockey team, and those are our unsung heroes, as far as I'm concerned."
Coreau Comes Up Big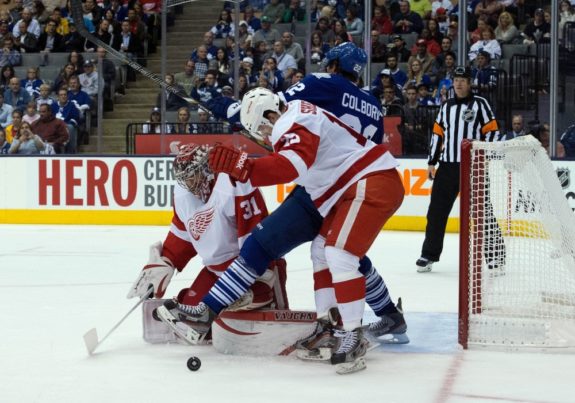 Coreau hadn't been stellar for the Griffins through the first two rounds of the playoffs. He had a .908 save percentage and allowed more than two goals three times in eight games, including a seven-goal night against Chicago.
However, Coreau has been dialed in against the Barracuda. During the past five games, he has a .940 save percentage, allowing more than two goals just once. He's had to come up big against an offensive juggernaut in San Jose, making more than 30 saves in three games.
"He's been great all year for us," Campbell said. "He's a wall back there. He picks us up on the bench. Guys get behind him — a real confidence booster for us."
Nelson also was happy with Coreau's performance.
"He gave us a chance to win," he said. "We're talking as a staff, we were saying this was a game he might have to steal for us. I'm not sure if he stole it for us, but he played extremely well."
Coreau said closing out the series in five games was huge because it saves the team a three-hour drive to Chicago to fly out to San Jose for possibly two more games.
"Tremendously happy," he said. "It's not terrible to travel; we usually get it into one or two flights. It dehydrates you a little bit. For me, I'm (6-foot-6), so it's hard to even go to the washroom on those things. But it's nice, we get a couple days to relax, maybe get a round of golf in and just get away from the rink."
Tom Mitsos is a writer from Michigan who covers the Red Wings and the Red Wings' AHL affiliate, the Grand Rapids Griffins, for The Hockey Writers.