As is the case every year for the World Junior Hockey Championship, NHL teams have a keen collective eye on which players' draft stocks are affected by their performances at the tournament. However, teams are also eager to see how some of the prospects already in the system perform. These are players who have already been drafted by the team and looking to solidify their place on the depth chart.
This year, the Vancouver Canucks have four players in Sweden's Elias Petterson, Canada's Jonah Gadjovich, Will Lockwood of the United States, and Finland's Olli Juolevi that fans are salivating about watching in Buffalo. Like all NHL teams, the Canucks have had many prospects skate in the World Juniors over the years, but ten have stood out especially.
The qualifiers I applied to each player was that he had to be drafted by the Canucks and couldn't be acquired via trade, which ruled out players like Markus Naslund, Alexander Mogilny, and Esa Tikkanen, each of whom had outstanding WJC careers.
Pavel Bure
Every list describing the greatest Canucks players includes Pavel Bure, and rightfully so. The Russian Rocket was drafted by the Canucks in the sixth round, 119th overall in the 1989 NHL Entry Draft. He had an outstanding tournament for the Soviet Union at the 1989 World Juniors in Anchorage, Alaska. As a 17-year-old, Bure had eight goals and six assists in seven games on a line with future NHL stars Sergei Fedorov and Alexander Mogilny – and the Soviets won gold.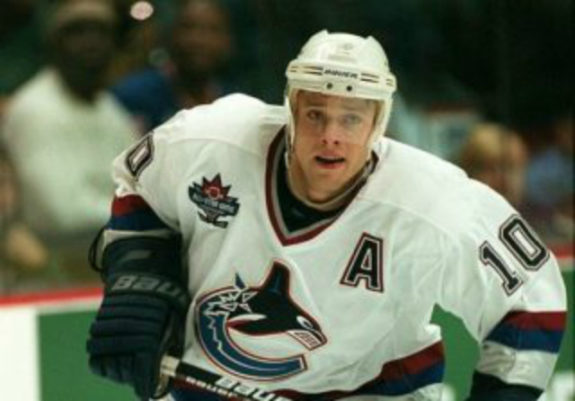 In June 1989, the Canucks claimed Bure in the draft. He played the 1989-90 season with CSKA Moskva and scored a respectable 24 points in 46 games as an 18-year-old. At the 1990 World Junior Hockey Championship, he finished third in scoring for the Soviet Union with ten points in seven games, behind Slava Kozlov and Andre Kovalenko. He returned to the Soviet team for the 1991 tournament and scored an astounding 12 goals in seven games as the Soviet Union won silver for the second straight year.
Overall, Bure had 19 goals and six assists in 14 games at the WJC in the two years after the Canucks drafted him. Factoring in his first tournament as a 17-year-old in 1989, Bure's totals at the World Juniors are good enough for third in all-time tournament scoring with 39 points in 21 games, a 1.857 point-per-game pace. He is one of the greatest ever at the tournament, let alone one of the greatest Canucks prospects to participate.
Jiri Slegr
Playing 12 games in the Czech League before his 19th birthday, Jiri Slegr seemed like a can't-miss prospect when the Canucks took him the second round, 23rd overall in the 1990 NHL Entry Draft, which was held in Vancouver. The son of former Canucks blueliner Jiri Bubla, he was coming off a season with HC Litvinov in which he scored 19 points in 51 games to go with a solid plus-31 rating as an 18-year-old. He made his WJC debut that year and the Czechs won bronze. Slegr was named to the 1990 tournament all-star team after potting three goals and four assists in seven games.
The following season as a 19-year-old, Slegr broke out in a big way. His 43 points in 39 games was tops among defencemen in the Czech League, nine points ahead of his closest competitor. Slegr was named top defenceman in the league. At the 1991 World Juniors, he continued to open a lot of eyes with his play on the blueline for Czechoslovakia in a tournament that was loaded with star power like Eric Lindros, Pavel Bure, Scott Niedermayer, and Keith Tkachuk.
#Canucks Uniform Number 71: Jiri Slegr – wore no. 71 in his return to VAN in 2003-04 #WhoWoreIt pic.twitter.com/cUOfT9r7Im

— Canucks By the Numbers (@DaveLeeSon1) October 1, 2014
He wound up with nine points – all assists – in seven games for the Czechs, who won bronze for the third straight year. Slegr was also named best defenceman at the tournament, despite not being named to the all-star team. His 16 points in 14 career games are tied for the fifth most all-time by a defenceman at the World Junior Hockey Championship.
Cody Hodgson
During a sophomore season in 2007-08 that saw him put up an eye-popping 85 points in 68 games as a 17-year-old for the Ontario Hockey League's Brampton Battalion, Cody Hodgson didn't make Team Canada at that season's World Junior Hockey Championship. Not appearing at the tournament didn't hurt his draft value much – if at all – and the Canucks chose him 10th overall in the first round at the 2008 NHL Entry Draft.
The Canucks returned the Toronto native to the Battalion for his age-18 season in 2008-09 and Hodgson dominated the OHL with 92 points in 53 games, including 43 goals. He was named to Team Canada for the WJC and put on one of the best offensive displays in tournament history. Canucks fans were giddy as Hodgson posted five goals and 11 assists in just six games as Canada won its fourth straight gold medal.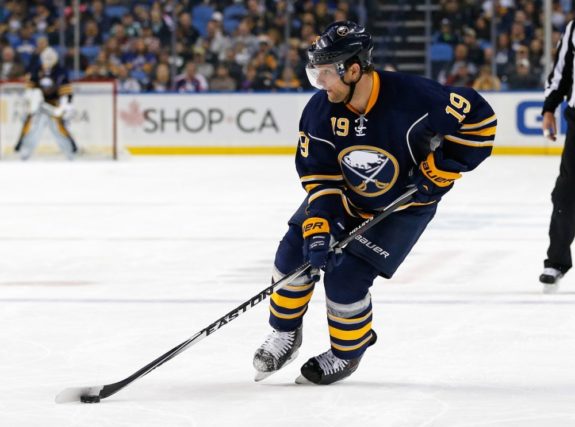 A back injury kept him sidelined for most of 2009-10 and Hodgson missed an opportunity to play for Canada at the 2010 World Juniors. Despite 2008 being Hodgson's only appearance at the tournament, his 2.667 points-per-game puts him alongside legends like Wayne Gretzky, Peter Forsberg, and Jaromir Jagr as those who averaged the most points during their respective tournament appearances.
Robert Kron
It was five years after being drafted that Robert Kron made the jump from his native Czech Republic to the Canucks in 1990-91. Coming off a six-goal, eight-assist season for his hometown HC Kometa Brno team in the Czech League, his performance at the 1985 World Junior Hockey Championship likely played a significant role in the Canucks selecting him in the fifth round, 88th overall in that year's NHL Entry Draft.
Kron, who is currently the Carolina Hurricanes head European scout, formed a potent duo with Michal Pivonka and had eight points in seven games as a 17-year-old to help lead Czechoslovakia to a silver medal. He returned to Brno in 1985-86 and saw his point totals dip not only in regular season play, but also at the World Juniors. Kron only had four points in seven games as Czechoslovakia just missed out on a bronze medal. The Czechs finished with the same record as the United States at 4-3, but the Americans took third place based on goal differential.
The 1987 World Junior Hockey Championship is known for the "Punch-up in Piestany" which saw Canada and the Soviet Union involved in a bench-clearing brawl during the final game of the tournament. The brawl cost Canada at least a bronze medal as the Canadians and Soviets were both disqualified from the tournament. When the dust settled, Kron and Czechoslovakia wound up winning silver. Individually, Kron had three points in five games. He finished his WJC career with 15 points in 19 career games.
Mattias Ohlund
His overall goal-scoring numbers won't stand out to anyone, but Mattias Ohlund was an incredibly solid contributor to Team Sweden during three appearances at the World Junior Hockey Championship. During the 1993-94 season with his hometown Pitea HC, Ohlund was projected to be a first-round pick in the 1994 NHL Entry Draft, and was selected by the Canucks 13th overall. He also played in the 1994 World Juniors, posting two assists in seven games as Sweden won silver.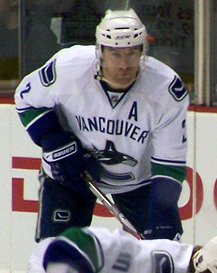 The season after being chosen by the Canucks, Ohlund moved up to Lulea HF in the Swedish Elite League and posted a respectable 16 points in 34 games as an 18-year-old. At the 1995 WJC, he only played three games due to injury, scoring one goal as Sweden won bronze in Red Deer, Alberta. Ohlund ended his season strong with four goals in nine playoff games to lead all defencemen on Lulea in goals during the post-season.
Ohlund played in the World Juniors as a 19-year-old in 1996 and tied for the tournament lead in assists by defencemen with five in seven games. He was named to the WJC All-Star Team and selected as the tournament's best defenceman as the Swedes took home the silver medal, losing 4-1 to Canada in the gold medal game. Overall, the Tre Kronor won three straight medals at the WJC with Ohlund on the blueline and he ended up with eight points in 17 career games at the tourney.
One of the greatest defencemen in Canucks' history, he became the sixth player to be inducted into the team's Ring of Honour last December.
Anton Rodin
Although Anton Rodin recently had a messy separation from the Canucks with his contract being mutually terminated, at one point he was a bright prospect for the team. The Canucks nabbed Rodin in the second round, 53rd overall in the 2009 NHL Entry Draft after he finished second in scoring in Sweden's highest junior league in 2008-09. That season, he had 55 points in 37 games, but didn't make the Swedish team for the World Juniors.
Rodin played his first season in the Swedish Elite League in 2009-10. As a 19-year-old, he struggled somewhat with Brynäs, posting only five points in 36 games. In the first and only time he played for Sweden at the WJC, though, Rodin showed the offensive prowess he was known for in junior and had ten points in just six games.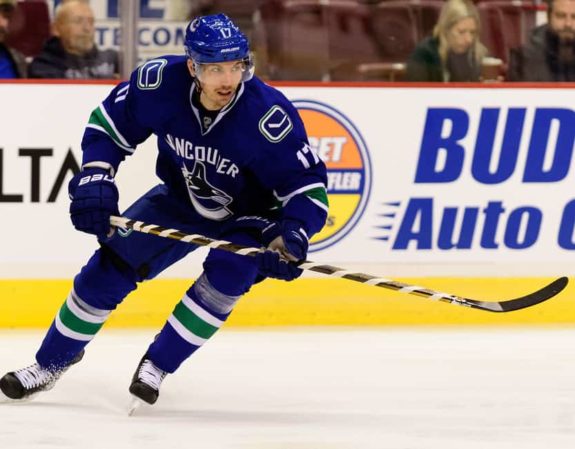 The Swedes fell 5-2 to the United States in the semifinals, but wrecked Switzerland 11-4 in the third-place game to win bronze. Rodin wound up tied for ninth in tournament scoring along with countryman Magnus Paajarvi. He's in pretty good company as other top ten scorers that year included Derek Stepan, Jordan Eberle, Taylor Hall, Nino Niederreiter and Alex Pietrangelo.
Daniel and Henrik Sedin
Much like their NHL and Swedish Elite League careers, Daniel and Henrik Sedin's experiences at the World Juniors are essentially the same, and not surprisingly, both are among the top point producers in tournament history. Daniel had four goals and an assist, while Henrik notched four assists in seven games for Sweden as 17-year-olds in their tournament debut at the 1998 WJC. The result was disappointing for the Swedes though, as they lost in a shootout to Switzerland in the quarterfinals. The individual numbers reflected the Sedins' Swedish Elite League stats though, as they played their first full season against players older and stronger.
In his second season in the SEL, Daniel firmly established himself as an offensive force for MODO, finishing with 42 points in 50 games, including 21 goals. He also broke out at the World Juniors with ten points in six games. Henrik also further developed his offence in 1998-99 for MODO as he posted 34 points in 49 games. At the 1999 WJC, he had nine points in six games. Both brothers were highly touted prospects during their draft year and their showing at the World Juniors only enhanced the hype. Sweden failed to medal once again though, falling to Canada in the semifinals.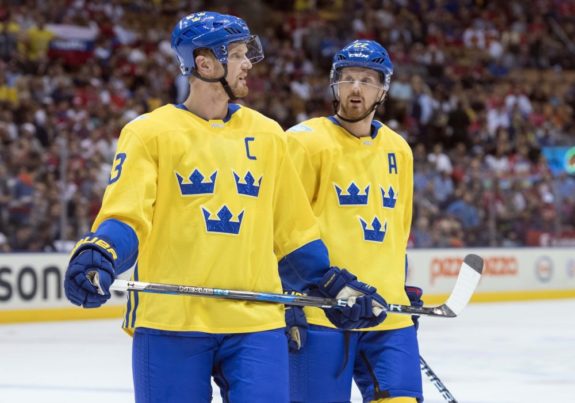 After being drafted by the Canucks in 1999, the Sedins returned to MODO for the 1999-2000 season and further solidified themselves as star players. Daniel had 45 points in 50 games while Henrik had 47 points in 50 games as 19-year-olds. They played for Sweden for a third straight year at the WJC, but as a team, the Swedes came up short on home soil, losing in the quarterfinals against the USA. The brothers had another solid showing individually, with Henrik leading the tournament in scoring with 13 points while Daniel was third in scoring with ten points – each playing seven games. Oddly enough, neither Sedin was named to the tournament All-Star team – likely because of Sweden's inability to win a medal.
Overall though, the Sedins' performances at the World Juniors are among the best, with Henrik sitting 21st in all-time tournament scoring with 26 points in 20 games. Daniel is one point behind his brother – and 24th all-time with 25 points in 20 games. Henrik's 19 career assists are also tied for sixth best all-time in the tournament. Daniel's 15 career goals are tied for 10th all-time. Despite the scoring accolades and storied careers, a World Junior Hockey Championship medal is one thing missing from Daniel and Henrik Sedin's resumes.
Lubomir Vaic
His point totals might not stand out as much as others on this list, but with 14 points in 12 games during his career at the World Juniors, Lubomir Vaic deserves a mention. With Kosice in the Slovakian League, Vaic's offensive instincts showed in his stats. He had 33 points in 49 games in 1995-96 and that summer, the Canucks nabbed him in the (now defunct) ninth round, 227th overall.
He played in the 1996 WJC as Slovakia made its first appearance in Pool A at the tournament, finishing seventh overall with a 0-1-3 record. Vaic had six points in six games while future NHLer Richard Zednik led the Slovaks in scoring.
After being drafted by the Canucks, Vaic returned to Litvinov for 1996-97 and saw a dip in his point totals as a 19-year-old. At the 1997 World Junior Hockey Championship, however, he improved on the previous year with eight points in six games, playing on a line with Rastislav Pavlikovsky and Marian Hossa. Slovakia also moved up in the final standings, finishing sixth overall. Vaic only ended up playing nine NHL games for the Canucks, but his World Junior numbers are certainly respectable.
Petri Skriko
A veteran of six-and-a-half seasons with the Canucks from 1984 to 1990, Petri Skirko was one of the team's top scorers in the mid-1980s. He was drafted by the Canucks in the 8th round, 157th overall in the 1981 NHL Entry Draft from SaiPa Lappeenranta of the Finnish Elite League. The season prior to being drafted, Skriko had an excellent outing with 33 points in 36 games as an 18-year-old. He also played in the 1981 World Juniors, putting up six points in five games as the Finns won silver in the fifth edition of the tournament.
31 yrs ago, Canucks blanked Flames 5-0 as Petri Skriko led way with a hat trick including 2 shorties while killing the same penalty. pic.twitter.com/T94n32YloV

— O-Pee-Chee Stars (@opeecheestars) November 19, 2017
The following year as a 19-year-old, Skriko had one of the most dominant performances in tournament history with 15 points in seven games, helping lead Finland to a bronze medal. He and linemates Raimo Summanen and Risto Jalo combined for an eye-popping 46 points during the tournament. Summanen, Skriko, and Jalo finished 1-2-3 respectively in scoring while Skriko was also named top forward. In addition, Skriko was voted to the tournament all-star team – the only Finnish player who was.
Skriko's 21 points in 12 career games at the tournament put him 44th overall all-time, but he is the sixth highest scoring Finn, behind only Janne Ojanen, Teuvo Teravainen, Raimo Helminen, Esa Keskinen, and Esa Tikkanen. His 1981-82 season saw him improve on the previous year with SaiPa, as Skriko scored 25 points in 33 games. It would still be two more seasons before he came to North America to join the Canucks. To this day, he sits 15th in all-time scoring for the Canucks with 373 points in 472 games.
Conclusion
It's difficult to predict which players at the World Junior Hockey Championship will end up being impactful NHLers down the road. For every Pavel Bure or Daniel and Henrik Sedin, there are many players who turn out like Anton Rodin or Lubomir Vaic. It's something Canucks fans need to keep in mind as they cheer on the likes of Petterson, Juolevi, Gadjovich, and Lockwood at this year's World Junior Hockey Championship.