'The Nuck Stops Here' is a Vancouver Canucks news, opinion and analysis column that runs every Sunday throughout the regular season. Please note that 'The Nuck Stops Here' will not run next week due to Christmas Day. Happy holidays everybody!
News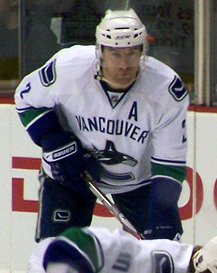 Mattias Ohlund Inducted Into Ring of Honour
This week, the Vancouver Canucks made Mattias Ohlund their sixth inductee into the Ring of Honour (joining Kirk McLean, Orland Kurtenbach, Harold Snepsts, Pat Quinn and Thomas Gradin). The defenceman played 11 seasons with the club, scoring a franchise-high 325 points. Ohlund also finished his career as the team's all-time leader in goals and shots from a defenceman (93 and 1534 respectively). He ranks eighth all-time on the Canucks' games played list.
The Swede was drafted 13th overall in the 1994 NHL Entry Draft and won the World Junior Championships Best Defenceman award in 1996. He played two seasons with the Tampa Bay Lightning (1999-00 and 2000-01) and was recognized as an All-Star in the 1999 season.
Scores of the Week
Washington Capitals – 3 : Vancouver Canucks – 0
Carolina Hurricanes – 8 : Vancouver Canucks – 6
Vancouver Canucks – 4 : Tampa Bay Lightning – 2
Current Record: 13-16-2 (28 Points ~ 6th in Pacific Division, 12th in Western Conference, 28th in NHL)
Analysis
Canucks Boasting a Balanced Offensive Attack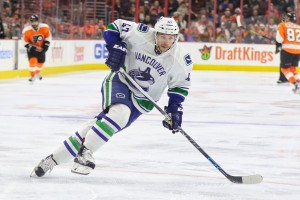 The Canucks offense in 2016-17 could be described as inconsistent, at best, with individuals and the team as a whole suffering a scoring drought. That said, of late, they started to see some goals go in, and not only that, but it's coming from up and down the lineup.
Over the course of the past few weeks, Jayson Megna, Jack Skille, Markus Granlund and Brandon Sutter all made significant offensive contributions. The Sedin twins, as well as Bo Horvat, Alex Burrows and (especially) Sven Baertschi have all made an offensive dent recently, with many of them boasting multi-point games.
In regards to the blue line, Ben Hutton has scored a few goals, while even Luca Sbisa and Erik Gudbranson have been respectable (relative to expectations, at least). While there needs to be more scoring regularity from many of the players, for now, the Canucks can say that they are not a one-line team.
What Should the Canucks Do With Erik Gudbranson?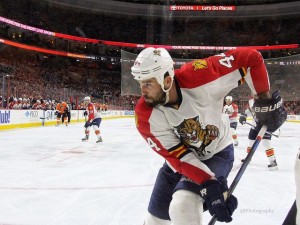 The Canucks' trade for Erik Gudbranson in exchange for Jared McCann (alongside assorted draft picks) goes down as one of Jim Benning's most high-profile moves as General Manager. It will also go down as one of his most controversial, gaining both scathing criticism and endearing praise.
Unfortunately, Gudbranson, brought in as a steady, shutdown top-four defender, hasn't quite lived up to expectations. Many feel that his physicality has not come as advertised, and on the defensive side, he's been imperfect. While perhaps not a liability, it is evident that, as of now, he's not living up to his price tag. This makes the decision for the Canucks this off-season particularly interesting.
$3.5 million is a hefty price to pay for a player largely considered the fifth best on the team when healthy, and it will be a difficult sea to navigate in regards to re-signing the upcoming RFA. Can they afford to sign him to $3 million+ again, or will Gudbranson have to take a pay cut? Another possibility is to trade the 24-year-old for different assets. While likely not a priority now, it is something Benning and co. will have to keep in the back of their minds, and going forward, will have a significant impact on Benning' legacy.
Around the Blog-O-Sphere
Fun links about the Vancouver Canucks from all around the internet.
Why a new coach won't solve the Canucks' problems [National Post]
Troy Stecher continues to make an impact with the Canucks [The Globe and Mail]
Willie Desjardins feeling the heat after a dissapointing road trip [CBC]
A potential Ryan Spooner to Vancouver trade, analyzed from a Bruins perspective [Stanley Cup of Chowder]
Alex Burrows reflects on the John Tortorella era in Vancouver [Vancouver Sun]
A round-table analyzing future Ring of Honour selections [CanucksArmy]
Markus is a Vancouver Canucks columnist out of Victoria, BC. Markus is also a Staff Writer for Last Word on Hockey, an Editor and Staff Writer for country music website The Shotgun Seat, and founder of This Is Country Music.