The Vancouver Canucks' promising future will be on display in the 2018 World Junior Championship as they have four prospects competing and arguably the best prospects pool in the tournament.
The prospects are spread throughout four teams (Canada, USA, Sweden, Finland), so the Canucks' faithful will have plenty of opportunities to catch a sneak peek of what is just around the corner.
With that out of the way, let's take a look at what the Canucks have to offer, ranking the four prospects in order from lowest to highest-ranked.
4. William Lockwood (USA)
Out of Bloomfield Hills, Michigan is Will Lockwood. Best known for his speed, Lockwood creates open ice by simply beating defenders to open areas. He is also praised for his work ethic, which, alongside his speed, creates a fair amount of headaches for the opposition or anybody prone to motion-sickness.
William Lockwood's 6th goal of the season #Canucks pic.twitter.com/1xMNA30f8L

— WTG (@WinThaGame) November 12, 2016
Lockwood currently skates for the University of Michigan and has four goals and seven helpers in 16 games so far this season — last season, he notched 20 points in 30 games for Michigan. His point totals have never been anything spectacular but his sparkplug style of hockey has made him an asset.
With some improved strength and weight tacked onto his 5-foot-10 frame, Lockwood is projected to be a solid bottom-six NHL forward, primarily tasked with a defensive role.
As for the tournament, Lockwood will likely be a fourth-line fixture and a role player that can expect to see a lot of penalty-kill time and shutdown minutes against star players.
3. Jonah Gadjovich (CAN)
Also known as 'The Man Child', Jonah Gadjovich is a young power forward with a knack for finding the scoresheet. At 6-foot-2 and 200 pounds, Gadjovich is a force to be reckoned with — especially, when he's in the offensive zone.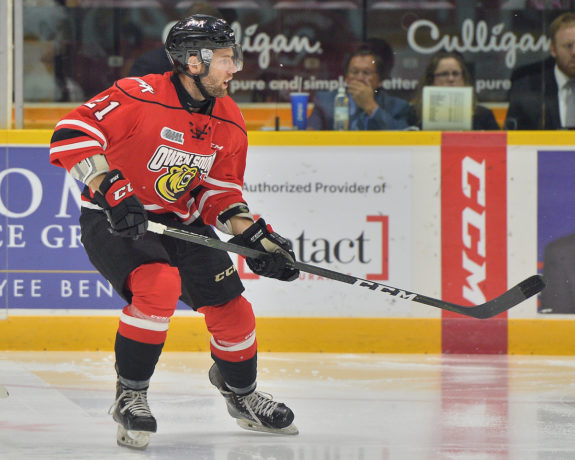 He exploded onto the scene last year with the Owen Sound Attack, rippling the mesh 46 times in just 60 games — he also helped out on an additional 28. This season, with the Attack, he's picked up where he left off and already has 15 notches in 21 games.
Gadjovich is reminiscent of a younger, more talented Milan Lucic and will make for a solid addition to an NHL roster looking to add some size, talent and grit.
In the tournament, Gadjovich will more-than-likely be on the top power-play unit and be parked right in front of the net for a screen, in-tight puck recovery and re-directions. He will also be used to dictate the physicality of games and get under the skin of opponents — two things he is very experienced with.
2. Olli Juolevi (FIN)
Up next is a World Juniors veteran and the Canucks' top defensive prospect, Olli Juolevi. Attributed with smooth skating, poise and a strong two-way presence, Juolevi is the complete defensive package.
"He shows mastery of his position under the most challenging of circumstances, and his poise, calm and assuredness are the stuff of pillar-style defencemen", said Craig Button of TSN.
Juolevi currently plays for the TPS Turku of the SM-liiga in Finland and is having an impressive season with 14 points in 20 games while carrying a plus-nine rating. With some guidance from ex-Canuck Sami Salo, Juolevi can hopefully blossom into an NHL-ready defender and silence those who believe his development has halted.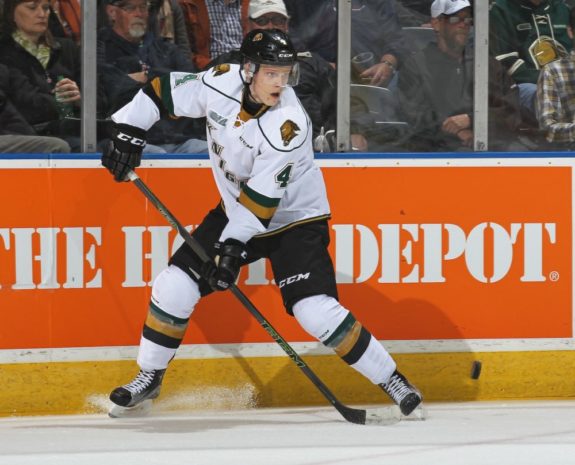 In 2016, Juolevi helped lead Finland to a WJC gold medal while finishing with nine assists and in a tie for defensive scoring in the tournament. In the following season (last season), however, Juolevi chalked up only two helpers while his team was subjected to an extremely disappointing round robin elimination.
In his third go at the WJC, Juolevi is taking on a big leadership role and is expected to lead Finland's revamped roster with a strong showing. This is a very important tournament for the young Finn, as many critics and Canucks fans are worried about his development and also the Finnish squad as a whole — this will be a strong test of his leadership qualities and also his ability to perform with a heavy spotlight on him.
If he can stay on track, Juolevi will be a top-pair defender for the up-and-coming Canucks in the not-too-distant future.
1. Elias Pettersson (SWE)
Elias Pettersson is the most valuable offensive Canucks prospect in the tournament and is known for his soft hands and creativity in the offensive zone.
Currently, Pettersson leads the SHL in scoring with 35 points in 26 games as a 19-year-old and is on pace to potentially set scoring records for a player of his age — this has put him in the realm of NHL legend, Peter Forsberg. His talent is undeniable and his Swedish squad will be looking to him for some leadership.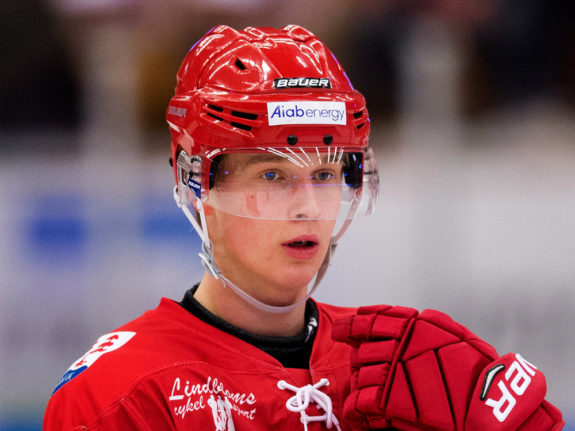 Last year, in the tournament, his skill was shadowed by the simple fact that he was getting physically outmatched all over the ice. Now, with some added maturity and development, there's no reason why Pettersson shouldn't be in the conversation for leading this tournament in scoring.
The Canucks selected Pettersson fifth overall in the 2017 NHL draft, but he's still another season or two away from being NHL-ready. His skills are not in question, but rather, his size and ability to handle physicality — he's 6-foot-2 and a very slender 160 pounds. Adding some much-needed weight is priority number one in terms of getting this 19-year-old ready for the big leagues.
Team Canada Misfire?
Canucks' prospect, Kole Lind was overlooked by team Canada for the 2018 WJC and it's a very contested decision. Team Canada is notorious for, in this tournament, sacrificing talent in order to construct a well-balanced hockey club and Lind was definitely one of the unfortunate sacrifices.
As I touched on in another article, Lind dominated the Canada/Russia series back in November alongside Kelowna Rockets teammate, Dillon Dube, who made the Canadian 2018 WJC squad. Lind was arguably Canada's best (WHL) player in the Canada/Russia series and I found it extremely odd that he wasn't a shoo-in for the top-six forwards in this tournament.
Team Canada Cuts Kole Lind From World Junior Hockey Championship Roster https://t.co/1t7wDvPgHR

— CanucksArmy (@CanucksArmy) December 15, 2017
With that being said, Canada did construct a well-balanced team that is riddled with offensive skill, size, goaltending and defensive prowess.
Matt is a longtime fan, player and student of the game of hockey. Broadcast and Online Journalism student at the British Columbia Institute of Technology.