The Toronto Maple Leafs have only played four games this season and problems have already arisen. They currently hold a 1-1-2 record which, at first glance, doesn't look too bad. After all, that means they have managed at least a point in three of four games. However, when you look at how the Leafs have lost, it gets a bit worse.
The Leafs have scored first in every game so far. That should lead a team to success, but it's not going right for Toronto right now. A big reason for that is their play in the third period. In what seems to be a continuation of one the 'old' Leafs' problems, they can't seem to play a full 60 minutes. More specifically, they need to learn how to hold a lead.
If you want evidence of that, Auston Matthews has already scored five goals this season. Four of those five have given the Leafs the lead — three in the season opener alone where Matthews' great four-goal debut was ruined by the Leafs' inability to hold a lead.
That Matthews took the blame for that loss is a travesty. Good on him for admitting the mistake he made, but it should have never happened. Poor defense by a select few and iffy goaltending have reared their head more than a few times in this short sample size.
---
Complete Maple Leafs Coverage From THW
---
Who's To Blame?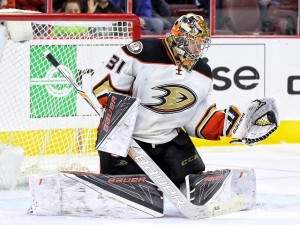 Well, let's not be too hard on Frederik Andersen. After hurting himself in an Olympic qualifying game, he missed the World Cup and only played a few games at the end of the pre-season. He still has yet to get his feet under him so it's fair to call him a bit rusty. Also, a decrease in his totals from last year should be expected. He's no longer playing behind Anaheim's defense.
That brings us to the Leafs' defense. After looking to be a reliable defenseman last season (at least analytics-wise), Martin Marincin has regressed a bit. He was at least partially to blame for two of the goals against in the Ottawa game. He needs to be better, especially given that he's playing beside the Leafs' best defenseman in Morgan Rielly. All Marincin needs to do is play a simple defensive game while Rielly takes the risks.
Then you have Matt Hunwick who is only averaging about 15 minutes of ice time. Compare that to his defense partner Nikita Zaitsev, who sits at about 22 minutes. As much as Mike Babcock says that Hunwick is a good teacher for Zaitsev, if you're not going to trust him with ice time, why not try inserting Frankie Corrado?
The Maple Leafs aren't expected to be a force in the NHL this season, that's for sure. However, every game so far has been winnable and it's more than a little disappointing that they only have one win to show for it.