After a strong preseason and an excellent start to the regular season, Alexander Radulov has come as advertised. Many criticized Marc Bergevin for bringing Radulov into the locker room this past offseason when he made significant moves to change the culture of the Canadiens. Radulov came with a questionable reputation in the National Hockey League, and by trading P.K. Subban for Shea Weber the Canadiens wanted more maturity in the dressing room, so it puzzled many hockey experts and fans.
However, Radulov has come in and already proven himself. He's been excellent through four games and is undoubtedly the most noticeable forward on the ice. Shift in and shift out he works hard and has a ton of fun doing it.
Related – Canadiens Bargain Shop, Find Gold with Radulov
In the offseason, prior to Radulov coming to Montreal, Marc Bergevin did his homework. He had countless conversations with his hockey people and, most importantly Shea Weber, about bringing in Radulov. Of course, in typical Marc Bergevin fashion, no one had the Habs pegged as a landing spot for Radulov but he was convinced and trusted his people that Radulov could come in and make a positive impact on the Montreal Canadiens.
Overall, Radulov was brought in to bolster the top six and he's done exactly that. Somewhere in the Bell Centre, Bergevin has a grin on his face in the early going as the Canadiens sit 3-0-1.
The Story So Far
Through four games, Radulov has one point, twelve penalty minutes and is an even plus/minus. Not exactly what you thought he'd have as I was describing him above. Although it hasn't shown up on the score sheet yet, Radulov has made an impact on the ice in more ways than one.
Welcome back Radulov, we've missed this from you. pic.twitter.com/xQHpLDnlWd

— NHL (@NHL) October 19, 2016
Ultimately, Radulov was brought in to score goals and so far he has one. However, Habs fans have come to see that Radulov is a much more complete player. His skill is undeniable and yes, unlike most offensively dependent players, he plays defense. He uses his size to his advantage as he's incredibly strong on his feet and always puts defenders on edge when he enters the zone.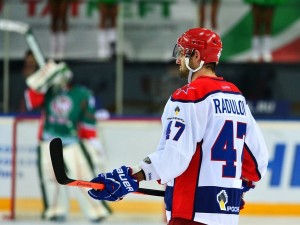 So far Michel Therrien has him paired with Tomas Plekanec and rookie Artturi Lehkonen. The chemistry being developed with Lehkonen early in the season is remarkable. By being with Radulov, it's accelerating Lehkonen's adjustment to the North American game. He sits third in rookie scoring behind Auston Matthews and Patrick Laine.
However, as good as he is with Lehkonen, Tomas Plekanec is continuing to show an offensive downturn and looks more suitable for a shutdown role on the third line. Alex Galchenyuk, on the other hand, has shown flashes of chemistry with Radulov as they've connected on a couple goals in the preseason and regular season.
Radulov has been on the ice with Galchenyuk about 2 times this year. They have 2 of the prettiest goals.

— BrianWilde (@BWildeCTV) October 19, 2016
Ultimately I hope Galchenyuk, Radulov and Lehkonen end up together — it's the line that has the most offensive upside and the combination will squeeze the most out of Radulov's offensive talents. Although I do think it will take Therrien some time to figure it out if he does at all especially if Plekanec shows any offensive upside.
What to Expect Going Forward
As good as Radulov has been so far, you can expect him to get better as the season goes on. With one goal and just a point in four games the offense isn't quite there yet, but it's coming.
The Canadiens desperately needed secondary scoring in their top six. Outside of their first line of Max Pacioretty, Galchenyuk and Brendan Gallagher, it was hard pressed to find additional scoring in their forward group. Now with Radulov in the fold, they have finally begun to fix the problem.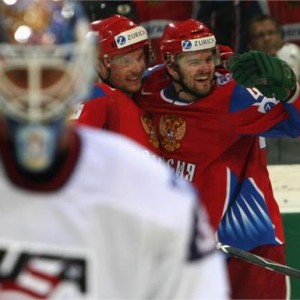 It wouldn't shock me if Radulov got anywhere between 20-30 goals this season which would put pressure on the Canadiens to lock-up their new sniper and growing fan favorite to a long-term deal. Being 31-years old, Bergevin will have to work to find a number that makes sense with the likes of Galchenyuk and eventually Carey Price needing new contracts down the road, but the play of Radulov might force his hand.
Michel Therrien is not interested in outdated Alexander Radulov narratives: pic.twitter.com/qvYQFnKuZk

— Eric Engels (@EricEngels) October 21, 2016
As his play increases on the ice, many will watch his attitude off the ice. Obviously, the two will go hand in hand when Bergevin decides on the future of Radulov and a possible extension. However, through the summer and the month of October, Radulov has shown zero signs of immaturity on or off the ice. He's done and said all the right things so far as a member of the Canadiens.
---
Complete Canadiens Coverage From THW
---
Enjoy It
As for now, Habs fans can enjoy watching one of the most skilled players in the world play for their team. It's been a long time since the Canadiens had the offensive power they do right now and even though it's not up to the standards of the league leaders, Marc Bergevin is finally pushing for offense.
With more opportunities, different line combinations and continual hard work, there's even better days ahead for both Radulov and the revamped Montreal Canadiens.