When the NHL Free Agency market opened up on July 1st players we're flying off the shelves with lucrative deals. Kyle Okposo to Buffalo, Andrew Ladd to New York and Milan Lucic to Edmonton just to name a few. While money was being thrown out everywhere, the Canadiens were backing off.
At this point for Habs fans there was a sense of early disappointment that this was going to be like previous years with no impact free agent signing to improve what was such a glaring hole; scoring. To many it seemed like Bergevin was sitting in his office browsing for a new set of golf clubs to hit the links in the upcoming summer. However some were holding out hope from an earlier unconfirmed report about a familiar player from Russia:
Alexander Radulov has signed with Montreal.

— Travis Yost (@travisyost) July 1, 2016
If memory serves NHL fans correctly, Radulov was a very skilled but also a very immature, self absorbed top-six forward. How could the Canadiens bring this into their room right after they shipped one of the most popular players in the league out for somewhat similar reasons? We need to take a closer look. 
Who Was Alexander Radulov?
That's a complicated question. Radulov was drafted in 2004, 15th overall, by the Nashville Predators. He came over from Russia to play junior in Quebec for the Remparts and Patrick Roy. He played 127 games posting 93 goals and 227 points. From there he played 11 games with the Milwaukee admirals before being called up to the big club in 2006-07. His first two years with the Predators he put up 44 goals and 96 points.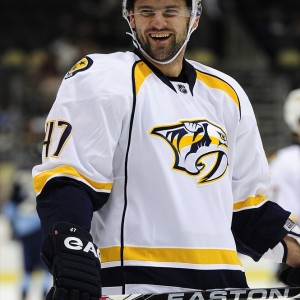 The stats tell the story of an elite talent with a bright future in the National Hockey League, but they don't tell the story of the person behind them. Radulov came over from Russia with major maturity issues. He was rubbing teammates the wrong way with his attitude toward hockey where most say his talent never lived up to his work ethic when it came to practicing.
Radulov finished the 2007-08 season with the Preds and both them and Radulov decided it was best if he didn't continue on in the NHL. He went back to the KHL in 2008-09 to play with Ufa Salavat Yulayev. He posted four seasons all over 20 goals and steadily improved as each year went on. Near the end of the 2011-12 season Radulov and Nashville came back to each other and decided to give it another shot.
Unfortunately, Radulov only lasted until the end of that season's playoff run for the Predators as, once again, maturity issues got in the way. Radulov had missed curfew in the playoffs reportedly do to partying which proved to be the last straw for him in Nashville.
Who Is Alexander Radulov?
Following the 2011-12 season, Radulov was out to prove himself. He moved back to Russia to play for CSKA Moscow in the KHL. This is when Radulov evolved into the player most reports close to the KHL insist he has become. Over four years, Radulov became the Captain of his team, won two KHL MVP awards and on a personal level, started a family.
Spoke with 3 people today who are very piped into Russian market. All say Radulov has been a completely different person over last 2 yrs.

— Eric Engels (@EricEngels) July 1, 2016
Radulov proved to the Russian media and the world that his issues were based on maturity not character, which have always tainted his reputation in North America. There is no denying that his past actions and issues were not to be tolerated in the National Hockey League and Nashville rightfully cut ties with him when they could but there is also no denying that he has evolved both as a player and a person. It's really telling when one of the most prominent KHL teams declares Radulov as the face of the franchise by naming him captain. You can't outgrow character issues, but you can work on your maturity problems and thats exactly what Radulov has done.
Who Are the Canadiens Getting?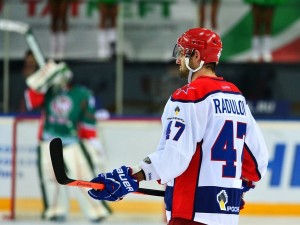 The Canadiens stole Radulov. Marc Bergevin has been hounded ever since he took the job as Caandiens General Manager to improve the team's scoring issues. When the market opened on July 1st there was so much talk about guys like Lucic, Okposo and Ladd that fans forgot the best pure scorer in this year's free agency class.
Which is why, to  Bergevin's credit, he didn't bite at the asking prices of the highly sought after free agents. All reports were that Montreal was in the Lucic sweepstakes until the end but didn't want to give $42 million dollars to a player many think will be on the decline within the first part of his 7-year deal. Simply put, there just wasn't a player out there that deserved the contract they got.
Canadiens fans were starved for top six quality players and goal scorers. Bergevin did one better, Radulov is a top three talent and according to Russian reporters, the best Russian player behind Ovechkin and Malkin:
Let me put this straight – Radulov is the best Russian player not named Ovechkin or Malkin.

— Aivis Kalniņš (@A_Kalnins) July 1, 2016
Adding a player the caliber of Radulov should excite Montreal Canadiens fans. Bergevin has done his homework with the help of his scouts and newly added defenseman Shea Weber who was a teammate of Radulov when his maturity issues ultimately took him out of the NHL.
With Radulov, the Canadiens are immediately better. A low risk one year deal, gives the Canadiens the ability to walk away at season's end or get the first chance to extend him should he have the year most people close to Russian hockey are expecting. The additions of Shaw, Weber and now Radulov, as hard as it may be for Habs fans to accept, are a better team today than they were a week ago. Fans can look forward to a tough to play against, hardworking team this year that is sure to improve upon the disappointing 2015-16 season. Bergevin hasn't solved all the problems upfront and I don't suspect he's done but this sure is a good start to solving the Canadiens scoring issues.
Nick Guido is a Montreal Canadiens Contributor for The Hockey Writers. You can Follow him on Twitter @nickguidoTHW for his articles, opinions and general Habs talk.