With the buildup to EA Sports NHL 17 in full swing, there were still many questions that fans had that were left unanswered via the game's Ask NHL series as well as in the feature announcements.
The Hockey Writers had a chance to talk with associate producer Andy Agostini as well as lead producer Sean Ramjagsingh about the upcoming release. During the conversation, details regarding Draft Champions, relocation in Franchise Mode, the addition of the ECHL, and gameplay improvements, among others, were covered.
Check out the various questions and answers below, and be sure to stick with The Hockey Writers for more NHL 17 goodness as the game's September 13th release moves closer.
THW: How long have the changes to Franchise Mode been in the works?
Agostini: "We've had the plans sort of in place the last couple of years. We've been listening to the fans, seeing what they want. We know we have a lot of the rules in place for the GM part and actually managing your team. This was bringing the aspect of what the GM has to deal with upward; bringing in an owner. You kind of become the President and GM. The goal being that you produce a good product on the ice and earn more profit. But the reverse can happen. If your team starts to have issues, fans will start to not appreciate the team as much and they'll come to less games and you'll see that through your attendance.
Also, just managing the quality of what you have there for the fans. Whether it's upgrading a parking lot or adding a new concession stand. All those aspects are part of the new layer that we've added in. Having an owner that has certain goals for the team whether it's a team goal or a profit goal, and trying to accumulate as many of the goals as possible so that you can keep him happy and keep your job."
THW: We know about relocation, but can current arenas be upgraded for those that don't want to move?
Agostini: "Yes. It goes through a bunch of different layers. There's five tiers to that. For example, fans can eat lobster rolls instead of just hot dogs if you upgrade. The idea being that you're not going to be able to update your arena itself physically to look at it, but you'll see things that we're doing at the actual game.  So, at the beginning of the game you might see just hot dogs and a glass of pop, but by the third and fourth item you might see little platters of pizza and things like that.
When you do promotion night – where you can actually have t-shirt night or bobble head night – you'll actually going to see a bobble head in the presentation aspect of the game. When you end up at an arena and they say it's poster night and you see 14,000 of these posters in the stands, we wanted to bring that out as the user plays the game. If it's t-shirt night, they're going to see t-shirts laid out on the seats."
THW: Have contract negotiations changed?
Agostini: "Other than tuning, it hasn't been changed much. Something being looked at in the future."
THW: What about scouting?
Agostini: "Other than some tuning, no. We are hearing from fans that that is something they'd like to see changed and looked at. As we move forward, we have a list of what to work on for the future."
THW:  Have connections been improved for online play?
Ramjagsingh: "One v One has increased stability and connection. Obviously, for online team play and EASHL, connection varies based on players are located. But we're happy with the improvements."
THW: The first trailer showcased goaltending quite a bit, how much will fans notice the difference?
Ramjagsingh: "When you're just playing a play now game, the goalies are very, very different. Coming out of EA Play, the fans noticed the goalies looking authentic. Blocking saves like shoulder shrugs are now noticeable. They (goalies) look different with stances and play different. Combined with natural physics of the puck, the puck is now bouncing off the goalie different and we're seeing rebounds we've never seen before."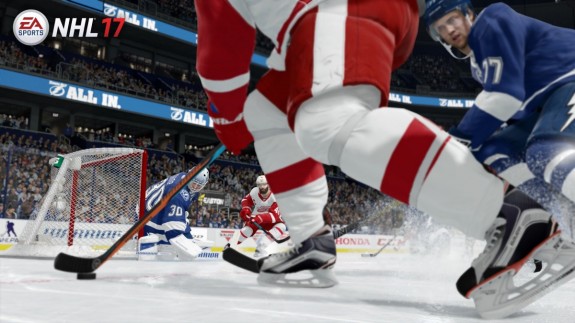 THW: Is Be-A-Pro any different?
Agostini: "It's similar to last year other than gameplay changes. Coach feedback improved to show more of what is being done right and wrong."
THW: Board play is a big deal to fans. How has that been tuned to be more realistic?
Ramjagsingh: "A lot of tuning.  The system itself is a lot of the same, but again, working on the AI pieces, the system reacts when a third player comes in to poke the puck loose. Again, working with the game changers did a lot of fine tuning."
THW: Can you change your HUT name without starting over?
Ramjagsingh: "No"
THW: How happy are you with the game's overall feel, especially after fans complained last season?
Ramjagsingh: "Overall we're extremely proud with where we're at with NHL 17. With the new depth and features, the package is one of the greatest year-over-year packages that we've ever put together."
Michael is a former Managing Editor for The Hockey Writers. He's covered the Buffalo Sabres, along with the NHL in general, for various outlets since 2009. His work has been featured on outlets such as Yahoo, Sports Illustrated and Fox Sports.