The Toronto Maple Leafs would benefit by adding more scoring and physicality to their top-six unit. The team is almost certain to make the playoffs, but how they do when they get there is a different kettle of fish. Not so good, thus far. The team has ​​not won a playoff round since 2004.
Related: 7 Cities That Make Sense for NHL Relocation
The postseason is a different beast compared with the regular season. NHL teams must elevate their physical play to match the opponent's intensity. Last season the Maple Leafs were a top-five team in terms of regular season hits, but they struggled in the playoffs when the physical intensity ramped up. In addition, they simply didn't score when they needed to.
This is Where the Canadiens' Josh Anderson Fits In
That's where a player like the Montreal Canadiens' Josh Anderson fits in. He's physical, he has an offensive mindset, and he has something else on his contract that Maple Leafs' general manager Kyle Dubas prizes — he has term. He carries a salary-cap hit of $5.5 million through the 2026-27 season, and he then becomes a, unrestricted free agent (UFA). In addition, he's also from nearby Burlington.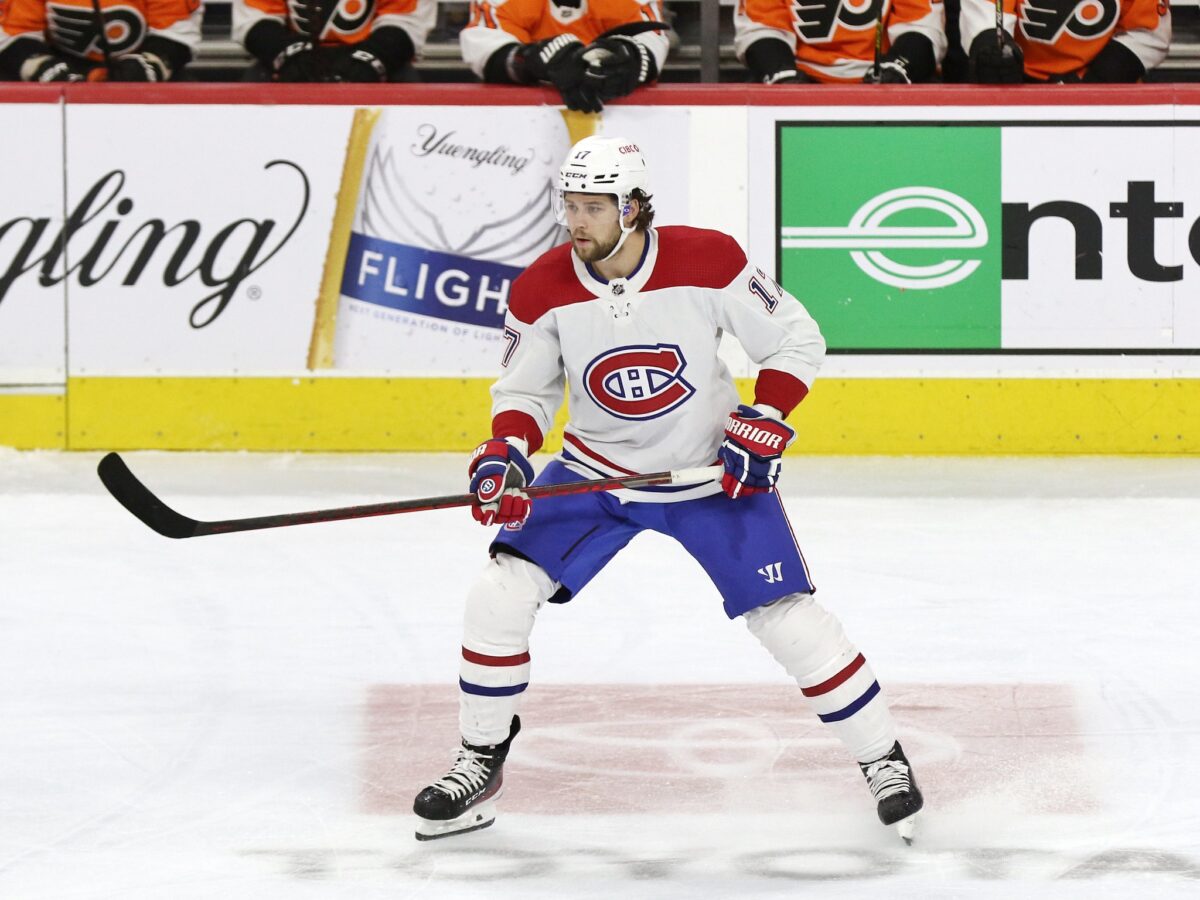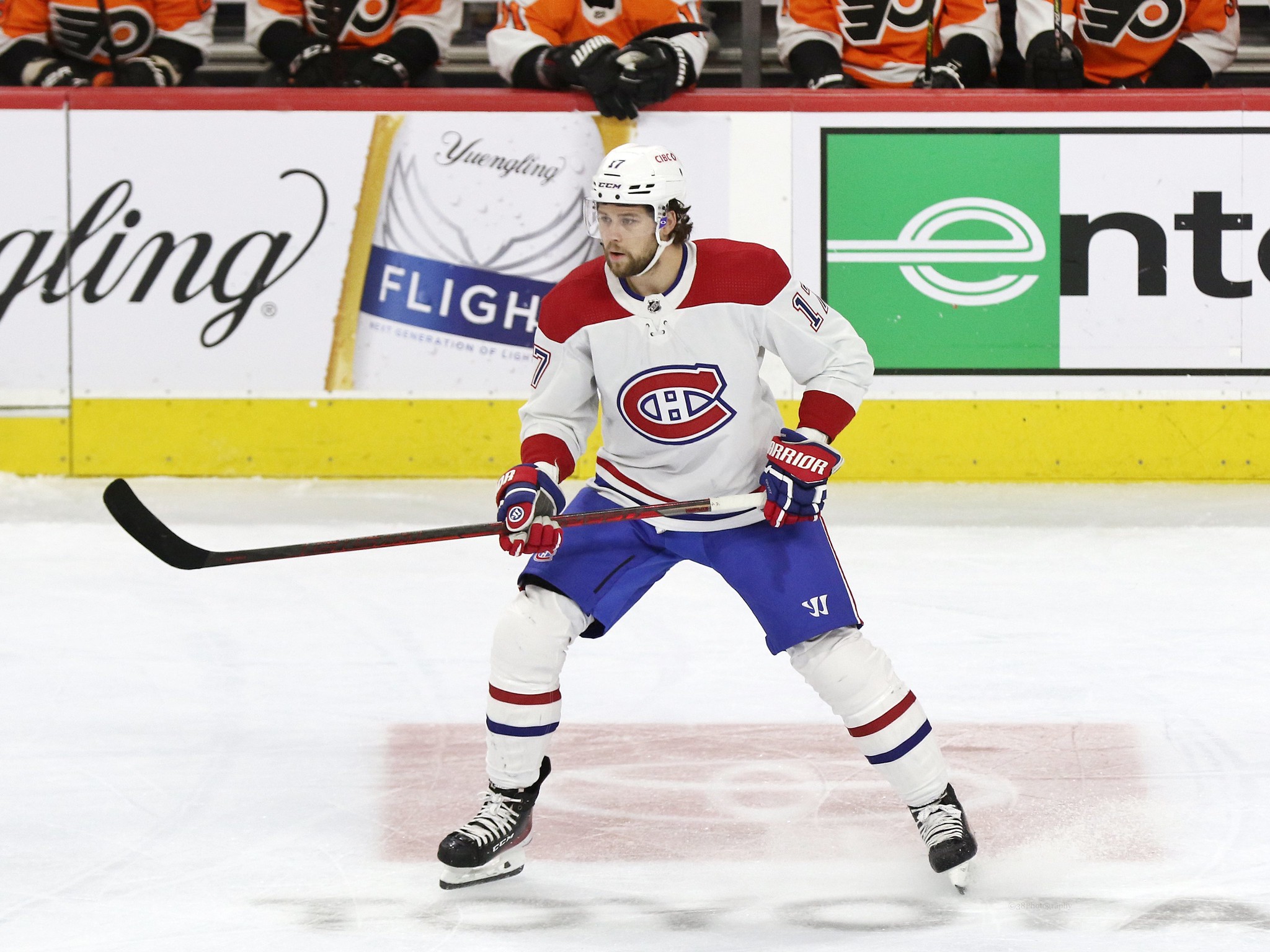 Although there's a lot of noise about Timo Meier coming to the Maple Leafs, I'm simply not buying it. While he's the kind of player Toronto's management wants, his contract situation simply doesn't fit well with the way the group operates. And, like it or not, this Maple Leafs' leadership team tends to stay true to form and philosophy.
---
---
The Maple Leafs have been criticized for being too finesse-oriented and not having enough physicality in their lineup. While they have players who can deliver big hits, they lack the depth of physical players that teams like the Boston Bruins have. The Maple Leafs are not known for their physical, grinding style of play. Anderson would add to that mix positively.
Anderson Would Be a Good Fit
Ultimately, the Maple Leafs' lack of playoff success is not solely due to the team's physical play, but it is certainly a factor. To have a chance at winning the Stanley Cup, the team will need to find a way to play with more intensity and physicality, especially when the competition is the toughest.
Related: Maple Leafs Should Have a Quiet Trade Deadline
Anderson could be a good fit with the Maple Leafs because they are looking to add more physicality to their lineup. He's a big, physical forward who can play a top-six role and contribute offensively. He has a good shot and is willing to go to the dirty areas of the ice to score goals. 
Anderson also has a solid track record of being effective in the playoffs, which could be a valuable asset for the Maple Leafs who have struggled in recent years. Given the talk about Meier and the other big-name moves the Maple Leafs could make, it would seem that the organization could just as easily squeeze Anderson under the salary cap as any of the other players rumored to be on their way.
Making Room for Anderson
The Maple Leafs would need to make some moves to clear out salary-cap space to be able to accommodate Anderson's $5.5 million cap hit. This likely means moving out some of their current players or negotiating a trade that would allow the Canadiens to retain some of Anderson's salary. However, there are creative moves that could be to send contracts to the Toronto Marlies until the postseason comes when the salary cap isn't an issue.
---
Latest News & Highlights
---
As James Mirtle writes:
"Assuming good health, what the Leafs will do before the deadline is to demote as many players as possible to create additional cap space. Using LTIR, they can exceed the cap by $6.42 million (the combination of [Jake] Muzzin and [Nic] Robertson's cap hits), but they've been eating into a lot of that by carrying extra players on the roster." (from: "How the Maple Leafs can find a way to make a blockbuster deadline trade," James Mirtle, The Athletic, 08/02/2023.)
Related: Frederik Andersen's Unforgivable Sin According To Maple Leafs Fans
Acquiring Anderson could be a good move as the Maple Leafs look to add more physicality to the lineup to make a deeper playoff run. However, as with any other acquisition, they would need to evaluate the salary-cap implications and whether Anderson is the right fit for their team.
Anderson Is Exactly the Right Fit, But Considerations Exist
I believe Anderson is exactly the right fit. He would bring the kind of physicality to the Maple Leafs' lineup that Tom Wilson delivers in Washington with the Capitals. He has a good combination of size, physicality, and offensive ability, which would make him a valuable asset on this team. However, there are some potential downsides to consider as well.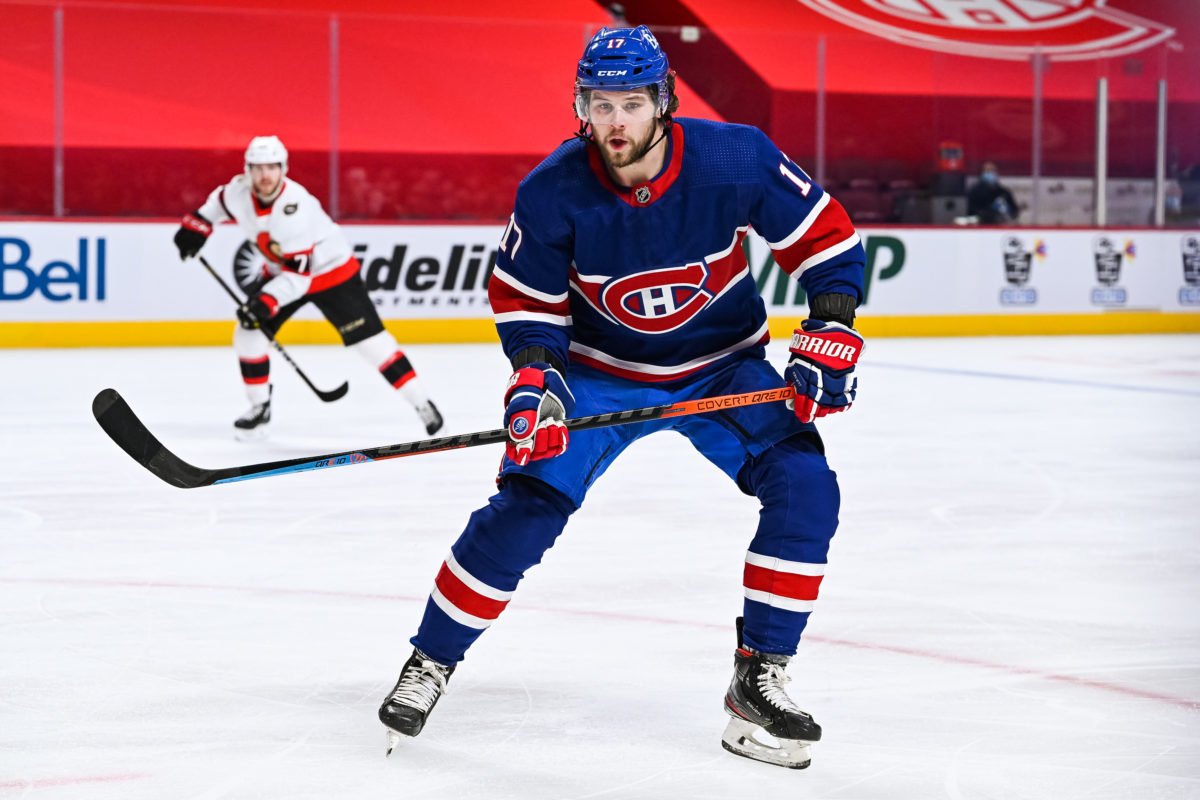 One of the biggest considerations is Anderson's contract, which has five seasons remaining at a cap hit of $5.5 million. In one way, that's a decent salary for Anderson. In another, the salary-cap hit is enough of a consideration that the Maple Leafs would need to find a way to fit his contract under it. Depending upon what aspects moved to the Canadiens, is there a situation where Montreal would consider retaining some of his salary?
Additionally, Anderson would be 33 years old by the time his contract expires. While that might raise questions about his longevity and potential decline in performance, that's a question for later. It would seem to matter little for the near future and the end of the 2022-23 season. 
Related: Revisiting the Lightning's Blockbuster Trade for Blake Coleman
In fact, similar concerns were raised about Zach Hyman's contract when he left the Maple Leafs to sign with the Edmonton Oilers. However, Hyman's having a career season, which makes the question moot — at least makes it a question for another time. This season is too important to worry about that far down the highway.
Anderson Would Be a Solid Addition for the Maple Leafs
Overall, Anderson would be a good fit for the Maple Leafs. He's the exact size puzzle piece the team is looking for as it prepares to face the Tampa Bay Lightning once again during the first round of the postseason playoffs. 
Anderson fits the specific needs of the Maple Leafs at this time in their history. His physicality and offensive ability would be a valuable addition to the Maple Leafs' top-six forward group.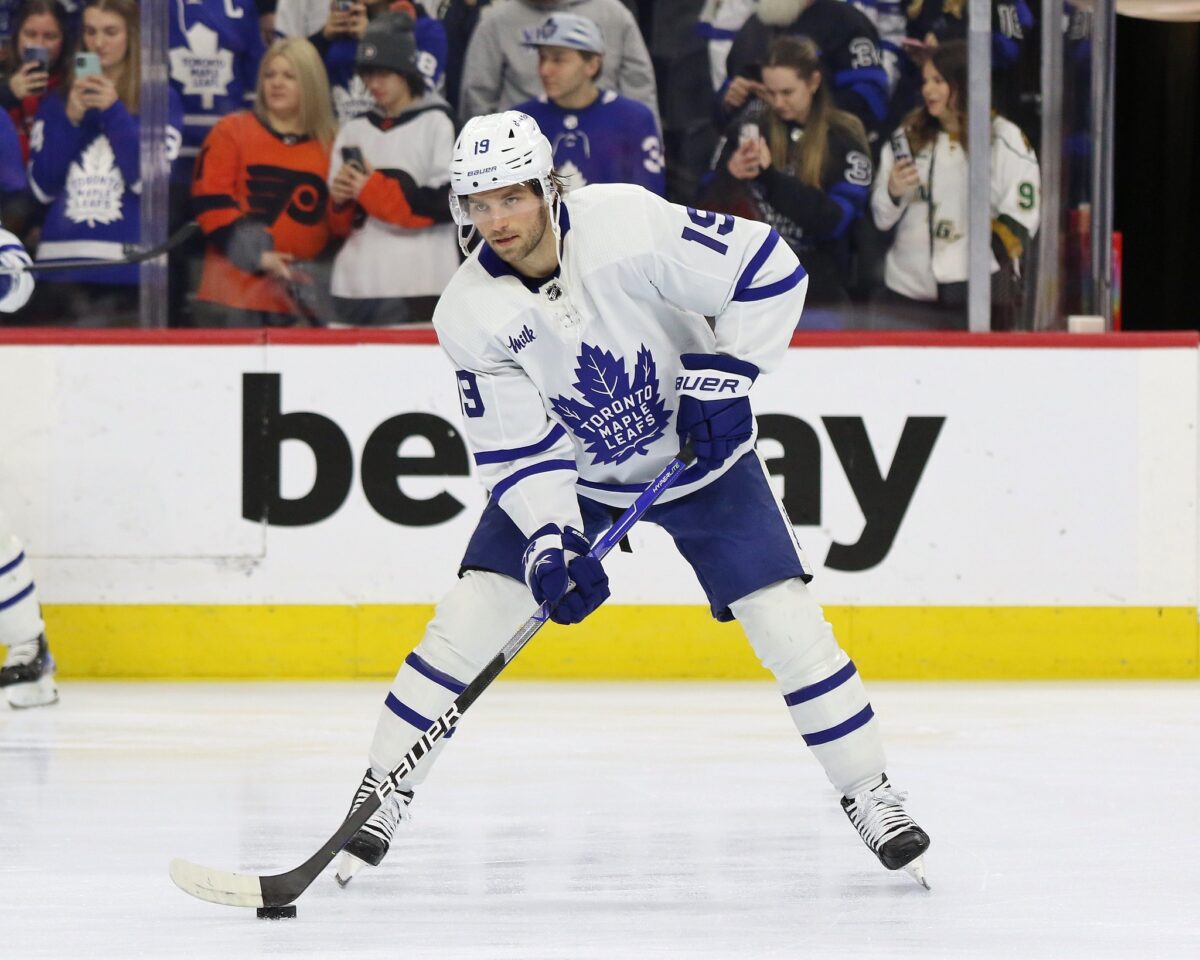 Given that the first line of Auston Matthews, Mitch Marner, and Micheal Bunting seems like a done deal, he would likely take Calle Jarnkrok's place on the team's second line. Given his size and physical style of play, that would bring a new and added dimension to the Maple Leafs' game. That would be particularly true in the playoffs where physical play becomes more important.
Weighing the Pros and Cons of Bringing in Anderson
Ultimately, the Maple Leafs must weigh the pros and cons of acquiring Anderson to determine whether his addition would bring them closer to being a Stanley Cup contender while still considering their long-term goals. 
There's a lot of talk about other forwards coming in by trade. In my reading, Anderson's name has not been connected to the Maple Leafs. However, given what I believe about the team's needs and how this management group thinks, I would not be surprised if Dubas pulls off this specific trade.
For my money, Anderson checks more boxes than any other trade deadline candidate. If I were to have a vote, my trade deadline move would be Josh Anderson.
---