The Marc-Andre Fleury situation in Pittsburgh just got a lot more interesting. After the Toronto Maple Leafs sent two draft picks to Anaheim in exchange for 26-year old net minder Frederik Andersen, the market for Fleury shrunk just a bit.
Unfortunately, it may have shrunk enough to somewhat diminish the returns Pittsburgh can expect.
Every general manager across the NHL fully understands Jim Rutherford's predicament in Pittsburgh. On the surface, everyone would love the problem of having too many starting goalies. However, with an impending expansion draft that could mean exposing Matt Murray, their 22-year old Stanley Cup winning backstop, teams understand the Penguins could be forced to make a trade they aren't necessarily thrilled about.
If more and more teams acquire starters elsewhere, it really becomes a buyers market and Rutherford will be forced to sell low.
The list of teams looking for a goalie of Fleury's caliber this summer is short. With Toronto checking that box yesterday, the Calgary Flames will be the most aggressive organization going forward. Recent rumors have indicated that Calgary is already in contact with Rutherford and the Penguins but according to others, the Flames may also have interest in James Reimer who is set to become an unrestricted free agent on July 1.
Reimer will be a cheaper option, though not nearly as accomplished or reliable. Fleury is the cream of the crop right now, but as we've witnessed over the past few seasons, you don't necessarily need the cream of the crop in-goal to win a championship.
Will Calgary, or another team in search of goaltending help, ante up for Fleury or will they seek cheaper options elsewhere leaving Rutherford in a bind?
Stagnant Cap Another Hurdle for Pittsburgh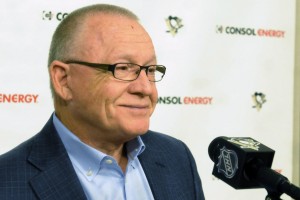 Following the general manager's meetings in March, the cap was estimated to be around $74 million for next season. That remains the case, but it will only reach that number if the player's exercise their escalator clause. If not, the ceiling will remain flat or potentially decrease slightly.
That's bad news for a team trying to unload $5.75 million in salary.
The players will likely use the escalator, but the Penguins are a team that hovers near the cap ceiling at all times and this summer is no exception. That means they can't take on much salary in return, even if the limit reaches $74 million, which leaves their potential trade partner with the task of making room for Fleury.
Again, hardly an ideal situation for the Penguins and Rutherford.
Throughout the past year, we've witnessed a lot of creativity from Pittsburgh's front office. Rutherford is at the forefront but it's impossible to ignore the team of assistants he has behind him. If their 2015-16 campaign is any indication, rest assured this group will find a way to strike a fair deal. However, at this moment, fair may mean dropping expectations a bit.
Penguins Still Playing Hardball
According to a recent report, Pittsburgh is asking for Calgary's first round pick (6th overall) in exchange for Fleury. A hefty price in what is currently a buyer's market.
At this point, it isn't surprising to see such a high price. That's how negotiations work, after all. However, the question remains as to whether or not Rutherford is willing to budge in order to make this work. Maybe that includes another piece to sweeten the pot but a more likely scenario is acquiring the Flames' second round pick and a prospect.
That isn't devaluing what Fleury brings to the table, but simply understanding the market as it stands.
The aforementioned Andersen trade, which saw the Maple Leafs acquire their starter for the foreseeable future, fetched a return of this season's 30th overall pick and a second round selection in 2017.

(Courtesy www.nhltradetracker.com)
Andersen is 26-years old and just entering his prime. Fleury is 31 and hasn't carried his team past the second round of playoffs since 2009. There were other variables in play of course, but these are things any potential suitor will look at. Two recent concussions won't help matters either.
We're past the point of wondering if Fleury is in play and now, it's a matter of who makes it work and when. It's hard to imagine he's still a Penguin after the NHL Entry Draft on Friday, but stranger things have happened. Dark horse candidates that could emerge as a destination are St. Louis, Dallas or Edmonton but the Flames are willing and able to get a deal done if the Penguins work with them.
Stay tuned, as things may get very interesting in the coming days.