Once his career ends there should be no question of whether or not Marian Hossa is a Hall-of-Famer. He has been one of the most consistent and top tier players of his generation from his start with the Ottawa Senators as a baby-faced blonde kid all the way to his current clutch status with the Chicago Blackhawks, who just capped off their third Stanley Cup championship in six seasons.
Heck yes HOSSA!!! The perfect pic @NHLBlackhawks! #helicopter #CupTracker #chetours #riseup #Chicago pic.twitter.com/PGZHpAtMSG

— ChicagoHelicopterEx (@CHEtours) June 19, 2015
I remember my introduction to the now 36-year-old Slovakian sniper when my father, who was a police officer, went to Ottawa for an annual Law Enforcement Parade, and returned with a set of Senators team cards after attending a preseason game in September of 1999. He told me to 'pay attention to the baby-faced blonde kid' and said he was amazing in the game he attended.
Quite the highlight reel for the "Demigod":
Ever since then not only myself, but the entire league has seen the amazing career of Hossa progress. From the blockbuster trade that saw Ottawa deal him to the Atlanta Thrashers for Dany Heatley, to being a hired gun with the Pittsburgh Penguins and then the Detroit Red Wings, to being branded a loser after being on the wrong side in those two consecutive years in the Stanley Cup Final (2008, 2009). Funny because it certainly wasn't his fault that his team lost either of those series; now he is a not only a three-time champion, but he's also one of the best point producers (31st all-time) in NHL playoff history with 144 points (49g-95a) in 194 games (second among active players).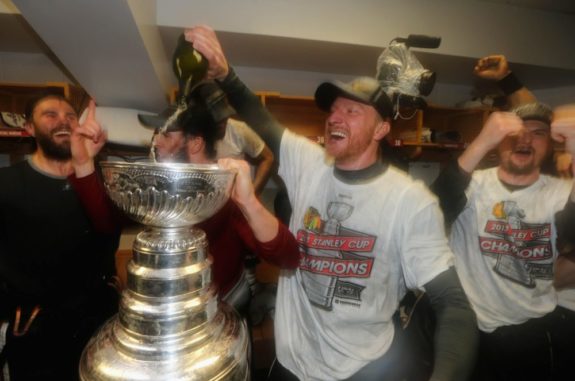 He's already piled up over 1,000 regular season points (his 1,056 pts are fourth among active players) and should be able to reach the 500-goal plateau at some point next season as he sits at 486 career markers. He'll also be looking to reach his sixth Stanley Cup Final in nine seasons, a feat that has to rank up there with the great Habs players from yesteryear.
Hossa knows how to get to the open areas of the ice, like all greats do:
His teammates all have the utmost respect for him, the true sign of a great person, as well as player. "(I think) you just forget about how much hockey he's played, and how old he is," teammate Jonathan Toews told the Chicago Sun-Times, before catching himself. "That sounded awful. I didn't mean to put it that way." Point taken though. He doesn't play (to) his age; at all. Maybe he doesn't put up numbers like he did during his playoff run with the Penguins anymore (26 points in 20 games) but he's always a threat when he's on the ice. His versatility is one of many factors why Chicago has been an elite team the past decade.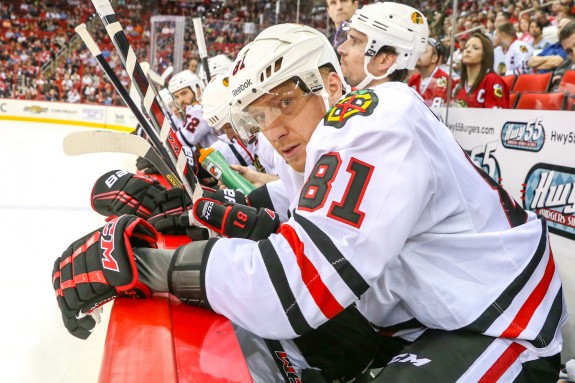 The coaching staff can put him on a scoring line, a checking line, on the power play or the penalty kill. He's a smart player. He thinks the game like many of the greats — a few steps ahead. "He's one of those guys that if you watch him every night and you watch other games around the League you'd say, 'Hey, why isn't this guy up for a Selke Trophy?'" Patrick Kane said of his teammate for the past six seasons. "He plays penalty kill. He backchecks better than anyone in the League; he's always up there in takeaways."
Marian Hossa — Alllllll Byyyyy MyyyyySellllllllf:
Ultimately the decision is up to the voters for the Hockey Hall of Fame but with already impressive numbers — 1,000+ points, 486 goals, 3 Stanley Cups — and a career that could span (perhaps) another four years, he should be a lock to join hockey's ultimate team. Marian Hossa has my vote, what about yours?
Dan Rice can be reached via Twitter: @DRdiabloTHW or via Email: drdiablo321@yahoo.com