It's hard to think of a player who has brought a more consistent level of excellent play to this league than Marian Hossa has for the past 17 years. He's played for Ottawa, Atlanta, Pittsburgh, Detroit, and now has found a home in Chicago, where he has served brilliantly as the tertiary forward piece behind Jonathan Toews and Patrick Kane on a longtime Stanley Cup contender. Just take a look at these stats, and you'll quickly realize just how good Marian Hossa has been for so long.
It's quite astonishing, really. Hossa has never gotten his due for how well he's maintained his high level of play throughout the years. I think this is mostly because the Slovak has never truly been one of the elite of the elites when it comes to the NHL's top forwards.
His highest finish in terms of Hart Trophy voting as the league MVP is 10th, a spot which he reached in 2003 as an Ottawa Senator and again in 2007 as an Atlanta Thrasher.
Marian the Mercenary?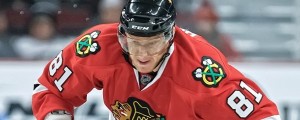 Everywhere Hossa has gone, he has never really been the guy that a team has built around. When he was in Ottawa, so was Daniel Alfredsson. When he was in Atlanta, so was Ilya Kovalchuk. In his brief stints in Pittsburgh and Detroit, he served as support for Sidney Crosby, Evgeni Malkin, Pavel Datsyuk, and Henrik Zetterberg. Now in Chicago, it's Jonathan Toews and Patrick Kane grabbing the headlines ahead of him. Even his captain (hilariously) knows this to be true.
Toews on Hossa: "You just forget about how much hockey he's played and how old he is. That sounded awful. I didn't mean to put it that way."

— Mark Lazerus (@MarkLazerus) April 20, 2015
Toews on Hossa: "If you have the chance to play as long as he has, how that might feel, I kind of cringe thinking about it." #Blackhawks

— Mark Lazerus (@MarkLazerus) April 20, 2015
It's a role he's gotten used to and even embraced. He quietly goes about his business and does the dirty work while the offensive stars on his teams produce fantastically, in no small part because of Hossa's own play. When it comes to defensive play from the wing positions, Marian Hossa is the archetype for how a left or right winger should perform in the defensive zone.
When it comes to possession, Hossa is a high quality player as well. In his tenure as a Blackhawk (since 2009-2010), he's had only one season in which he put up a negative 5v5 corsi relative figure. In simpler terms, Hossa has been a Blackhawk for six full seasons now. Of those six seasons, in five of them the Blackhawks have been a better possession team with Hossa on the ice than without him on the ice. And in the one season they weren't? The difference was negligible at best.
Watch his play in the neutral zone. The man is now 36 years old, and I would guarantee the list of forwards you could compile who do a better job of bringing the puck into the zone with control and making smart decisions after doing so is a very, very short one.
A Playoff Veteran
In 2008, Hossa's Pittsburgh Penguins fell short in the Stanley Cup Final against the Detroit Red Wings. As a pending free agent, the old adage of "if you can't beat 'em, join 'em" seemed to be the theme in Hossa's recruitment. He signed a one year deal with the Red Wings, and in a horribly ironic twist of fate, they were defeated in the Stanley Cup Final by none other than the Pittsburgh Penguins
In the 2009 offseason, Hossa opted not to continue his string of one year stints with teams, and signed a very long term, very lucrative deal to join the Chicago Blackhawks. The following season, the Blackhawks made the Stanley Cup Final, and for the third consecutive year, Hossa was on the brink of hockey's ultimate prize.
The third time proved to be the charm for Hossa though, as his 15 points in 22 games in Chicago's 2010 run helped lift the Blackhawks to their first Stanley Cup of the Toews/Kane era. History would repeat itself in 2013, as again Hossa's 16 points in 22 games were instrumental for Chicago's capturing of another league championship.
If the Blackhawks are going to make another serious run at a Stanley Cup this year, Hossa will again play a big role in getting them there.
It's early, but thus far against the Nashville Predators he has been outstanding. In three games, he has four assists (three of which have been primary), and 14 shots on goal. In other words, Marian Hossa has been Marian Hossa. He's brought an all-around game, generated shots, and made plays for his linemates.
It's the same thing he's been doing for 17 years, and when it comes to being able of combining that level of excellence with that level of consistency, there's nobody quite like the big Slovak. Why?
BECAUSE HE'S MARIAN HOSSA AND YOU ARE NOT

— Jen LC (@RegressedPDO) February 10, 2015