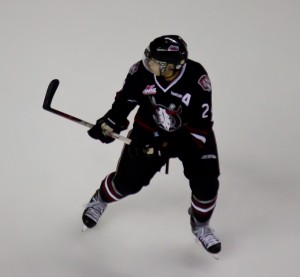 Barring any trades between now and the National Hockey League Entry Draft on June 22nd, the Anaheim Ducks brass will step up to the podium armed with the sixth overall pick and a bevy of options.
Nail Yakupov has separated himself from the pack and while many top prospects are currently jostling for position on team draft lists, the top five selections are starting to reveal themselves. With players such as Mikhail Grigorenko, Alex Galchenyuk, Filip Forsberg and Ryan Murray all staking their claim as top prospects, it's entirely possible that the Ducks won't have the opportunity to hand a jersey with their team colours on it to any of those young men come draft day.
Assuming that is the case the Ducks would still have plenty of options, one of which would be to trade down. Trading the pick and moving down a few spots isn't entirely out of the question, but it's almost certain the Ducks forgo that route and hold steady at the six spot. Although a dismal season has finally been put in the rear-view, the Ducks don't lack for talent like some teams that look to trade down in the draft in order to acquire more immediate help, so adding a high-end prospect is the likely play.
With much of the dynamic offensive talent up front likely to have already met Gary Bettman on the podium, a defenceman may soon be calling California home.
With respect to forwards, Radek Faksa is a possibility, as is Brendan Gaunce, but both are long-shots considering the Ducks would be reaching for them at six. If the Ducks truly covet one of those two youngsters, trading down becomes something to be considered. Faksa and Gaunce are similar to Peter Holland with respect to build, but Gaunce plays with more edge and is considered a high-character type of player. Faksa only has one season of North American hockey under his belt as well, so if management feels Holland can be a top-six forward, Faksa and Gaunce won't be brought into the fold.
If you're a betting man, or lady, then the odds of you fattening your wallet if you bet on the Ducks drafting a blueliner are quite good. Grigorenko, Galchenyuk and Forsberg would all be considered steals at six and the Ducks would snatch any one of them without hesitation should they fall to them, similar to the way they snatched Cam Fowler at twelve during the 2010 NHL Entry Draft. That scenario is as unlikely as Brendan Shanahan displaying consistency when it comes to administering suspensions though.
Thus, the options to be considered all patrol the blueline and the options run the gamut from offensive wunderkind to riverboat gambler to heady and steady.
Morgan Rielly represents the offensive wunderkind. He's a swift skater with exceptional offensive tools and while he's been compared to Erik Karlsson, a knee injury has set him back this past season. Some prognosticators predict Rielly going sixth, such as Adam Kimelman of NHL.com, but he's too similar to Cam Fowler for the Ducks to take a chance on.
The heady and steady defensive options reveal themselves in the form of Jacob Trouba and Griffin Reinhart.
Trouba, a product of the U.S. Under-18 squad, is a player who may rise due to his strong play at the Under-18 World Championships. He's big, strong and possesses offensive capabilities which complement his strong play in the defensive end.
Reinhart is similar to Trouba, and while he can contribute offensively, his contributions are noticed on the defensive side of the puck more than anything else due to his size and strength.
You could even make a case for Cody Ceci, another big, strong defenceman with a booming shot that can do a bit of everything. But with the sixth pick, Mathew Dumba seems like the logical choice.
If you guessed Dumba represents the riverboat gambler you'd be correct. There's no doubting that at times he makes bad decisions and is sometimes guilty of trying to do too much, but the raw talent is there, waiting to be molded into something spectacular.
Dumba has a penchant of looking for the big hit and playing a high-risk, high-reward game in the same vein as Dion Phaneuf and P.K. Subban respectively. However, at the six spot, Dumba represents top-five talent and he could be the player people talk about as the steal of the draft.
Each aforementioned defensive prospect certainly deserves the praise they've been receiving and Rielly, Reinhart, Trouba and Ceci all excel at certain facets of the game, but for each facet in which they excel, Dumba rivals them.
Rielly can skate like the wind and light the lamp, but Dumba has exceptionally quick feet and great offensive ability as well. Reinhart and Trouba are better defensively and play a physical game, but the defensive game can be learned and Dumba hits as hard as any prospect in recent memory. Ceci has a booming shot, but it's not like you'll find players volunteering to block Dumba's shot from the point. Dumba is an amalgamation of all that is good in the games' of his defensive draft peers, have a look for yourself:
Dumba's tools are indicative of his massive potential and while he shares qualities with Anaheim defencemen Cam Fowler and Luca Sbisa, he's a player with a unique skill-set in a class by himself. Dumba has the ability to give the Ducks what they sorely lack, a true horse on the blueline. He's a player that can play in all situations and who will eat minutes and ask for more.
Perhaps the most underappreciated aspect of Dumba isn't a skill per se at all however, it's his desire to be great. Dumba, who by all accounts is an elite player, went into Team Canada's World Junior camp as a 17 year-old expecting to make the team, a tall order to be sure. When he was cut his staunch refusal to accept a silver lining displayed his drive and determination to be the best player he can possibly be.
That type of desire isn't something you can teach and it's a rare trait found only amongst the best players in the world. Combined with his mesmerizing potential, being counted amongst the best players in the world is something Mathew Dumba can look forward to in the future, just as Ducks fans can look forward to seeing Mathew Dumba pull an Anaheim jersey over his head on June 22nd.
Ryan Fulford is an up-and-coming hockey writer who relishes the opportunity to confront, and dissect, the game's most controversial and pressing issues. Dedicated and ambitious, he strives to marry originality with journalistic integrity to provide readers with unique insight and analysis. In addition to his work with THW, he writes for The Good Point and Bleacher Report. Follow him on Twitter @dryanfulford.