It's been a depressing few weeks for the Toronto Maple Leafs. They've had three overtime losses with the Leafs losing a sizable lead and most recently an embarrassing 7-3 loss to the Tampa Bay Lightning. The Leafs defense has been terrible or just non-existent and criticism is starting to pile up on Frederik Andersen.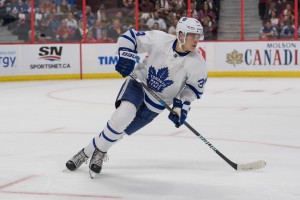 So with all that has been happening, it's time for something optimistic and fun for once. First take a guess at who leads the NHL in points at the moment? Well, it's Toronto's very own Auston Matthews of all people. Matthews has 10 points in six games to lead the NHL in points.
Now, can you guess who is second in points for the Leafs and is also tied for second in the NHL? It's William Nylander, another Toronto player. Nylander has nine points in six games.
Obviously, some of those rankings may change after Wednesday night's games, but that's an impressive stat for the players and the Leafs' organization. This is the emergence of the NHL's newest offensive duo and they are all Toronto's.
Mr. Record Maker: Auston Matthews
First rookie to record four goals in his first career NHL game. The fourth player to record a hat-trick in their NHL debut. Also matching Alexander Ovechkin as the second first overall pick to score multiple goals in their NHL debut. That's just a few of the modern records that Matthews made to start his NHL career.
Matthews has lived up to all expectations of the Leafs and their fans. Now, six games is a very small sample size to say that a number one pick has lived up to expectations and the same could be said about Connor McDavid's 45 games last season. But even in a very small amount of time, a player can show they are the "real deal" in just a short time.
It's about watching them play. Matthews has shown that he knows where to be around the net to always have a scoring chance. He's shown a tremendous ability to make plays out of nothing and has been a threat every time he's on the ice. Add to that a deceptively fast and accurate shot.

The best part about this is that Matthews isn't the only player for Leafs' fans to be excited about — there's also Nylander. The other part of this Leaf duo.
The Other Guy: William Nylander
Nylander is a fantastic young player that has been relegated to being the other part of the duo. Leafs' fans should take that as a good sign that their previous best prospect has been ignored because the Leafs have an even better one.
Nylander would be just as good without Matthews as he is with Matthews. Last season Nylander showed that he can shine regardless of who he plays with.
He had 13 points in 22 games and he spent most of those games with Colin Greening as a linemate. Greening just happens to be in the American Hockey League right now which is unfortunate, but it shows that Nylander hasn't posted nine points in six games just because he plays with Matthews.
William Nylander's last 18 NHL games: 8 goals and 19 points.

— Jonas Siegel (@jonassiegel) October 26, 2016
It's important to realize just why Matthews and Nylander are a duo. Neither one of them is dragging down the play of the other and they could both play just as well separately, but together they are amazing. They have both had points in five of the Leafs' six games so far this season with the game against the Boston Bruins being the only game neither had a point.
The importance of realizing just how good Matthews and Nylander are together is to give ourselves a break from all the negativity. There will be lots of games to see how terrible the Leafs are defensively and to criticize Andersen's inconsistent play. But for now as Leafs' fans, lets just enjoy that the Leafs have two amazing players that are just getting started.