On Sunday afternoon, the London Knights and Windsor Spitfires met for the second game in what has turned out to be a heated Western Conference rivalry series. Both teams have come out hard throwing around their bodies and getting into the tough areas.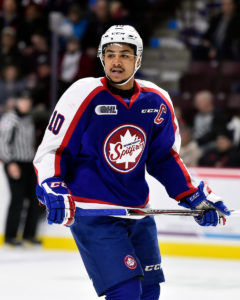 But on Sunday, things took another step towards becoming one of the more physically demanding series in this year's OHL playoffs. The teams engaged in two fights in the opening frame just six seconds apart and the post-whistle scrums continued all night with Max Jones and Adrian Carbonara at the middle of it.
Because of that, it was no surprise when Jeremiah Addison was tossed from the game after receiving a five-minute major and game misconduct for cross-checking Jones' shoulder and breaking his stick on the Knights' forward. It's a play he was later suspended for by the OHL for Game 3 and 4.
The game ended with two empty-net goals by Jones – the second came after he stole the puck off Mikhail Sergachev who felt that he was held on the play. Sergachev proceeded to break his stick over the crossbar of the empty net and made his thoughts known to the referee.
While it seems the Spitfires lost their cool as Game 2 progressed, the Knights aren't ready to let down their guard and it doesn't matter what the Spitfires do on the ice. The Knights have to focus on their game.
Headed to Windsor
The Knights are set to head into hostile territory as they take to Windsor for the next two games of the series. With the series as intensified as it is, Knights players understand what they have to do to get the job done away from Budweiser Gardens.
"It's going to be a hard game," said Mitchell Stephens who has scored two big third period goals for the Knights in the first two games of the series. "We're going into their building for the first time this series and we'll just have to control our emotions and play London Knight hockey and I think we'll be fine."
The Knights lost all three of their games at WFCU Centre during the regular season and will be looking to gain back home ice advantage with at least one win in Windsor.
Rocky Thompson's Two Cents
While Game 2 was a physical affair, Windsor head coach Rocky Thompson doesn't feel like his team got a fair shake.
"There are certain things in hockey that the NHL is trying to get rid of, for example," said Thompson following his team's 5-2 loss in Game 2. "Hooking, holding and obstruction, they don't want. That's exactly what London was doing to us all night and the refs chose not to call it. Okay, that's fine."
But Thompson was finished there, as he thought the Knights did a heck of a job fishing for calls as well.
"The other thing the NHL is trying to get rid of is diving," he said. "And every time there was the slightest amount of contact with the London Knights, they dove. And they got rewarded for it. And they made the refs look foolish. The national audience saw it and that's disrespectful to the game."
While his comments are directed to the Knights, his criticism of the officials through Game 1 and 2 will be something that doesn't fly under the radar. It will be interesting to see just how Thompson and the Spitfires respond heading into Game 3 with his thoughts now out in the open.
Max Jones: "We Don't Care"
With Thompson's post-game comments in the air and the sour on-ice incidents with Addison and Sergachev, curiosity bubbled over on how the Knights were taking this loss of discipline by the Spitfires' team.
But it didn't take long for the outspoken Jones to put these curiosities to rest.
"I don't know if it makes us happy," said Jones about seeing some Spitfires lose composure. "The scoreboard is what makes us happy, if we're up. That's what makes us happy. We don't care about their actions. We don't care if they're happy or if they're mad. We don't care. You know, we don't care about that. That's stuff we can't control and we can control our emotions, we can control what we do on the ice."
Jones pointed out that it's important to maintain composure and focus, something that he noted sounded funny coming from him.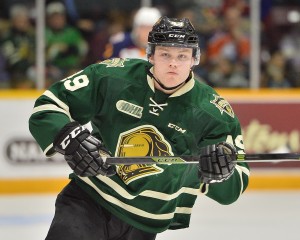 "We cant focus on what they're doing because that's when we get away from our game," he said.
Jones is one of eight Knights to have two points through the first two games of the series – leading the team. He's added four penalty minutes and eight shots, but his biggest attribute so far has been his ability to get under the skin of Windsor players after whistles – something he hopes to continue away from home.
While the series has become a physical one, the Knights and Spitfires will look to get back on track on Tuesday when the two clubs meet in Windsor for Game 3. You can bet that there will be a close eye kept on these teams moving forward as both have been called on a number of penalties through the first two games.
On another note, the Knights will have Sam Miletic back in the lineup after serving his two-game suspension for a slew foot in the final game of the regular season. Miletic led the Knights in goals during the regular season.