We now continue our countdown to the NHL Draft in Nashville by turning to one of our cornerstone pieces we publish every year. Just who will be the steal of this draft?

With over 400 players eligible to hear their name called, there are diamonds in the rough that can be found by teams who do the most homework. Those players will ultimately become steals.
Related: 2023 NHL Draft Guide
For the purposes of this discussion, we define a steal as someone who will vastly outperform where they are expected to go in the draft. A couple of names immediately come to mind here.
Examples of Potential Steals We Considered
The first and most obvious name we have to mention is Matvei Michkov. Should he fall out of the top-five, teams are going to scramble to trade up. It's not often a generational talent could fall because of their circumstances. But as you well know, these are no ordinary circumstances for him.
---
Latest News & Highlight
---
There will come a point in which his upside is too great to pass up. I even believe his skill is slightly better than Connor Bedard's. However centers are expected to go in the first few picks of this draft which will open up a unique opportunity for someone.
While Michkov will be a steal of this draft, we're going to look further down the list. Some other names that were considered for this year were Oliver Moore, Gabriel Perreault and Dalibor Dvorsky. The skating and compete of Moore will translate well to the NHL. Perreault's ability to score will vastly help a team. And Dvorsky's two-way play will eventually give the opposition fits at the next level.
This year, our steal was once thought of by some as a potential top-10 pick. On tape it was easy to see why. But then inconsistency and injury derailed what could have been a huge season. Even despite these obstacles, our steal still produced at a point per game this season.
In addition, our steal did not perform the fitness testing at the NHL Combine in Buffalo due to that injury. He was seen in a sling. All indications suggest he should be good to go by the time camp gets underway in the fall. In Nashville, this prospect will likely fall out of the lottery and into the hands of a really good team holding a late first-round pick. He could even drop out of the first round due to some questions around his shoulder injury.
Should he slip that far, this player will become a massive steal in this draft given that he has top-two line upside potential in the NHL. Once he fills out his 6-foot-2 frame, he will become a massive headache to everyone that plays against him.
Meet our steal of the 2023 NHL Draft. It's Oshawa Generals center Calum Ritchie.
Why Ritchie is Our Steal of the Draft
The first thing we consider in determining our steal is where the public rankings have a player and then compare that to where I think that prospect will perform eventually. Ritchie is a top-10 prospect in my mind when healthy. I've seen enough of him live and on tape to believe it.
The highest ranking I've seen on Ritchie is 12th by Recruit Scouting with others having him in the 20s including Smaht scouting who has him as the first pick of the second round at 33rd overall.
Related: Calum Ritchie – 2023 NHL Draft Prospect Profile
Ritchie is one of the smartest hockey players I've seen this season. His hockey sense in all situations stands out in an important role as a center.
You Might Also Like
Ritchie can win faceoffs as evidenced by his 53% win rate in the OHL this season. He can play in all situations including the penalty kill. Then when on the attack, he has some of the better hands in this draft. He's a crafty playmaker and has an above average finish. He's not afraid to jump into battles when needed. All in all, I see a top-six NHL center that could fall to the end of the first round or later.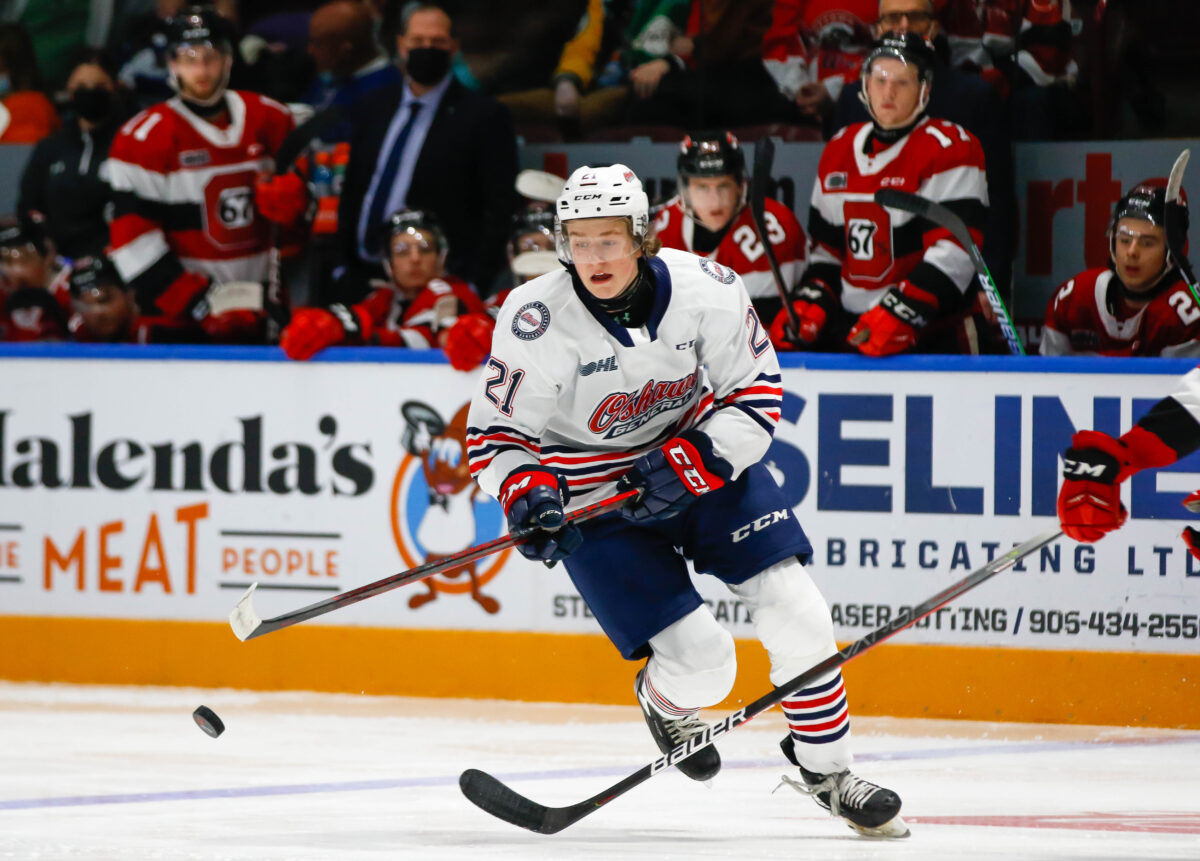 The concerns I see in Ritchie are easily correctable. He does need to improve his speed as the game is getting faster. He also does need to become more consistent in his game. When he's on, he's one of the best prospects at his age in the world. When he's off, you have a hard time finding him.
Ritchie scored 59 points in 59 games at less than 100% health and with a team in the Generals that just squeaked into the playoffs. Some folks will look at the production and wonder about his future. I actually came away more impressed with his season given the less than ideal circumstances around him.
Other Centers Will Get Attention
The hype going into Nashville will be the likes of Bedard, Moore, Dvorsky, Adam Fantilli, Leo Carlsson, Will Smith, Nate Danielson and Brayden Yager all top-end centers. Some folks might forget that Ritchie is still a really good player and should have a huge breakout season with the Generals in 2023-24.
Some recent mock drafts I've seen had Ritchie go 25th to the St. Louis Blues. To land a potential top-six center in that spot would be a tremendous steal. Once he's healthy and back to his usual self, he will have every opportunity to prove why he was thought of as a top-10 pick at one point.
Couple his NHL frame with his smarts and hands and that's why Calum Ritchie is our steal of the 2023 NHL Draft. I expect him to vastly outperform where he is expected to go.