Defense has been a focal point for the Florida Panthers this offseason—three new faces populate the blueline, sourced into Sunrise from around the league via trade and free agency.
One potentially key component of this re-worked unit, though, bears a familiar face.
Michael Matheson had his cup of tea at the NHL level last season, skating in three regular season games before emerging as a playoff regular during the team's six-game Stanley Cup run. He impressed coaches and onlookers alike, turning in solid performances before lighting up the IIHF World Championships as a member of eventual champions Canada.
And now, with a full season of professional hockey under his belt, Matheson is primed for a full-time spot on one of the league's strongest teams.
Turning Heads with Limited Ice Time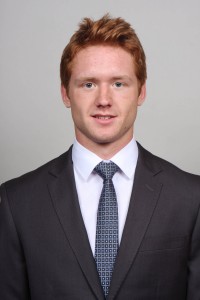 If there were any questions as to Michael Matheson's acclimation to pro-level hockey, he quickly put them to rest.
Starting his season with the Panthers' AHL affiliate, the native of Pointe-Claire, Quebec, dressed for 54 games with the Portland Pirates, rapidly asserting himself as one of the club's top rearguards. He posted 20 points off of eight goals—fourth among blueliners in the former and leading his position in the latter—coupling the figure with a plus-minus rating of 14, best among defensemen.
As a reward for his performances, the six-foot-two, 192-pound Matheson was called up to the Panthers during the 2015-2016 regular season, serving as a stopgap when the injury bug bit the Cats' corps of defensemen.
Nobody, however, expected the rookie to contribute when the calendar rolled to April.
In the wake of a game one loss to the New York Islanders in the first round of the Eastern Conference Stanley Cup Playoffs, Gerard Gallant yanked veteran defensemen Jakub Kindl—who was acquired at the trade deadline in an effort to shore up the blueline for the impending playoff push—in favor of Matheson. Matheson responded in kind, posting an assist while finishing the postseason as one of three Panthers' defensemen with a plus-rating.
Billed as an offensive defenseman, the six-foot-two Matheson honed his all-around game during his time on the farm. "I think that in the past few years I've been able to make strides in those areas today," Matheson said of his time paying in both the minors and with Boston College in the NCAA. "I used to be a high-risk, high-reward type of guy, and I think that I have been able to work on that pretty well the past few years [with] the coaches that I have had."
Even with his continued development, it's Matheson's offensive streak that makes him so appealing to the Cats. General Manager Tom Rowe's desire to re-cast the defense as a puck-moving unit is what's served as the impetus for the team's hectic offseason makeover, and Matheson fits the mold to a T. Fluid on his edges and deft with the puck on his blade, the young skater is at his best when manning the point on the power play or leading the charge on the breakout.
He's the exact type of defenseman that Rowe covets, and the newly minted GM didn't even have to dip into free agency to find him.
Matheson Lights Up the World Championships
During his brief NHL stint last season, Matheson's skill set earned him consideration as a bona fide professional.
His subsequent explosion at the 2016 IIHF World Championships made another thing clear: This defenseman is going to be in the league for quite some time.
The fifth-youngest skater on Team Canada, Matheson appeared in each of the ten games in Canada's triumphant run. He notched six points off of a pair of goals, one point off of the tournament point-scoring lead for defensemen. Additionally, he posted the second-best tournament plus-minus rating among rearguards.
His performances earned him honors as the tournament's top defenseman, but here's the thing about Matheson—the player has an innate ability to elevate his game to the occasion.
Since his days with the Lac St-Louis Lions of the QMAAA, his typically solid output has spiked in postseason play. Through 45 playoff matches at all levels, Matheson has scored at a point-per-game pace, nearly doubling his regular season average of 0.60. Given the typical development young players experience at this stage of their careers, it's fair to assume that the Canadian's knack for shining in stressful situations will continue at the game's highest level.
"I played against him in college and I knew what type of player he was," Team Canada teammate Ben Hutton said in an article published by the National Post. "He's a fast skater, he can shoot the puck and he's a great player. I wasn't surprised.
"A couple of the other players asked me, 'Did you play against him? Do you know him?' I told them who he was and he'd be good. He's got us."
Matheson's Rightful Place
For all his inexperience, Matheson's game exceeds his years.
Former General Manager Dale Tallon saw it when he selected Matheson 23rd overall at the 2012 NHL Entry Draft, comparing him to Chicago Blackhawks' star defender Duncan Keith.
Throughout his playing career, Matheson has stood out among his peers, and his play in the NHL should conform to that trend. As is, the rearguard possesses the talent to stake his claim to a top-four role, capable enough with the puck to merit a place on the Panthers' powerplay. Should his development follow its current trajectory, Matheson stands a reasonable chance of fulfilling the comparison that Tallon bestowed upon him.
According to his teammates, he's well on his way.
Star pivot Aleksander Barkov noted that Matheson's game better matches that of a seasoned veteran. Aaron Ekblad kept it more succinct: "I love that kid — he's awesome."
With endorsements like those, Matheson's more than bound to a roster spot this October.
One could argue that he's destined for greatness.