We all love Twitter for the insight that it gives to our favorite teams, players, and celebrities. We get photos from team planes, locker rooms, and nights on the town. We learn what our favorite people like to eat, what their favorite music is, and what they are paying attention to in current events. Not unlike other professional athletes, hockey players have enjoyed connecting with their fans, and arguably, the NHL benefits more than any of the other major leagues from interesting, funny, and engaging players. Each league fights for eyeballs and attention, and the NHL, although making great strides in viewership, is still behind the other leagues. For example, players like Paul Bissonnette of the Phoenix Coyotes is an NHL gem. I have never watched the Phoenix Coyotes play, but I know who Bissonnette is because I found him through my sports tweeters. Bissonnette has 1 point this season, and 8 points over 120 games in his career. Still, he has over 220,000 followers on Twitter, and remember, he plays in Phoenix! Why? Because he is engaging, funny, and highly inappropriate. This tweet is the least of it:

He's the NHL's version of Logan Morrison except that he has accomplished far less than the Miami Marlins' outfielder. In fact, the two Bad Boys enjoy tweeting back and forth to each other. Bissonnette even pokes fun at himself in his profile saying that he "sort of" plays for the Coyotes – he's averaging just over six and a half minutes per game. Do the NHL and Commissioner Bettman likely find Bissonnette's content uncomfortable? Probably yes, but he's good for business.
It's not only players that are tweeting, and in South Florida, the Panthers have one of the most engaging front office executives in Michael Yormark, Sunrise Sports & Entertainment's (SSE) President and Chief Operating Officer. Why is he so great? For one, he has a constant stream of tweets. There is little break in his content, and he is consistently tweeting. When we see people tweeting once every few days or weeks, it's not fun. These are not the athletes or sports industry professionals that we want to interact with. These people are definitely not using Twitter well to connect with their fans, which brings me to my next point about Yormark. He is great about connecting with the fans. When someone asks a question or reaches out, he consistently makes fans feel important and heard. Here's a simple example:
Admirably, Yormark also is open to discussing criticism of the team:
Or him personally, showing that he won't back down: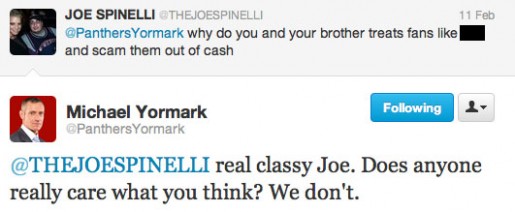 Social media also has been good for business. Yormark has expanded the Panthers' sponsorship opportunities through his connection with fans. Today at Miami Law, we had a panel about sponsorship in sports. Eric Tomasini, the Director of Strategic Sponsorships at SSE told a story about Yormark tweeting with a young fan. Their conversation evolved into the fan suggesting that his father's jewelry business become a sponsor of the team. The Panthers contacted the father, and a deal was made. Here's a tweet about a meeting with a company that sells LED displays.

More on the business side, Yormark gives great insight to the business operations of the team. He consistently tweets about his travels and his meetings. Fans that want an idea of what a top-level sports executive does can read about it from Yormark. Yormark also is a great cheerleader for his corporate partners. Sponsorships are about relationships and Yormark is great at fostering those with fans and corporations:


Finally, Yormark also has his shtick. What do I mean? Everyone we follow on Twitter has one or two themes that are pretty funny or interesting. Things that the person tweets about often and make us laugh. I love that Yormark tweets about his workouts at team facilities in the early mornings. Here's one at 5:39AM! It's just funny and cool to see your team's executive tweeting before you wake up about his intense workout. Makes us feel good about the Panthers leadership!

It's great for the NHL to have engaging players and executives. Fans can connect and the league obtains more eyeballs, and as we know, the more eyeballs, the better!