After injuries limited him to just eight games for the Flyers in 2011, Brayden Schenn has been everything the Flyers could have asked of him since the New Year began. In the 20 games the Flyers have played in 2012, Schenn has collected eight goals and three assists accounting for all 11 of his points in the 2011-2012 campaign.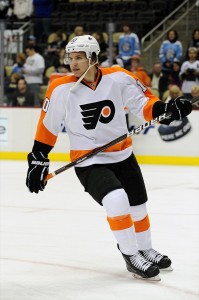 To say Schenn's rookie season didn't get off on the right foot would be an understatement. After being the centerpiece of a trade that sent former Flyers captain Mike Richards to Los Angeles in exchange for Schenn and forward Wayne Simmonds, many regarded Schenn as the best prospect not playing in the NHL and expected him to make the team out of training camp. Instead, Schenn suffered a shoulder injury in camp and was forced to begin the year with the Flyers' AHL affiliate the Adirondack Phantoms. When he finally received the call to join the team in Philadelphia, he broke his foot after only four games picking up zero points and being minus five on the score sheet. In December, Schenn played in two more games before suffering a concussion that took him out of action for three weeks.
Schenn's breakout started at Citizens Bank Park on January 2nd when he knocked in a rebound against Henrik Lundqvist and the New York Rangers to give him his first career NHL goal and first point as a Flyer. Since then, Schenn has played just like the man he was traded for as he has scored points and delivered some bone crushing hits, just ask Steven Kampfer of the Boston Bruins.
The timid play we saw from Schenn earlier in the season is gone. He has overcome his fear of getting hurt and has played with the grit that made experts like NBC's Jeremy Roenick predict he would win the Calder Trophy for the NHL's Rookie of the Year back in the preseason. Of the Flyers five primary faceoff guys, Schenn ranks behind only Claude Giroux and Danny Briere winning 49.4% of faceoffs.
As we get closer to the trade deadline and rumors of possible trade scenarios involving Schenn begin to surface, he has continued to elevate his game scoring four goals in his last five games including his first career two-goal performance in a losing effort Sunday night against the Detroit Red Wings. While the Flyers were previously rumored to have interest in Anaheim's Bobby Ryan, it seems they have found a much cheaper offensive weapon already on their roster and can shift their focus to finding a defenseman to help replace injured captain Chris Pronger.
Schenn has played with the right mixture of skill and toughness, even though he took a good beat down courtesy Ilya Kovalchuk. Lately, many in Philadelphia have been comparing his play to Hall of Famer and face of the Flyers franchise Bobby Clarke, one of the highest compliments a Flyer can get. If he continues to play like he has over the past few weeks, it definitely looks like the Flyers got the better side of the trade with the Kings.