CHICAGO IL. – The DePaul University hockey club–possibly the best kept secret in Chicago–is currently ranked number three in the nation. Coach Jerry Fronek, who took over the team five years ago has the Blue Demons eyes focused on the American Collegiate Hockey Association Division II Nationals set to begin pool play March 16th in Fort Myers, Florida.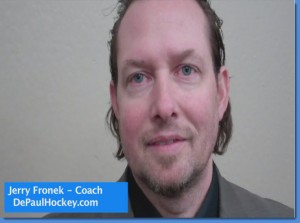 The Blue Demons immediate hurdle on their road to Nationals will be the ACHA Division II Regional playoffs  beginning February 25th and 26th.
Coach Fronek would have liked to see his team get a first round bye from the ACHA Regional Tournament which is given only to the top two ranked teams in each conference. However, given their current number three Central Conference Ranking they are happy to be hosting the Division II Regional Tournament on their home ice at the North Shore Ice Arena.
Head coach Fronek describes his team as a "white collar skills team" whose speed has paid off with a record of 22-0-3 going into Friday night's game against Eastern Illinois University.
While the game speed of both teams got off to a slow pace Friday night, the teams began feeling each other out and DePaul's junior winger Brian Zmarlicki eventually scored at 5:53 in the first period with assists from graduate student Blake Zemaitisand sophomore Matthew Porter.
Although Eastern out shot DePaul, 18 to 15 in the first period, the speed of the game picked up in the second frame with DePaul out shooting Eastern 24 to 7. At 14:03 in the second period the hail of pucks began with seven shots getting past Eastern starting goalie Andrew Teske.
Throughout the game the Blue Demons kept themselves in the play typically scoring on second and third deflection shots. Senior Andy Ritter scored twice in the second period at 14:03 on an assist from juniors Kurt Akersand Tom Jepsen and at 8:59 on the clock, teaming again with Akers and this time sophomore Pierce Baron.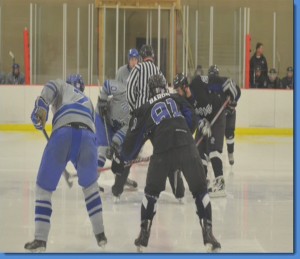 Senior center Cody Staehely also found the net for DePaul at 12:50 in the second period assisted by sophomore wingers David Puksztaand Anthony Rossobillo. Senior winger Danny Pietro picked up his fourth goal of the season at 10:55 in the frame assisted by freshman defenseman Steve Brooks. Rossobillo followed with a goal at 8:32 assisted by Ritter and Ackers.
Zmarlicki's shot found the net at 5:42 for DePaul on an assists from freshman center Joe Gatto and Zemaitis. As the second period clock wound down to 4:03, Baron scored his ninth goal of the season on an assist by Ritter.
At 15:28 in the third period, Kurt Akers found the net for the sixteenth time this season on an assist from sophomore winger Vince Volpe. And, as the game clock wore down to 00:17 junior center Michael Dotsonslapped the puck past Teske for the last time, assisted by Akers and freshman winger Sean McMahon.
Entering the North Shore Ice Arena this weekend, both Eastern Illinois University and DePaul University hockey clubs walked in the door winning four of their last five games. But the immediate horizon for Eastern coach Dan Runnion was looking in an entirely different direction than DePaul's coach Fronek.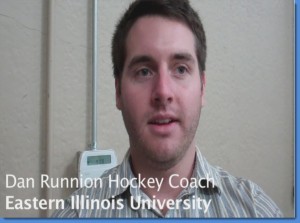 Despite suffering a 10-0 shutout loss to DePaul in the first game of their series Friday night, Eastern senior forward Connor Maly predicts a different game come Saturday night.
After sweeping Lewis University 12-3 and 16-3, splitting a series with the University of Missouri, winning, then losing 5-4, and dominating Eastern Kentucky University 10-1, Eastern Illinois' proud coach Dan Runnion also knows that their 47 goals in the last five games has come at a price.
"I think it would have been better if we played them at the middle of the season before all the injuries started coming" said Coach Runnion. Three Eastern top scorers will be out for the first game of the series. Senior forward Sam Gottoschis out with a knee injury. Freshman winger Jacob Armijois out with a lacerated kidney. Junior forward Zack Yurchak–who has been out with back spasms–will miss Friday night's game due to preparations for a state skills test on Saturday.
Eastern freshmen Henry Capouchwho's out with a knee injury and Chris Gallagherwith a broken leg are also scratched for the weekend series.
Still, Runnion is confident that his team can play with any of the nationally ranked team's like DePaul when they're healthy. Importantly, Eastern has five players with game winning goals this season and will see almost their entire team returns for the 2012-2013 season, losing only senior forward Connor Maly who has 13 goals and 23 points going into Friday night's game.
One-timers:
Senior goalie Cory Netrefa produced a familiar result logging his second shutout of the season and competently defending several odd man rushes from Eastern during the first period while his teammates found their legs.
Cody Staehely was injured in the last minutes of the final period. The extent of his injury and whether he will be able to return for the second game of the series is unknown.
Senior center Billy Allen, DePaul's leading scorer with 23 goals this season, was unavailable for the series but is expected to be on the ice for the Michigan Tech series next weekend.
DePaul racked up a total of six penalty minutes with McMahon and junior defenseman Jeff Fehrmanneach serving two minutes for roughing. Peitro sat two minutes for slashing.
Eastern sophomore defencemen Joe Salazaarand Steven Kriegshausereach sat two minutes for roughing and freshman Henry Capouchsat for kneeing, totaling six penalty minutes.