Following weeks (or months, if you consider some of the more fringe trade rumor-mongers) of speculation, it appears that Columbus Blue Jackets sniper Rick Nash is, in fact, on the trade market, as reported by Sportsnet's John Shannon and then followed up on by Yahoo's Puck Daddy.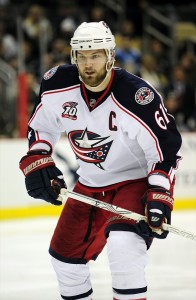 Early reports are stating that scouts from the New York Rangers, Washington Capitals, Detroit Red Wings, Pittsburgh Penguins and the Dallas Stars have been closely watching Blue Jackets games, possibly focusing their attention on Nash, the team's star player.
For the Stars, the only team out of that list not really considered to be a major playoff contender this year (Washington's struggles thus far aside, they still have most of the same core that dominated the league the last four seasons), that's some lofty trade competition.
But if I'm Stars GM Joe Nieuwendyk, all my attention right now should be spent trying to figure out what possible combination of assets could get Nash traded to Dallas.
The Stars, a once proud franchise, have fallen by the wayside in recent years, missing the playoffs three seasons in a row after making a strong run to the Western Conference Finals in 2008 (losing to the eventual Cup-winning Red Wings in six games). Currently sitting 11th in the West, 4 points behind division-rival Phoenix Coyotes and sporting an uninspired 4-5-1 record in their last 10 games, Dallas looks poised to miss their ticket to The Show a fourth-consecutive time.
That dejected fate could be avoided, however, if the Stars could pull off a trade for a player the caliber of Nash.
What makes Dallas such an interesting case right now is that they could go the way of buyer or seller at the upcoming trade deadline. The team is still very much in the hunt for a playoff spot, but their young leaders like Jamie Benn, Loui Eriksson and Alex Goligoski, plus a balanced group of promising and well-developed prospects, could form the nucleus of a successful rebuild, and that's not factoring in the potential trade return that veterans like Michael Ryder, Stephane Robidas and captain Brenden Morrow (also mentioned heavily in recent trade rumours) could bring the team.
The Stars, as they sit currently, would like to keep their young core, but are also dying to make it to the playoffs again, primarily to appease a delicate fanbase in a crowded  sports market that doesn't tolerate losing.
Nash would be the perfect fit for the team because he could help them achieve both means.
The former 1st overall draft pick's reputation as a premier sniper is well established, with two 40 goal seasons under his belt, despite spending his entire career thus far without an elite playmaking center on a perennial defense-first, offense-maybe Jackets team. His scoring touch would be a breath of fresh air for a Stars team that badly lacks elite-level skill in their Top 6 and has struggled mightily to consistently score goals this year (20th in the league in goals per game).
Even better for the Stars is the fact that Nash is only 27 years old and signed through 2018, meaning that there is still a lot of gas left in the tank and potential room to grow with the organization. Not only would he help the team now, but he could still be a significant contributor when the team's younger players start reaching their peaks. Imagine a 1-2 punch with Benn, who is quietly emerging as one of the NHL's elite young playmakers, and Nash on his wing, not just for this season, but for years and years to come…I just got goosebumps.
The Stars, prior to the lockout and under the ownership of then-free-spending Tom Hicks, built a Cup contending reputation through high-profile, high-priced trades and free agent signings (Brett Hull, El Belfour,  and others) before the recent financial collapse of Hicks left the team in the NHL's salary cap basement and temporarily on league life support.
That's a tough reputation to take away from fans, and the backlash has certainly been felt, but the team found a new owner over the summer in Tom Gaglardi, who appears willing to pull out his cheque book and finally put some money back into the franchise…if the deal is right. For a player of Nash's pedigree, one that could bring a ton of good PR and fence-sitting fans back to the team, it would make perfect sense for the Stars to have strong interest.
The only remaining concern would be what the Jackets might want in return, and what the Stars would be willing to part with without sacrificing their young core. Dallas has prospect depth at every position thanks to some late-round draft steals, enough so that they could safely part ways with not only their 1st round selection in 2012, but also probable their 2nd and one of their better prospects.
While there certainly won't be a shortage of suitors calling Jackets GM Scott Howson in the upcoming weeks, it would be foolish for the Stars to not be one of the more prominent members among the group.