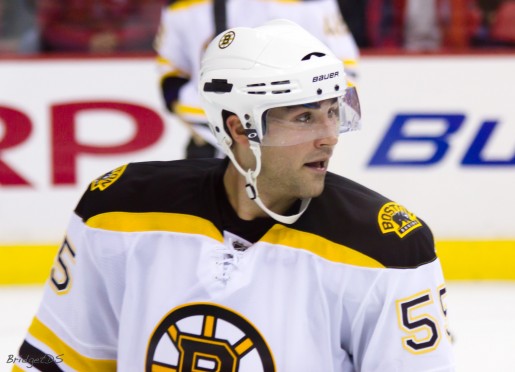 By Bob Mand, Contributing Editor
The Boston Bruins came to terms today with defenseman Johnny Boychuk today on a three-year, $10.08 million extension ($3.36 million average annual value) that will keep him in Black and Gold through the 2014-15 season. Boychuk would have been an unrestricted free agent this offseason.
There was some shock and uproar over the terms in the Bruins fan community. He's not 'supremely' productive Boychuk has only 11 goals and 30 assists in 177 career games – modest totals to say the least. He's only mustered a meager three goals and ten points this season despite playing big minutes (over twenty per night) for the squad with the League's best offense. After adding in modest puck skills, some memorable gaffes and a per-annum salary that now exceeds the B's number two blueliner, Dennis Seidenberg – the signing has left hockey fans in and around the Hub scratching their heads.
Perhaps more troublesome is the fact that the Bruins have cap room this season but their future numbers look more and more worrisome thanks to a foursome of three-year extensions B's General Manager Peter Chiarelli has handed out since the team's Cup win (also to David Krejci, Rich Peverley and Adam McQuaid). With Tuukka Rask and several bottom-six veteran forwards still to sign and five more significant contracts to consider for the summer of 2013, Boston's current cap comfort will not be long-lasting.
It's not a recipe for joy at the announcement: Cap concerns and a less than productive blueliner.
However, point totals don't tell the whole story. Johnny Boychuk owns one of the best Corsi Rel's (on-ice net shot differential relative to off-ice net shot differential) of any defenseman in the NHL. It's undoubtedly aided significantly by his current defensive partner, Captain Zdeno Chara. However, even in the '09-'10 season when Boychuk skated primarily with defensive 'luminary', Matt Hunwick, he owned the NHL's eleventh-best Corsi Rel.
What does this imply? Well, despite his mediocre passing skills, he is very solid in terms of on-ice possession (via shot differential). A deeper look at his net shot totals reveals that, in the last three seasons, only one blueliner (Brian Rafalski) generated shots-for at a higher rate than Boychuk. Compounding this is a solid (and best on the Bruins) rate of shot-negating in that span.
Additionally, Boychuk's defensive capabilities might be underrated. In that same three-year span no defenseman with as many minutes allowed fewer goals against (per minute) at even strength than Boychuk.
Furthermore, it's important to commend Boychuk for his dynamic capabilities. He'll never be a plus puck-mover but his willingness to go on the attack (in sometimes outstanding, sometimes frustrating forays up the ice) is valuable. He has an outstanding blast from the point that he's been learning to use with more tact as the years have progressed. He might be the best body-checker on the B's (with all due respect to Milan Lucic and Chara) and is capable of throwing the rare momentum-swinging hit that can change games.
Comparisons with previously-signed players make for interesting conversations – but the reality is players signed in different cap climates are going to see a disparity in pay. Dennis Seidenberg was signed to a four-year, $3.25 million average annual value contract in the summer of 2010. At that time the current cap was $56.8 million, compared to the $64.3 million it is today… meaning a similar contract today would be worth $3.68 million per year, above Boychuk's.
As for the future cap 'crunch', it's more of a concern today than yesterday but it was going to require some finagling regardless. The Boychuk signing may be a tough pill to swallow for some but (to further mix metaphors) it isn't going to be the straw that break's the B's cap future.
Now one can't argue that Boychuk is some massive diamond-in-the-rough that Chiarelli has found and now signed for 'cheap'. The terms of the deal are expensive and even with these peripherals, it's difficult to argue he deserved the kind of payday the Bruins handed him. The Bruins are an outstanding team and there are arguments to be made that Boychuk is the beneficiary of the squad's outstanding all-around play (namely from Chara and a pair of outstanding goaltenders.)
Still, Chiarelli has made a point of handing players he feels fit the team and the system well the necessary cash to keep them off the market: Overpaying, in a sense, to maintain the team's identity and performance. It's not an altogether unwise policy. Boychuk's strong, physical play suits this organization to a "T".
No doubt many will continue to make intelligent arguments against the hefty extension Boychuk and the Bruins signed today. I tend to think that it was an overpayment of a small order but regardless of the cost, the B's will likely benefit from big number fifty-five patrolling their blue line for years to come.