The men of the Michigan Tech hockey team may not be ranked in either major poll or first in the WCHA standings, but there's no denying that the Huskies are hot. It was a slow start to the season for Michigan Tech, which was just 1-5-2 through eight games before going 11-2-1 over its next 14, leading up to this month's two-and-a-half week break from game action.
That 14-game stretch ended with three straight victories, including one over WCHA-leading Bemidji State, the first conference loss of the season for the Beavers. The Huskies followed that game with two road wins against Bowling Green, completing the sweep with a 2-1 victory that not only showcased Michigan Tech's defensive prowess but was also a testament to the depth of the team's lineup.
A Consistent Crew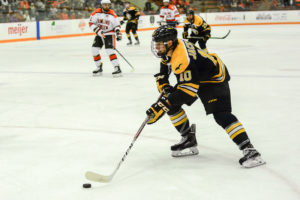 Along with the team's defensive play, what stood out in the second win over Bowling Green was that nobody in particular stood out. That's not knock on the team, but rather a nod to the consistent play Michigan Tech received from its entire lineup. The Huskies seemed to play the same type of sound game, no matter which players were on the ice.
"We have a good team system and I think everyone's buying in right now and we got a pretty deep team," Michigan Tech sophomore Jake Jackson said.
Jackson's coach discussed how the team's depth can pay off.
"We're not gonna have anybody lead the league in scoring, but we're gonna have four pretty good lines," Michigan Tech head coach Mel Pearson said. "I like that because when you get on the road and … you don't have the last change, you feel pretty confident about any line you throw out there."
After his team's second loss to Michigan Tech in as many days this month, Bowling Green head coach Chris Bergeron offered an opponent's perspective on the consistent play throughout the Huskies' lineup.
"It does seem like they play the game the same way, they're all on the same page both defensively and offensively," Bergeron said. "They've got … I think, a really good group of [defensemen] that join the rush and make it difficult to defend rushes because it seems like … they've got an extra guy every time."
Lucchini's Clutch Touch
Michigan Tech also possesses scoring depth as seven players have scored 10 points or more this season, including four forwards and three defensemen. But, as their coach's assessment suggested, the Huskies do not boast a prolific point-getter; the team's three leading scorers have 12 points each in 22 games and are not among the top-30 leading scorers in the WCHA.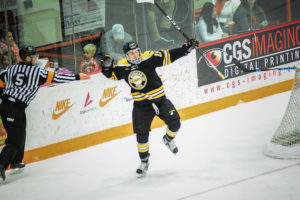 Michigan Tech does have one player with an eye-popping total in a pretty impactful offensive category in sophomore Jake Lucchini, who has already tallied five game-winning goals this season.
"It's pretty crazy," Lucchini said. "Just the luck of the draw, I guess. Right spot, right time."
Lucchini scored game-winning goals in both victories over Bowling Green this month. While all game-winners look the same on the stat sheet, those two were a bit more dramatic. Both were scored in the third period of their respective games and both broke 1-1 ties.
Pearson said it was good to see the sophomore net a couple big goals against the Falcons.
"He had a good freshman year and sometimes you can get comfortable … and you don't know it, and I pushed him this week a little bit to work harder and become a better player, just not be satisfied with being okay. We want him to be great," Pearson said after the Bowling Green series. "It's good to see him come through in that way.
"He's a great kid, he plays with a lot of energy, he's a popular teammate, so, happy for him."
#WCHA Sat highlight: @jakelucchini10 scores 2nd-straight GWG as @mtuhky completes road sweep at BGSU. RECAP: https://t.co/hLzrjXZhMP pic.twitter.com/njmLcuXGK2

— WCHA Men's Hockey (@WCHA_MHockey) December 11, 2016
This week's Great Lakes Invitational in Detroit will be Michigan Tech's first game action since sweeping Bowling Green and a chance for Lucchini to build on that big weekend.
"I was struggling a little bit the last couple weekends but these two goals will help my confidence and I think I can carry that on, hopefully, to the GLI," Lucchini said after the sweep of the Falcons.
Redmond Manning the Net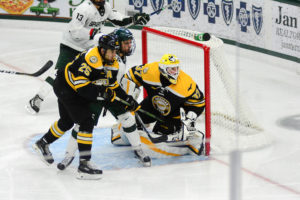 We can't discuss Michigan Tech's impressive run over its last 14 games without mentioning goalie Angus Redmond, who has been a constant during that stretch. The freshman started every game during that run, the first 14 starts of his college career, and one can't help but be impressed by his numbers. Redmond boasts a .937 save percentage to go with a 1.40 goals-against average this season. He was named WCHA Rookie of the Month for November and has already earned three weekly awards from the conference, including WCHA Rookie of the Week for his performance in the sweep of Bowling Green.
Back to Action
Since their season opener on Oct. 1, the Huskies played every weekend until their break that followed the Bowling Green series. Now, the team's well-deserved rest is nearly at an end as Michigan Tech returns to game action for the aforementioned Great Lakes Invitational on Thursday when the Huskies face Michigan. They will then meet either Michigan State or Western Michigan on Friday in the final GLI played at Joe Louis Arena. Two wins will not only continue the team's impressive run but also capture Michigan Tech's 11th GLI Title.