With most WCHA teams now at least halfway through their conference schedules, everyone is chasing Bemidji State in the league standings. While the Beavers were busy earning five of a possible six points in two games against Lake Superior State this past weekend, the two squads closest to them in the standings met in northwest Ohio.
Second-place Michigan Tech visited third-place Bowling Green in what became a missed opportunity for the hometown Falcons (more on that later). After taking game one of the series 3-1 on Friday, Michigan Tech closed the weekend with a 2-1 win Saturday night. As the score suggests, defense was key to the Huskies' narrow victory that completed the sweep.
No Room for Falcons to Fly
Bowling Green opened the scoring in the second period of Saturday's game but could not maintain the lead. Michigan Tech tied the score less than five minutes later, then took the lead for good in the third on Jake Lucchini's second game-winning goal in as many nights.
#WCHA Offensive Player of the Week, Jake Lucchini: 3 pts (2g-1a), consecutive tie-breaking, 3rd-period GWGs in @mtuhky road sweep pic.twitter.com/KwHuDmx31V

— WCHA Men's Hockey (@WCHA_MHockey) December 12, 2016
But the big story of Saturday's final frame was the Michigan Tech defense, which limited Bowling Green to just four shots on goal in the third period.
"I thought, just, the whole game, they were kind of just all over us and we didn't have the answer," Bowling Green sophomore Matt Meier said. "They did a good job of taking time and space away, and that was key."
Meier's coach echoed his sentiment.
"For me it feels like they've got seven guys out there. Every inch on the ice is difficult. Their [defensemen] do a great job at controlling time and space," Bowling Green head coach Chris Bergeron said. "It seems like every time we turn there's a black jersey there and we weren't able to solve it."
Michigan Tech head coach Mel Pearson said his team is at its best when it plays that way, and that having a certain type of personnel helps it happen.
"We have a mobile defense and we recruit people who can get around the ice," Pearson said. "I think if you can get guys who can put pressure on the puck at all times it really helps you to take time and space away."
The numbers also tell the tale of Michigan Tech's defensive prowess in the series. Bowling Green was scoring 3.22 goals per game entering the weekend before managing just one in each contest against Huskies. Freshman goalie Angus Redmond earned both wins in net, stopping 47 of the 49 shots he faced over the two games.
#WCHA Rookie of the Week, Angus Redmond: 2-0-0, league-best 1.00 GAA, .959 save % (47-of-49) in @mtuhky road sweep. pic.twitter.com/7Rs2KVmDc0

— WCHA Men's Hockey (@WCHA_MHockey) December 12, 2016
Michigan Tech also blocked 34 shots in the series and surrendered just nine third-period shots on goal in both games combined.
"We start from our net out. We have six unbelievable defensemen," Lucchini said. "Working from our defense out, I think that kind of puts us in good positions offensively and I think that's something that we kind of live by."
In the Standings
Remember that missed opportunity for the Falcons mentioned earlier? Bowling Green sat seven points behind Michigan Tech in the WCHA standings entering the weekend, meaning a pair of wins could have shrunk that gap to one point with the Falcons holding two games in hand on the Huskies. Instead, Bowling Green is 13 points out of second place, its 23 points now even with Minnesota State and Alabama Huntsville.
"It's definitely frustrating," Meier said. "Those were big games, especially against a team right above us in the standings. We'd been doing well, so it was important to keep that going into the break and get some momentum … disappointing but, you know, we have some things to work on after that."
The Falcons make a long road trip for a pair of games against the Alaska Nanooks this Friday and Saturday, then have some time off before their next game on December 30.
Michigan Tech, meanwhile, gained one point on first-place Bemidji State and sits seven points behind the Beavers after the sweep.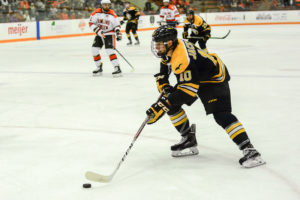 "It's a business trip … we're not here to put on a show, like coach will tell you," Michigan Tech sophomore Jake Jackson said. "We just want to come in and get two wins and, you know, we did that. Six points are huge."
The Huskies are now 11-2-1 in their last 14 games. They return to game action against Michigan on December 29 at the Great Lakes Invitational in Detroit.
Jeff is a college hockey and Columbus Blue Jackets contributor for The Hockey Writers. He is a former TV sports reporter who has covered, broadcasted, coached and played hockey at various levels. You can follow him on Twitter @jeff_schaffer13