While the news in Leafs Nation lately has been largely about their monumental collapse, the team has also reportedly begun contract negotiations, looking towards the future.
Among those are Nazem Kadri, who Sportsnet's Nick Kypreos believes that the deal proposed by the Maple Leafs was in the ballpark of  five years  at $22.5 million. And though it seems that a long term deal will eventually be struck between the two, the same can't necessarily be said for Mike Santorelli, especially if history repeats itself.
#Leafs start cont' negotiations with Kadri on potential long term deal. Leafs in ballpark of 5 yrs 22.5M. May not be enough to buy #UFA yrs

— Nick Kypreos (@RealKyper) January 21, 2015
Santorelli Having Solid Season
Santorelli is having a fairly productive season with the Buds having racked up nine goals and 26 points in 48 games, while being a very reliable piece of the team's front end. The 29-year-old is a +6 with the team, the third best on the Leafs, behind only Daniel Winnik and Stephane Robidas. He has one shorthanded goal and despite playing a sandpaper type game, has just six penalty minutes.
The former Vancouver Canuck was signed by the Maple Leafs during the off-season after he missed 33 games with an injury with the Nucks. He played 49 games with the team and tallied 10 goals and 28 points, nearly identical to his output so far this year. The Leafs seemingly got the forward at a steal this off-season for $1.5 million.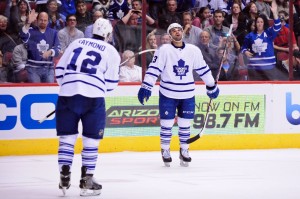 A Similar Situation to Raymond
The contract that Santorelli received and the situation he now seems to be in, seems eerily similar to the same situation that the Leafs had last season with Mason Raymond. The Leafs signed the 29-year-old Raymond coming out of training camp after the team agreed to give the speedy winger, a professional tryout.
The two sides agreed to a one-year $1 million deal after Raymond's future in the league seemed to be in the balance. But after putting up just 22 points in 45 games with the Canucks, Raymond had 19 goals and 45 points with the Leafs, playing in all 82 games.
For a mere $1 million, Raymond's 19 goals seemed like once again to be a steal. However, with that production, the team was unable to resign the Cochrane, AB native, who was ultimately picked up by the Calgary Flames on a three-year $9,450,000 deal, much more than his prior $1 million price tag.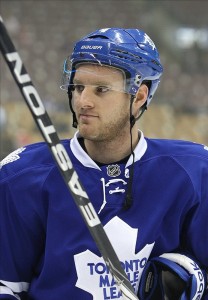 Leafs Will Be in Tough to Sign Free Agents
This year Santorelli is on pace for 15 goals and 46 points, similar to Raymond, but the Maple Leafs will be in a bit of a pickle in terms of contracts. The team has $55,277,500 committed to next year's pay roll and have a number of restricted and unrestricted free agents to deal with. Along with Santorelli, Winnik, Cody Franson, David Booth, Korbinian Holzer, and Trevor Smith will be UFAs at the end of the year, while Kadri, Jonathan Bernier, Carter Ashton, Richard Panik, and Josh Leivo will all be RFAs.
So, if Santorelli is going to be looking for a steep pay increase, the team might not be able to afford him. It is safe to assume that Ashton, Panik, Leivo, Holzer, and Smith could likely be signed for smaller dollar amounts, while Kadri, Bernier, and Franson (if they can swing it) will require pay increases.
On the one hand it looks like the Leafs made the right decision passing on Raymond who has just six goals and nine points in 25 games and is a -6 with the Flames. The team has loved the play of Santorelli this year as he looks to be one player who gives his all every shift and he has the versatility to play centre or either wing position. The team would love to have him back, but if things play out as they did with Raymond last year, don't be surprised if he e Leafs don't bring him back for the 2016 season.