Radim Vrbata scored two goals and Mike Smith stopped 38 shots as the Phoenix Coyotes beat the San Jose Sharks 2-0 on Thursday night moving into the Western conference's top eight with just four games left to play. However, while Vrbata's return to form was heralded after the winger had managed just one point in nine games during an illness hit month of March; Mike Smith is the key to the Coyotes playoff chances.
When Phoenix were forced to trade star goaltender Ilya Bryzgalov last summer, most predicted that they would miss the playoffs in 2011-12. Those predictions were made in spite of the fact that coach Dave Tippett's team had upset the odds in each of the two previous seasons. The fate of the season, it seemed, hung on the shoulders of Smith, who was charged with replacing Bryzgalov. Thursday's win and the last two dramatic months of another Phoenix playoff push have only gone to show that that point is still true. Mike Smith is still the key to the playoff chances of the Coyotes.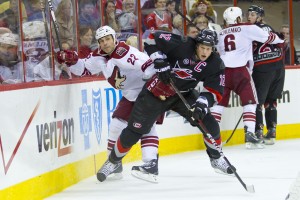 It's worth reflecting on a season that has once again seen ownership issues dominate the headlines, but the team is poised to make a third straight playoff appearance.  Tippett once again deserves all the plaudits he receives, and should be in consideration for another Jack Adams Award. Amazingly, despite losing arguably one of the league's top netminders, the Coyotes have reduced their GA/G from 2.68 (13th in the league) in 2010-11 to 2.46 GA/G in 2011-12 (6th). It has been a fortunate improvement because the offensive numbers have gone down with Phoenix scoring just 2.51 G/G in 2011-12 (21st), an average that is down from 2.76 GAA (14th) in 2010-11.  Smith has been a huge part of the improved defensive numbers posting a .926 save percentage and 2.33 GAA. These are incredible numbers for a goaltender who struggled to establish himself in parts of six seasons with Dallas and Tampa Bay, before signing with Phoenix this summer.
The Coyotes charged into playoff contention thanks to an 11-0-1 February, but have stumbled in March posting a 5-6-4 record. Vrbata's illness and failure to match a month where he scored 13 points in 12 games was considered a crucial reason for Phoenix's slide. His two goals on Thursday were used as an example that Vrbata's return signalled the return of Phoenix's scoring and that was the key to this team's success. In fact, during February, the Coyotes scored an impressive 2.92 G/G, but even during March they managed 2.40 G/G. The table below illustrates the point totals for Phoenix's top scoring forwards in each of the two months.
| | | | | |
| --- | --- | --- | --- | --- |
|   | Games in February | Points | Games in March | Points |
| Ray Whitney | 12 | 15 | 15 | 15 |
| Shane Doan | 12 | 8 | 11 | 9 |
| Lauri Korpikoski | 12 | 6 | 15 | 5 |
| Antoine Vermette | 3 | 0 | 15 | 7 |
| Martin Hanzal | 12 | 10 | 11 | 3 |
| Daymond Langkow | 12 | 3 | 15 | 6 |
| Raffi Torres | 12 | 3 | 15 | 9 |
The table shows that while the loss of scoring from Vrbata and Hanzal was undoubtedly a part of the March slump, there were actually Coyotes', who upped their scoring rate like Doan and Torres.
More significant to the March woes was the goal against average. In February, Phoenix dominated their opposition conceding just 1.50 GA/G. The month after has seen the same team concede 3.07 GA/G. That sort of difference seems odd given the fact that Dave Tippett's system is ingrained in his players from day one. Such large discrepancies over such long periods of time shouldn't happen at the beginning of the season, let alone at the end. While shots against is not a particularly useful total. It does give some indication that the blue-line was suddenly getting outmatched between the two months. In February, the Coyotes gave up 30.1 shots per game in the games that Mike Smith was in net for, in March, they gave up 31.2. The goaltender's save percentage difference was the biggest factor in the large discrepancy. A .949 save percentage in February propelled this team forward, and an .898 save percentage dragged them back in March. Even when breaking down March; Mike Smith's impact is pretty apparent. He has posted a .943 save percentage over the last five games, despite facing 36.4 shots per game.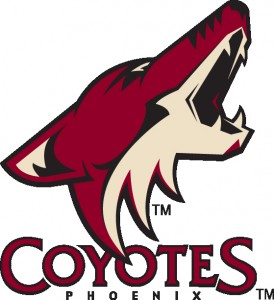 Perhaps this article has been laboriously making a point that most people were aware of anyway. It is a great ice hockey cliché to say that goaltending is the most important part of any team. However, while the likes of Henrik Lundqvist, Pekka Rinne and even Brian Elliot may get some MVP consideration, I am betting that there won't be an awful lot of love for Mike Smith come Hart Trophy voting time. The statistical evidence when broken down suggests that maybe there ought to be.
Phoenix's playoff hopes rest precariously based on the results of their next four games, which are against Anaheim, Columbus, Minnesota and St Louis. If this team is going to pick up wins and emerge with an impressive third consecutive playoff place, then they will need Mike Smith at his best.