A change of scenery turned out to be just the thing that Eric Staal needed to rejuvenate his NHL career that started with a Stanley Cup championship as a second-year player scoring 100 points in the regular season with the Carolina Hurricanes. Technically it was his second change of scenery after making a mistake of a pit stop with the New York Rangers in a situation that turned out to be even worse than the end of his tenure with the Canes.
Now in his second season with the Wild the 33-year-old veteran of over 1,000 NHL games has found his game again and has been a magnificent match in Minnesota. Last season he put up 65 points, his most since the 2011-12 season (70) and this season he has 58 points (29g-29a) in 61 games — the 29 goals are the most in a season for Staal since 2010-11 when he netted 33.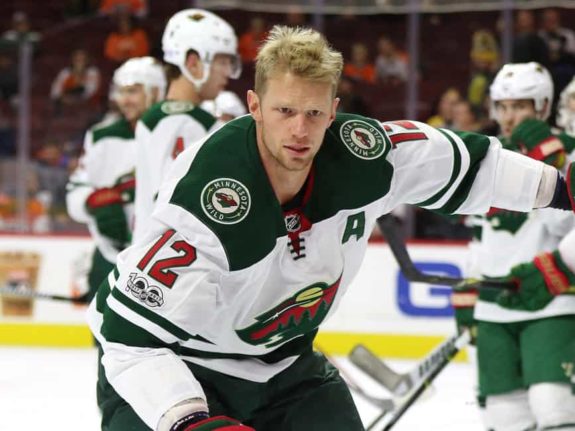 Eric the Great
In the middle game of a road trip through New York and New Jersey, he picked up his 900th career point against the Devils before finishing off the Wild's 3-0 trip with a four-point night against the…Rangers. The team that he played with at the end of the 2015-16 season (pointless in five playoff games, six points in 20 regular season games) and was questioning if he still could contribute at the highest of levels.
"It's nice. I feel like I still have a lot of good hockey left to play in my career," Staal said after the milestone in New Jersey. "Nonetheless it's a nice round number. It's been a lot of fun and I give a ton of credit to the guys that I've played with over my career so far and I'm hoping for a lot more (points) over the rest of my time playing."
The Wild have been lingering around a Western Conference playoff position all season long and now by virtue of a three-game winning streak with a 6-2-2 record over their past ten games Minnesota finds themselves in third place in the Central Division. With a mostly healthy roster now (the exception being Jonas Brodin) the Wild have been really keeping teams off balance with their scoring depth.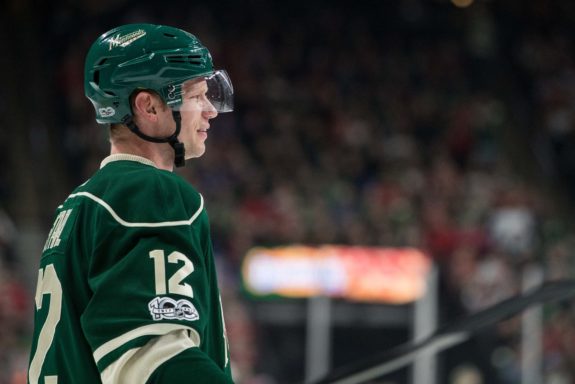 Savvy Staal
"Good teams have balance, they have guys on different nights step up and make plays," Staal said, "tonight it was those guys (Minnesota's fourth line) and Al (Alex Stalock) in net. It was a solid effort and we have to follow it up tomorrow."
When it came to tomorrow, it was Staal and his linemates' turn to step up apparently, because he and Michael Granlund each had 2g-2a in the Wild's 4-1 runaway win at Madison Square Garden that finished up their perfect trip. "Any team that I've ever been on that has been successful has had different people step up at different times and contribute on different nights."
Analyst @Walz3737 predicted Eric Staal's two goals tonight! #mnwild pic.twitter.com/sYj5nrX5F9

— FOX Sports North (@fsnorth) February 24, 2018
Last season Granlund (69) and Staal (65) led the team in scoring and this season it's been more of the same, this time Staal having the slight lead 58-49.
So what's the secret to Staal's success in Minnesota?
"I think it was the right situation and right fit for me. Coming in here this a great group, an established team already before I got here," said Staal of joining the Wild. "I've just kind of fit in with these guys and enjoyed being on the ice with them every day. It's been fun."
Eric Staal Looks Like One Happy Guy, Eh?
Usually, successful players are having a lot of fun playing hockey and that correlation can certainly be made with Eric Staal's tenure thus far in Minnesota. He definitely looks like he's having fun playing hockey again, something that was evident wasn't happening in New York and his last few seasons in Carolina. For a guy from Thunder Bay, Ontario, Minnesota is a lot more like home than North Carolina or New York City. Maybe he just feels more at ease or comfortable.
If they can stay healthy and maybe add a piece at the deadline, Minnesota could be a dark horse in the West. Staal, Devan Dubnyk, a healthy Zach Parise, Mikko Koivu, Charlie Coyle, Ryan Suter, Nino Niederreiter, Granlund, Jason Zucker. The Wild have a pretty solid group that could sneak up on some teams come April and May.