The trade deadline is upon us, and it remains to be seen whether the Anaheim Ducks will swing any deals prior to the 12:00 p.m. PST deadline on Monday, Feb. 26. Having reeled off four consecutive victories heading into weekend contests in Arizona and at home against Edmonton, perhaps the Ducks have made general manager Bob Murray more open to the idea of adding at the deadline.
Whether or not Murray makes any further moves, though, Anaheim is already seeing the payoff from a trade he made much earlier in the season when he acquired Adam Henrique, Joseph Blandisi, and a 2018 third-round draft pick from the New Jersey Devils in exchange for defenseman Sami Vatanen and a conditional pick. While the loss of Vatanen makes the Ducks more vulnerable on the back end and presents an area Murray might want to shore up before the deadline, the addition of Henrique has been huge for the Ducks.
Henrique a Critical Source of Offense
Henrique broke into the NHL on a full-time basis with the Devils in 2011-12 and produced some memorable postseason moments that year as the Devils made it all the way to the Stanley Cup Final before falling in six games to the Los Angeles Kings. He is a three-time 20-goal scorer, hitting the 30-goal mark in one of those seasons (2015-16).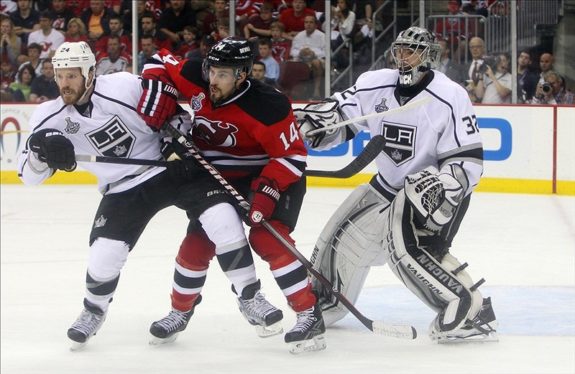 In coming to the Ducks, who, once healthy, could finally boast Ryan Getzlaf and Ryan Kesler as their top-two centers, Henrique finds himself as a third-line center with more offensive punch than most players in that position. In the meantime, he played an elevated role in the Ducks' lineup when Kesler and others were out. He got off to a fast start, picking up points in each of his first five games with the team following the trade, totaling two goals and four assists.
With Kesler eventually coming back, Henrique figured to be a boost to Anaheim's overall depth, but he has actually proven to be one of the club's most important sources of offense since putting on a Ducks sweater for the first time. Since Dec. 1—his debut with the Ducks—Henrique has notched 14 goals and 9 assists for 23 points. In that same span of time, only the prolific Ryan Getzlaf (31) and Rickard Rakell (30) have more points than Henrique. No one has more goals, as Rakell also has 14. Henrique has also brought over his penchant for timely goals, as 6 of his 14 tallies have proven to be game-winners.
Speaking of goals, we'd be remiss to not mention and show Henrique's highlight-reel goal in his return to New Jersey on Dec. 18, even though the Ducks lost that game. Fittingly enough, Henrique blew by Vatanen—the player for whom he was traded—on the play.
Henrique's immediate effectiveness in Anaheim illustrates an apparently high comfort level with his new team, and he validated that notion in early January, at which point he had been with the Ducks for just over a month. He cited the long road trips—a byproduct of playing on the west coast—as having helped him bond with his teammates.
"On the road, you're just with the guys," said Henrique. "That's it. I've gotten to know everybody really well. I've fit in well. I kind of feel like I came in and haven't missed a beat, which has been big. It's been big for me personally to feel comfortable with all the change that was going on."
Centering a Dangerous New Line
Most recently, Henrique has found himself as the pivot on a line with Nick Ritchie and perhaps the Ducks' breakout player of the year in 22-year-old Ondrej Kase. The trio has proven to be dynamite for the Ducks, giving them a huge matchup advantage since most opponents have to focus on using their best shutdown players against Getzlaf and Rakell. Ritchie had been in the midst of a disappointing season until this combination gave him new life. Kase has continued to be an energizing force. And Henrique, of course, has continued to do his thing.
In examining Ducks forward line combinations that have accumulated at least 100 minutes of ice time together this season, the Henrique-Ritchie-Kase line owns the second-best 5-on-5 Corsi-for percentage (CF%) on the club, with a very respectable mark of 52.17 percent. Only the line of Getzlaf, Rakell, and Corey Perry is ahead, and marginally so at 52.95 percent. Henrique and his linemates are able to drive possession for a Ducks team that has struggled in that area for much of the season but has been better since the calendar turned to 2018 (i.e., since they've been healthier and since they've had Henrique).
As far as actual scoring results go, Henrique, Ritchie, and Kase have an astounding 5-on-5 goals-for percentage (GF%) of 84.62 percent. They have been on the ice for 11 Ducks goals compared to just 2 against.
Henrique is literally and figuratively in the middle of it all, as he has been for the team as a whole since arriving from the Devils. As the Ducks push towards a hopeful playoff berth and deep postseason run, that should only continue.