The Minnesota Wild have had to watch as upset after upset has occurred in the Western conference. They will probably remember when they were the 'upset' story of the season and hopefully the entire organisation will be thinking about next season and a comeback performance from a roster that had a worse second half of the season performance than any other team. This article looks at the news around the hockey world that might at least interest Minnesota Wild fans.
The Memorial Cup
The Memorial Cup kicks off today and the Minnesota Wild have a pair of exciting prospects competing in it. Fans won't have to worry about making a difficult choice in terms of who to support as both of Zach Phillips and Charlie Coyle play for the Saint Johns Seadogs. Saint Johns are the QMJHL champion and are also the defending champions from this year's competition. OHL champions the London Knights, WHL champions the Edmonton Oil Kings and hosts the Shawinigan Cataractes will also be competing for the big trophy in junior hockey. Most of the hockey world will be understandably focused on the climax of the Stanley Cup playoffs, or maybe even the World Championships, but the Memorial Cup is always worth a watch.
Coyle and Phillips are both exciting offensive players playing on an exciting offensive team that also includes third overall pick from the 2011 draft Jonathan Huberdeau. Both of these players have the potential to challenge for full time positions with the Wild in training camp next Fall and this could be a key early test of big game pressure.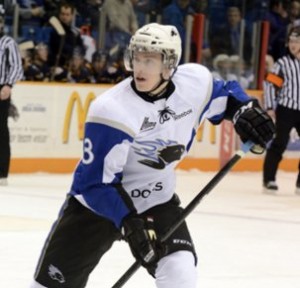 Clayton Stoner
Minnesota Wild GM Chuck Fletcher completed a nice bit of business when he re-signed Stoner to a two-year deal at a cap hit of just over $1 million. Stoner has had injury troubles and maybe hasn't quite met expectations during the last couple of seasons. However, he has been a plus player in both years, brings a strong physical presence and genuinely possesses top four shutdown potential. Either way, his contract is very favourable and he undoubtedly has the ability to make this deal look like a bargain.
Todd Richards
Minnesota's former head coach Todd Richards has been rewarded for his performance as interim coach of the Columbus Blue Jackets. Richards stepped up the assistant role on Jan 9 after Scott Arniel was dismissed. The team's performance improved and he has been given a new two-year deal as the full time head coach. Richards never quite got things going in Minnesota, but he is a likeable guy and it would be pleasant to see him succeed.
More Offseason News
Expect a flurry of activity from Fletcher as the draft draws nearer. He has several low salary guys that he will almost certainly at least re-sign to similar low cost deals. The one player who could be particularly interesting is Josh Harding. Will he be after too much money or can the team re-sign him to be the back-up for another season? He will also be watching the Ryan Suter situation very carefully, not to mention local boy Zach Parise. Will this be a summer where the Minnesota Wild loosen up the purse strings and make some serious purchases? Minnesota fans should be hoping so.
Seb has been writing about the NHL and ice hockey online for over a decade. A long-time passionate Bruins fan, it's a dream of his to be writing about this team, but don't expect him to hold back from telling some hard truths when necessary. Follow him on twitter @seberead