In this, the second article in a three-part series, we continue to look at the bad movie that is the Minnesota Wild. Today we're focused on the movie's producer, Chuck Fletcher.
The producer
Chuck Fletcher became the Minnesota Wild's General Manager on May 21, 2009 and has held the post ever since. In the movie world, producers are the ones that shape ideas into viable films, hire directors, and choose the casts, among other things.
Fletcher has molded the Wild from an idea into reality while hiring two coaches and making litany of roster changes since his arrival in Minnesota, but how has he done?
It's no secret that the Minnesota Wild — again struggling through January and February — haven't exactly seen much playoff success since Fletcher took over the GM duties. In eight seasons, the team possesses only two playoff series wins and no trips past the second round of the playoffs, a far cry from the expectations placed upon the franchise by its hungry fans and equally insatiable owner.
Still, when Fletcher arrived in Minnesota, the team was absolutely dreadful and the prospect cupboard was caked with dust. He was able to fill the aforementioned cupboard with a solid amount of potential talent.
Unfortunately, most of that talent has yet to yield much in terms of on ice productivity and results.
Mikael Granlund was supposed to be a dynamic centerman for years but at 23, the diminutive Finnish forward has yet to produce a season with a double-digit goals total. Jonas Brodin was another high draft pick made by Fletcher that has underwhelmed offensively. Contrary to Brodin's favorite former player — fellow Swede and Hall of Famer Nicklas Lidström — he has not shown the same offensive abilities as his famous countryman. Jason Zucker, Nino Niederreiter, and Erik Haula are also Fletcher products that have underachieved while 2011 first-rounder Zack Phillips never came close to smelling NHL ice before he was dealt to Boston last year. Charlie Coyle is perhaps the only young player having a solid year. Fletcher says that many of these players are still young and can't be judged conclusively yet.
Fair. Zucker is 24, Brodin 22, Granlund and Niederreiter are 23, Matt Dumba is 21.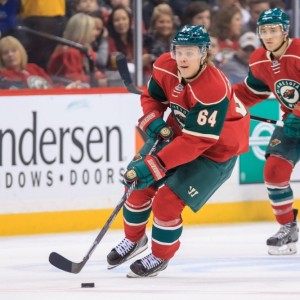 But it's also fair to say that none of the above young players have shown much promise or progress. Maybe some of that was the fault of the coach Fletcher just fired; or maybe Fletcher over-estimated these players. What's more, maybe Fletcher over-estimated the entire team.
The Wild's struggles don't begin and end with the young players in the locker room, the veterans are equally if not more to blame for the dud that has become the Minnesota Wild.
Jason Pominville looks lost and Thomas Vanek is apparently the guy in the theater who won't get off his phone without regard for those around him because he apparently doesn't care if he ruins the movie for everyone else. Mikko Koivu has been a ghost for much of the past two months while typically solid players Zach Parise and Ryan Suter have had uncharacteristic struggles as well. Fletcher signed every one of those players in the leadership group to long-term contracts; and those same contracts have made it hard if not near impossible for Fletcher to make trades and changes to the lineup without mortgaging the future of the franchise by trading top prospects or more draft picks, something the GM has wisely been unwilling to do thus far. Simply put, Fletcher has backed himself up against a wall.
The Minnesota Wild's fan base and it's owner are growing more impatient with each passing day. Mike Yeo is gone now, Fletcher fired him Saturday. Now the team has no more excuses, it's all on the players. Fletcher's players. And if they don't perform and miss the playoffs, Chuck Fletcher may soon find he's played in his final scene in this movie.