Friday, the Minnesota Wild waived Teemu Pulkkinen. Though the Finnish forward has torn up the AHL, he has yet to show the same level of offensive prowess in the NHL. But that hasn't stopped many from wondering how the team arrived at this decision.
On the surface, the Wild are going to need to make a roster move in the near future with the pending return of center Erik Haula and the strong play of Joel Eriksson Ek. By most assessments that leaves either Pulkkinen or center Zac Dalpe as the odd-man out, even considering that Chris Stewart's strong offensive numbers (five points in eight games) mask some poor stretches of play, a 50 percent shooting percentage and the worst possession marks among team forwards.
#mnwild has placed Teemu Pulkkinen on waivers.

— Minnesota Wild (@mnwild) October 28, 2016
Despite some illusory aspects of their hot start, the Wild have more offensive strength than expected and are able to roll four lines capable of posing a scoring threat. Pulkkinen appears to fit the team's modus operandi better than Dalpe. That's in spite of Dalpe being a center and having the trademark grit that so many GMs believe essential to the composition of a fourth line in the NHL.
One of them being a center can't be the lone determining factor between Dalpe and Pulkkinen. Despite years of weakness down the middle, the Wild aren't short on centers. The roster currently contains Haula, Dalpe, Eric Staal, Mikko Koivu, and Eriksson Ek, as well as Mikael Granlund and Charlie Coyle who are both playing wing now but have regularly played center in previous seasons.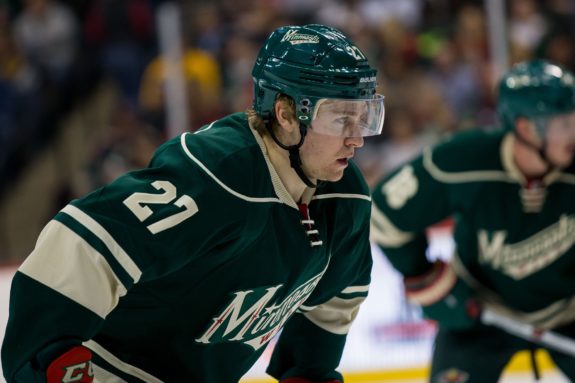 Play Right Now
Though it's a sample of only eight games, Dalpe and Pulkkinen's underlying numbers are remarkably similar. Dalpe's 1.47 CF%Rel and Pulkkinen's 1.69 CF%Rel are even arrived at in a similar manner. Dalpe has a 1.13 CF60 and a -2.04 CA60, while Pulkkinen has a 1.56 CF60 and a -2.03 CA60.
The counting numbers aren't wildly different either. Pulkkinen has tallied one goal in eight games, while Dalpe has collected a goal and two assists. Surprisingly, Pulkkinen has not been taking a ton of shots, putting up just four to Dalpe's eight. Dalpe is actually generating more individual shot attempts as well with 11.21 adjusted shot attempts per 60 minutes of even-strength play (iCF60). Pulkkinen has just 6.41 iCF60, per Corsica.
However, as seen below, over the course of their careers (both a relatively small sample), Pulkkinen is a better shot generator. That's something that the Wild have yet to see him bring to St. Paul, though historically speaking, Pulkkinen should be able to contribute more than Dalpe there in the long run.
Outside of NHL results, time spent in the American League corroborates Pulkkinen's long-term upside. Two years Pulkkinen's senior, Dalpe has put up 87 goals and 173 points in 238 AHL contests, a rate of 0.73 points per game. Meanwhile, in just 119 AHL games Pulkkinen has scored 65 goals and 121 points, a rate of 1.02 points per game.
Nonetheless, the team chose Pulkkinen for waivers even though he may not get sent down to Iowa right away if he clears. Haula is said to not be quite ready, so a move like that may be a few days down the road.
That begs the question, why now?
The Paajarvi Factor
It's possible the team is looking at bringing up a player from Iowa like Kurtis Gabriel or Christoph Bertschy, but it's also possible they're just looking for roster flexibility at an opportune moment when they see roster moves being required not too far down the road.
Boudreau on waiving Pulkkinen: "We just need that flexibility right now."

— Minnesota Wild (@mnwild) October 28, 2016
One day prior to waiving Pulkkinen, the St. Louis Blues waived Magnus Paajarvi. On Friday, he cleared. But whether or not he cleared wouldn't matter much to general manager Chuck Fletcher, who could have seen opportunity. Paajarvi and Pulkkinen's numbers over the last three seasons are comparable. Pulkkinen has a slight edge in most marks, but they're close.

If a GM values what Pulkkinen could bring to their team and obviously didn't know one day prior that Pulkkinen would hit waivers, it could be assumed that they'd jump on the opportunity to grab Paajarvi for nothing when his numbers are so similar. (Assuming some roster flexibility with Pulkkinen playing right side and Paajarvi on the left.)
Knowing that a move would be required soon might have convinced the team to take a risk and put Pulkkinen up now. Should an injury occur on another team between Friday and when the roster move will be required, it may impact interest in Pulkkinen.
That doesn't preclude the possibility of a team with little flexibility having their left side completely locked up and needing help on the right side. That could make Pulkkinen more interesting than Paajarvi to some organizations, which means there's a not insignificant risk of losing Pulkkinen even if Paajarvi is able to serve as something of a canary in the coalmine.
---
Complete Wild Coverage From THW
---
Roster Decisions
There's a certain twisted logic to waiving Pulkkinen over Dalpe in that light. Pulkkinen could stay up with the team after getting waived and be waiver exempt until the Wild need to make a move. But in the long run, exposing him is a risk. His upside is certainly higher than that of Dalpe, despite the fact that they have similar results in a limited span this season.
To some extent, the team needs to make moves in real time based on real time results. Playing Dalpe over Pulkkinen in a single game wouldn't be outrageous. Choosing Dalpe over Pulkkinen for an entire season tips the scales in the other direction and is revealing of how the organization evaluates talent. In the long run, losing Pulkkinen would be a much bigger loss to organizational depth than the loss of Dalpe, even if the loss of either doesn't portend a major tipping point in Minnesota's season.