Don't take this title so literally fans, this should be a no-brainer. Nino Niederreiter, the 22 year-old Swiss-born winger is entering his third season in Wild green, where he will look to build on his promising 24 goal season last year in Minnesota. The Chur, Switzerland native is ready to take on a larger role in 2015-16 where he should finally get his chance at a full-time, top-six spot in the lineup.
Let us backtrack. Just a few short years ago, fan-fave Cal Clutterbuck was shipped off to Long Island in return for a promising, yet unproven talent in Niederreiter. Some were saddened, and a little worrisome by the trade, questioning rather if Nino had been permanently tainted by the 4th line role that the Isles gave him. Fans saw him net the puck just twice in his 64 games played at the NHL level, before being sent down to the AHL affiliated Bridgeport Sound Tigers. Originally drafted with the 5th selection in the 2010 draft, it had initially seemed that he was a first-round bust, and rightfully so. But some first rounders aren't meant for a 4th liner's minutes in their rookie and sophomore campaigns. Enter GM Chuck Fletcher and all his wisdom.
Following the trade, Fletcher had stated that he originally would have like to draft Neiderreiter to begin with in 2010's draft, but obviously, a player such as himself would not last long. Following the news, Nino was motivated for his fresh start in Scandinavia-land, where he would make it a priority in the future to play in a top-six role.
Two years later, it has proven to be a successful transplant from New York, one that could hold many more moments like these in store, IF he is given a larger amount of ice-time going forward. So Coach Yeo, in Niederreiter's second season, of a three-year contract, give it to him.
Let me get one thing straight here, I am in no way, shape, or form, one to support just handing a player the keys to a game unless he has earned them. I mean, you wouldn't let your irresponsible teenager stay home alone while you vacation for a week right? There has to be a certain level of trust in your youth before making a potentially dangerous decision. Sure, Niederreiter has had his share of inconsistencies within his defensive game in two years with the Wild, but he's shown more in terms of what he can do around the net, and the factor he can become with or without the puck in the offensive zone. Let us dive into this notion a bit.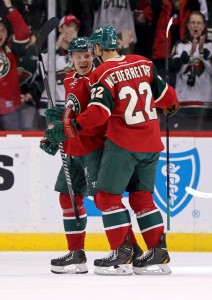 Season By Season
In his first year with the Wild, Niederreiter was primarily a bottom-six player, getting his feel for the new team and new system. Fans were excited to see what he could do on the ice, even more so when we experienced just what kind of vision he was capable of when shooting the puck. He finished the year with 14 goals and 22 assists, good for 36 points through 81 games played. Shooting the puck is what allowed him those 14 goals. Due to team injuries, he did have some time playing alongside Mikael Granlund and Jason Pominville in the top-six, in what was dubbed the "GraNinoVille" line. A very promising start for sure to begin his Minnesota tenure. It had me wondering if in 2015, we would see him as a permanent fixture opposite of Parise on the top-line.
Well, 2015 was here before we knew it, as was Thomas Vanek via free-agency. No knocks to Vanek, but him being brought in made it tougher to swallow knowing that Nino again may be apart of a bottom-six line. This was confirmed when we bared witness to Jason Zucker's breakthrough performance of his own which solidified his spot on the second line over Nino, and deservingly so. As the season rolled on, Niederreiter made the best of the lineup decisions night-in and night-out, scoring his first career penalty shot goal against Chicago here, and first career hat-trick against Buffalo there. Again, he had his chances on the second line with Zucker injured and Vanek backpedaling later in the year. Chris Stewart being brought in at the trade deadline solidified a Koivu-Nino-Stewie line, which really highlighted what Niederreiter could do around the net. In fact, when comparing Nino's goals from this year to his first in Minnesota, it was scoring goals almost entirely in and around the crease with his hand to eye coordination, compared to solely shooting the puck. (The latter being what was relied upon when he was first brought in). Now imagine his #sillyhard shot, and the net front presence he possesses, playing alongside a tenacious player like Parise.
He finished the season second on the team (only to ZP) in goals scored with 24, ahead of both Jason Pominville (18) and Thomas Vanek (21) respectively. Granted, Pommer and Vanek did provide 36 and 31 assists a piece throughout the year as well, but they were consistent members of one of the league's worst power-play units all season long receiving much more ice-time on the PP than Nino and/or Zucker, (much to the dismay of armchair coaches all over the land of 10,000 lakes). Honestly, who would have thought at the season's beginning that Jason Zucker and Nino Neiderreiter would outscore the former Buffalo duo of Pominville and Vanek (in goals)? No one.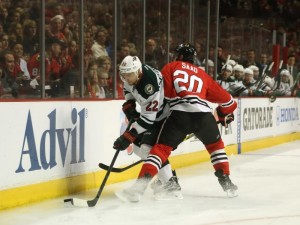 Then, there was the Playoffs. In two years with the Minnesota Wild, Niederreiter has scored 7 goals and four assists, good for 11 points in 23 career postseason games. Not huge numbers, but 7 goals in four playoff series is again, promising. Shall we compare that to the 30+ year olds Pominville and Vanek? Let's!
In Pominville's 23 playoff games with Minnesota, he has been credited with five goals and 10 assists. While Vanek, in his last two playoff runs with Montreal and Minnesota, has five goals and 9 assists, none of the goals being scored for the Wild. Yea yea, there are other contributing factors to a successful on-ice performance, after all, he is still a factor that the opposition pays close attention to while out there. But Fletcher didn't bring either of these vets into Minnesota "just to be kept a close eye on," especially in the playoffs. For the coaching staff I wonder, what was the lesson learned from the 4-0 series sweep at the hands of the Champion Hawks?
The Debate
Alli delivered a great article on some players to watch in the upcoming season for Minnesota last week. Surely, Nino Neiderreiter could be right up there as well if different lineup options are explored by Coach Mike Yeo. The guy still has more to develop sure, but he deserves more ice-time than the average he received in 2014-15. I am not saying veterans like Jason Pominville and Thomas Vanek don't deserve to be where they are, they are indeed accomplished players. I'm strictly saying that Yeo needs to begin to trust his youthful talent that was on the bench in front of him during crucial times of the season and postseason, (at least more-so than what was seen last year). And maybe, did his beloved veterans really deserve to average almost 2-4 minutes over the Swiss-winger per game? We'll leave you with this . . .
Pominville's ATOI- 18:17
Vanek's ATOI- 16:13
Niederreiter's ATOI- 14:33
The consensus for Nino? More Ice.
How about you?
What do you think? Is it time to replace some of the vets in the top-six with a younger goal-scoring core?
Tune in for Part II of this "miniseries" next time when we ask, "Minnesota's Charlie Coyle: More Ice? Or on Thin Ice?"