One of the most important decisions that a management team has to make occurs when the teams cup window opens and they have to decide when to put all their marbles in one basket and go for it. A lot of people don't realize how important salary cap management is when building a Stanley Cup contender and they just assume that once you've signed a player to a bad contract that some other team will automatically help you out and eat the salary. I'm sorry to inform you that this is most definitely not how it works. Sometimes, teams get lucky, like the Toronto Maple Leafs, and are able to exchange one bad contract for another because of the amount of revenue the team brings in and the fact that some teams don't insure all of their contracts. This was certainly a unique situation because Toronto has no problem paying Nathan Horton's salary, even though he likely won't play another NHL game, in order to get rid of David Clarkson's cap hit. Most teams aren't able to do what the Leafs did because most won't get that lucky and most don't have the ability to pay a player who is still owed a lot of money but won't suit up for their club.
In this case, we will be looking at why the time to win is now for Montreal and why Bergevin needs to make his move before the time is to late.
Salary Cap Management
What is one thing that most of the teams that contend for a Stanley Cup have in common? They generally manage the salary cap very well and utilize the contracts that they have in order to strategically plan when to make their move and go all in. When is the best time to go all in? We have to consider that the best time to go all in is when your team has young, skilled players on entry level contracts, combined with the core of your team being locked up on reasonable contracts. Lets take a look at where the Canadiens are at with the salary cap and when would be the best time to go all in with the way their current contracts are structured.
Montreal Canadiens Salary Cap Data
As you can see in this pie chart, the Canadiens currently have 91.3% of their cap space taken up. With that being said, the Canadiens still need to sign restricted free agent Alex Galchenyuk to a contract. We can make the assumption that if Galchenyuk signs a bridge deal, he will likely take up about 3.8% to 4.2% of the Canadiens cap space, and therefore approximately 95% of their cap space would be used up.
As we can see, the Canadiens core of PK Subban, Max Pacioretty and Hart-Trophy winner Carey Price currently take up 28% of the Habs salary cap. If we look at the last 2 Stanley Cup winning teams and compare how their cores stars were paid, we are able to draw some conclusions from the data. Patrick Kane, Jonathan Toews and Duncan Keith make up the Blackhawks core, and in 2015 they managed to take up 26.2% of the salary cap, well in 2014, the Kings core of Anze Kopitar, Drew Doughty and Jonathan Quick took up 30.5% of the salary cap. With this data, we need to consider the rise of the salary cap, as it is currently set at 71.4 million, but was 69 million in 2015 when the Hawks won and 64.3 million in 2014 when the Kings won.
In order to win, you need to establish a core group of players and combine that core with young players on cheap deals to go along with supporting cast members that should be interchangeable.
With this information, we are now able to make a decision from a salary cap perspective, whether or not it is appropriate for Montreal to go all in or stay on the same path they're headed on.
Should the Canadiens go all in?
In short, yes, it is time for the Canadiens to strongly consider making a run for the cup.
Here's why
Although it is not imminent that the Canadiens make upgrades to several parts of their roster, it is vital that they consider it in order to be classified in the upper echelon of the league. With Carey Price as your goalie, you're going to have a chance to win a lot of hockey games, that's just the way it is when you have the best player in the world at such a significant position. It's understandable that you need more than just a great goalie to win, but if you look at the Canadiens roster, they have more and they have the direct ability to compete now. The past two seasons, the Canadiens have finished with 110 points and 100 points, respectively. You could argue that with that much productivity, the Canadiens are already built to win now, but with the way the current NHL is formatted, they need to address some needs before they're actually considered cup contenders.
Needs
The biggest two needs the Canadiens have right now are on the offensive side of the game. They need a goal scorer, and they need a number one center. The number one center hole can potentially be addressed if the Canadiens ever give Alex Galchenyuk a shot down the middle, who put up a career high 46 points in his 3rd NHL season as a 21 year old. Galchenyuk's best assets are his superb vision and play making ability to go along with a great shot and a fantastic set of hands. If the Canadiens are committed to making Galchenyuk a center, then they have to give him a shot this season because they're currently misusing his best assets and have a glaring need for that big center. If they decide to keep Galchenyuk as a winger and they don't develop him as a center, then the Canadiens still have a big hole down the middle which they thought would disappear when they selected him third overall in 2012. If this is indeed the case, then Bergevin has a job to do in acquiring a center, because Plekanec, Desharnais, Eller and Mitchell as your four centers is not going to win you a cup. Whether this means that Plekanec could be used as a center piece of a deal to acquire that number one center, only time will tell. Of course there would would need to be a grade A prospect included with Plekanec, someone such as Scherbak comes to mind, but the idea that number one centers grow on trees just isn't valid.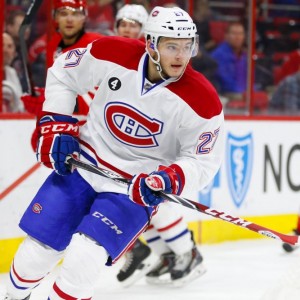 The real need that comes to mind for the Canadiens is a scoring right winger. Besides Brendan Gallagher on the right side, the Canadiens will be very starved for production. It's difficult to understand how players such as TJ Oshie and Patrick Sharp can be dealt for underwhelming returns, but yet neither of them ended up in a Habs sweater when the need for one of them is clearly there. Many reporters suggest that Bergevin is one of the most active GM's in the NHL, but some fans are starting to question why he can't make that big move that can take the Canadiens to the next level. It looks as though the plan right now is to give one of the young kids a chance to scratch and claw their way into the line up, but there is no guarantee this even happens or takes the Canadiens to the next step.
Future Contracts
Now that we have established the Canadiens two largest needs, we need to go back to the salary cap and consider why this is the Habs best opportunity to push for it all. Even if you project the salary cap to continue rising over the coming seasons, you cannot guarantee this information and thus you have to strategically plan for the future and construct your cap space with that in mind. In today's NHL it is as important as ever to put an emphasis on building your team around the salary cap and the Canadiens need to start realizing how close their cup window may be to closing if they don't play their cards right. Look at it this way, Carey Price is an unrestricted free agent in 2018-2019, while Max Pacioretty is an unrestricted free agent in 2019-2020. This leaves the Canadiens with about a 3 year window to strongly compete for the Stanley Cup. Some of you will wonder why, because surely the Canadiens won't let their core hit free agency, so I'll tell you. If Carey Price continues to improve his game as he hits his prime, he is going to warrant A LOT of cash. When he hits unrestricted free agency, Price will be at the ripe age of 30, and will likely look for a 7 or 8 year deal in the 10 to 12 million dollar range, depending of course on how the cap increases. Lets compare the contract to the one that Henrik Lundqvist just signed in 2013 as a 31 year old. Lundqvist signed a 7 year extension with the Rangers in 2013 for a total of 59.5 million and a cap hit of 8.5 million per season. Price is already a statistically better goalie than Lundqvist, but especially with the likely increases in the cap, he will receive a massive raise and cash in. Player agents are not stupid. Price's agent, Gerry Johannson is not a dumb man, and he will certainly be able to use the bargaining chip of how important Price is to the Canadiens and how without him, they're likely a bubble team in the East. If we look at the data from the 2014 season, Price arguably submitted one of the greatest seasons historically for a goalie of all time. Statistically, we can compare Dominik Haseks legendary seasons from 1997 to 1999 and get an idea of where Prices season stands historically.
| | | | | | | | | | | | | |
| --- | --- | --- | --- | --- | --- | --- | --- | --- | --- | --- | --- | --- |
| Goalie Statistic | GP | W | L | OT | GA | SA | SV | SV% | GAA | SO | MIN | PIM |
| Carey Price (2014-2015) | 66 | 44 | 16 | 6 | 130 | 1953 | 1823 | .933 | 1.96 | 9 | 3977 | 4 |
| Dominik Hasek (1997-1998) | 72 | 33 | 23 | 13 | 147 | 2149 | 2002 | .932 | 2.09 | 13 | 4220 | / |
| Dominik Hasek (1998-1999) | 64 | 30 | 18 | 14 | 119 | 1877 | 1758 | .937 | 1.87 | 9 | 3817 | / |
If we consider these numbers, we can come to the conclusion of how historically great Price's season was and how these stats will help make him a very rich man once his contract expires. Now you might raise the question as to why I'm bringing up Price's statistics and what this has to do with the future of the Canadiens. Well for starters, when Price gets his raise, he will be taking up a lot of cap space, and even if he is going to be the best goalie in the league during his contract, it's still ultimately a tough pill to swallow when you have other holes on your roster that you need to be filled.It will be hard to do that with one player making that sum of money, especially with Subban already making his 9 million and Pacioretty almost certainly getting a massive raise as well. Look at how the Blackhawks are cap strung now with Kane and Toews new deals kicking in. Stan Bowman is flustered and had to make some moves that he certainly didn't want to because of the contracts that Kane and Toews warranted. Certainly you have to pay your players when they perform and you're definitely not going to let Toews and Kane walk, but it does make it more difficult to form a contending team when a few players are taking up such large salaries.
The Time is Now Marc
With all the information above, I think that it is pretty evident that the Canadiens have a window of opportunity to win now with the way their contracts are structured. With Price and Pacioretty on fantastic deals, and young inexpensive potential stars like Galchenyuk and Beaulieu on your roster, it only makes the most sense for Bergevin to make his run before it's too late. We ultimately have to bring up the question, is Marc scared to make the big move, or will he land Montreal the needed pieces and try to bring the Stanley Cup back home where it belongs.