General Manager Marc Bergevin has locked up another one of his restricted free agents this offseason with the re-signing of defenceman Jarred Tinordi to a one-year, two-way deal.  Tinordi, a former first round draft pick by the Canadiens in 2010, is at the point of his young career where he must show management that he's ready to be the type of player that they had envisioned when they selected him 22nd overall – something he's had trouble doing on a consistent basis despite being given plenty of opportunities over the last few seasons.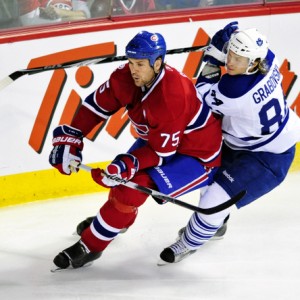 Tinordi has earned a spot on the roster out of training camp in both of the last two seasons – and has shown flashes in both years, at times playing upwards of a respectable 15 minutes per game.  However, it's his consistency that is lacking, as he can go from looking dominant to invisible over the course of a single game.
The Canadiens drafted Tinordi with hopes that he would be the type of defenseman that could patrol their blueline for many years and use his 6-foot-6 frame to shutdown the opposition's top players.  Remember, the franchise selected Tinordi when they had 6-foot-7 Hal Gill in their organization, and Tinordi seemed like the perfect fit to replace the aging defensive defenseman.  Well, Gill has of course moved on, and the Canadiens have tried to fill the void of a strong defensive minded rearguard with guys like Mike Weaver and Francis Bouillon who both seemed to be stop-gap type players until Tinordi is deemed ready.  Of course, it is well-known that defensemen take longer to develop than say, a forward, but entering his fourth season of professional hockey – and with the depth of defensemen the Canadiens now have – this may be Tinordi's last chance with the organization.
Injuries haven't helped
Tinordi hasn't made it easy on himself with untimely injuries forcing him to miss time which meant he couldn't get called up to the big club.  The problem, is that some of these injuries could have been prevented.  This was no more evident than last season when he took a lot of flack for getting into a fight in a game against the Utica Comets in the AHL that knocked him out and left him with head and facial injuries.  Many people questioned why Tinordi would even put himself in that position, but it's hard to fault a player who seems to be doing everything he can to punch his ticket to the NHL – even if that means throwing his weight around and getting into a few more fights.
Uphill battle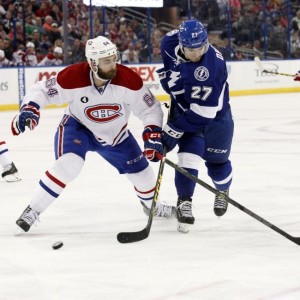 For Tinordi to really make an impact this season and prove to management that he is an NHL-calibre player, he will have to do so as more that just a seventh defenseman.  With Andrei Markov, P.K. Subban, Jeff Petry and Alexei Emelin locked in as the team's top-four D-men, Tinordi will have an uphill battle ahead of him as he will have to outseat veteran Tom Gilbert and recent free agent signee Mark Barberio.  Nathan Beaulieu should only improve in his second full season with the Canadiens, and the organization remains high on Greg Pateryn who just signed a two-year contract extension this offseason.  That's a lot of competition for Tinordi, especially for a guy who doesn't possess the same offensive upside as some of those with whom he'll be battling.
There's no question that Tinordi still has lots of potential to be the type of player that management wants him to be.  Time is running out, however, and whether or not he can show it on a consistent basis, is all up to him.