The 2014-15 was, to say the least, an exciting season for the Minnesota Wild.
Throughout the course of the turbulent season,numerous players took on new roles, stepped up, or caught our eye. Some of those players are likely to dazzle us again in the upcoming season. While it's impossible to predict with certainty which players will be the most exciting to watch, it is possible to know which players you should probably keep an eye on.
Here are three Minnesota Wild that are likely to make some noise in 2015-16:
1. Devan Dubnyk
Devan Dubnyk has been a big name in hockey lately.
The Masterton Trophy-winning goaltender is officially a member of the Minnesota Wild for the next six years, and he is most definitely going to be a player to watch.
Before January 2015, Dubnyk's name was rarely mentioned; now he's on everyone's radar. The29-year-old had a phenomenal five months last season for the Wild, saving their season and pushing his team into the playoffs. He went from a backup to a superstar in weeks, and Minnesota clearly felt Dubnyk did enough to deserve a permanent place on the team.
While Dubnyk did have a stellar couple of months toward the end of last season, that doesn't erase his past. He's never put up incredible numbers before this year, and he's had a tendency of being inconsistent.
This turbulent play has left many wondering if a six-year deal is too generous considering Dubnyk's past play. On one hand, this season could've been a fluke. On the other, things might just have finally clicked for Dubnyk. If the latter is true, the Minnesota Wild is going to be a very exciting team to watch this season.
It won't be clear which of those two scenarios is true for a while, but either way, Dubnyk is a player you're going to want to keep an eye on.
2. Zach Parise
This Minnesota native is always exciting to watch, no matter what. During the 2014-15 season however, Parise took on a new role with Minnesota, and became a leader and a powerhouse on the ice.
With the Wild lacking solid leadership at the beginning of the season, Parise stepped up and showed what it means to play with 110 percent every game. This guy did everything. He scored when the Wild needed a goal; he played physically when they needed a little more grit. It seems as if there's nothing Parise can't do.
Number 11 ended the season as the team's leading goal-scorer with 33 goals, making him just one of four previous 30-plus goal-scorers in the Wild's fifteen-year history.
After playing the way he did last year, there's very little chance Parise doesn't have another outstanding season. Plus, even if he doesn't score 30 goals again, he'll still be exciting to watch.
3. Mikael Granlund
Drafted ninth overall back in 2010, Mikael Granlund was supposed to be a puck wizard for the Minnesota Wild. The 23-year-old Finn hasn't quite lived up to that yet.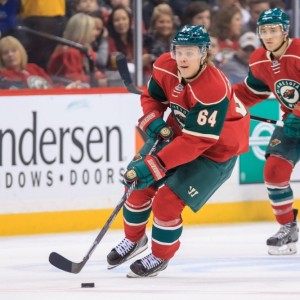 Granlund seems to have had a tough time adjusting to the NHL, having only scored eight goals in each of the two full seasons he's spent with the Wild. However, his superstar potential was enough for GM Chuck Fletcher to sign Granlund to a two-year extension just a few weeks ago. This deal is Granlund's last chance to prove he has what it takes.
This kid has some serious talent, there's no doubt about that. The only question is whether he can produce while in a Wild sweater. Granlund has two more years to prove to Fletcher and the rest of the organization that he's deserving of a long-term deal. With that in mind, Granlund has to be pretty determined to have a big season, either this year or the next. That means he's going to have to step up his game and start scoring some more of those unbelievable goals, which definitely makes him a player to watch.
Overall, the Minnesota Wild have a lot of talent on the roster heading into the 2015-16 season. Who do you think will be three players to watch?