Wednesday night, the Professional  Hockey Writers' Association awarded the Bill Masterton Memorial Trophy to Minnesota Wild goaltender Devan Dubnyk. The trophy is awarded for perseverance, sportsmanship and dedication to hockey.
Devan Dubnyk wins the Masterton Trophy. 2nd #mnwild player in 3 years to win the award (Josh Harding).

— Michael Russo (@RussoHockey) June 25, 2015
In most cases, winning an award at the NHL Awards is a good thing, but in Dubnyk's case, it's a bit trickier. The award is of course a terrific achievement for Dubnyk. The former Edmonton Oiler has struggled to find success for the better part of his career, but finally did so with the Wild during the 2014-15 season.
After posting a 1.78 goals-against average, .936 save percentage and 27-9-2 record for the season, Dubnyk was nominated for the Vezina and Masterton Trophies, and received 410 votes for the Hart Trophy, putting him in fourth place. While this is a huge accomplishment for the 29-year-old, who has been with five different organizations within the past two years, the awards and nominations come at an inconvenient time for the Minnesota Wild.
Negotiating with the master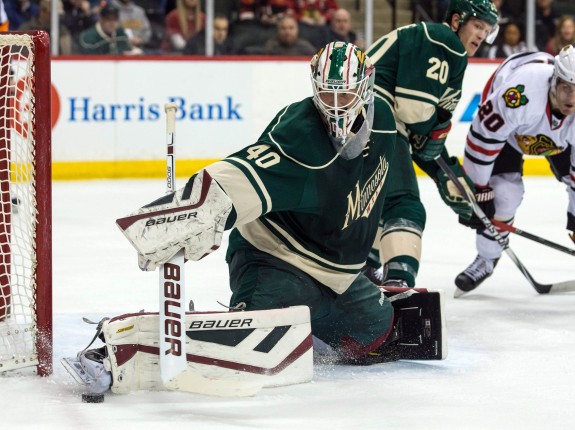 Dubnyk is currently a free agent, and Minnesota is currently in desperate need of a solid netminder. The two make a perfect pair, as demonstrated during this past season. Dubnyk has made it apparent he'd like to stay in a Wild sweater, and Wild GM Chuck Fletcher has made it clear this is his wish, as well. However, the two parties have yet to reach a deal after multiple weeks of negotiations.
Devan Dubnyk will be a free agent on July 1, but the Wild may not be able to reach a deal with the goaltender before then. (Marilyn Indahl-USA TODAY Sports)
Dubnyk is set to explore free agency as of July 1. As mentioned above, Dubnyk has publicly stated he wants to stay in Minnesota, but he's not closing any doors just yet. This is dangerous for the Wild, a team that's never had it easy when it comes to goaltending.
Dubnyk was the Wild's savior for the last five months of the season, but does that give him the right to ask for a contract greater than $5 million a year? Dubnyk thinks it does, Fletcher does not. That's where the problem starts.
"Apparently Dubnyk is looking for more than $5 million on a long-term deal. Minnesota wants to hit the $4 million spot for the goaltender who only a year ago lost out to Carter Hutton in Nashville for the team's backup job." – Josh Cooper, Puck Daddy
After his Masterton win Wednesday night at the NHL Awards, Dubnyk has even more leverage than he did before. Now he's an award-winning goaltender with stellar numbers, plus the Wild are in serious need of a goaltender.
Darcy Kuemper just doesn't seem to have what it takes to be this team's starter, and Niklas Backstrom is most likely going to be bought out, traded, or some other option that will keep him off the ice in Minnesota. Fletcher doesn't have much to work with. Not to mention, usually the longer these contract talks drag on, the harder reaching a deal becomes.
Fluke or fact
The question now isn't whether the Minnesota Wild should lock Dubnyk up. It's whether the goaltender is truly deserving of a long-term contract greater than $5 million yearly.
Dubnyk was amazing for Minnesota this season, but at the end of the day, he played half a season for the Wild outstandingly, while the rest of his career has been mediocre at best. I believe Dubnyk is a much better, more experienced and talented goaltender now than he was a year ago, but every season is not going to be like this past one.
Unfortunately for Fletcher, Dubnyk still has the upper hand in this situation. He may not have this great of a season ever year, but coming off the 2014-15 season and now a Masterton Trophy win, Dubnyk holds all the cards.
Alli covers the Minnesota Wild and has been a contributing writer with THW since August 2014. She is currently a journalism and sports management student at the University of Minnesota. For all of your Minnesota Wild news and updates, follow her on twitter: @allibaker23