Wednesday morning was the first day of free agency, and the Minnesota Wild didn't waste any time making noise.
The Wild announced early on Wednesday that they had reached a deal with centerman Mikael Granlund. The 23-year-old Finn agreed to a 2-year bridge contract worth $6 million. Granlund is a big piece of Minnesota's youthful core, and it's great that Fletcher found a way to keep him around for a few more seasons. Granlund has huge potential, and he's shown many times he has the ability to be a big-time goal scorer in the NHL. However, Granlund has a lot to prove over these next two years.
Stepping up
As I mentioned above, Granlund has demonstrated multiple times that he has serious puck-handling skills. Does anyone recall his unreal lacrosse-style goal at the IIHF World Championship in 2011?
Or his overtime game-winner in the 2014 playoffs against the Colorado Avalanche?
It's pretty obvious Granlund has skill. The only question is where did it disappear to?
Granlund showed much more success when playing back home in Finnish leagues, but seems to have experienced some difficulty adapting to a North American style of play. Since joining the Wild, Granlund has yet to score more than eight goals in a season. That's awfully surprising considering he once scored 20 goals in 11 games.
Obviously playing on a U16 team is hugely different from playing in the NHL, but Granlund has the skill. He is also surrounded by teammates pushing him to succeed. This past season, Granlund played alongside Zach Parise and Jason Pominville, forming one of the top lines for the Wild. Granlund ended the season with 31 assists – a good indicator that he did all the passing and Parise did all the scoring.
Granlund has the skill set to become a superstar for the Minnesota Wild. Over these next two years, he needs to focus on shooting the puck, and proving he can be the goal scorer he seemed to be when Minnesota drafted him back in 2010.
"'It's pretty clear Mikael has a large, important position on the team. His skating took another level, his faceoffs took another level and he's focusing his summer work on contributing more in the goal scoring department and not being just John Stockton (a passer) out there.'" – Todd Diamond on Mikael Granlund (via Michael Russo)
Fixing face-offs
Being a center means taking a lot of face-offs. Being your team's top-line center means learning how to win a majority of those face-offs. Granlund hasn't quite gotten to that point yet.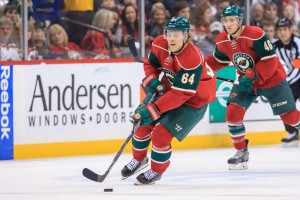 While he is statistically the second-best in face-offs on the team, that's not saying much. Face-offs have been an obstacle for the Wild for some time now. Mikko Koivu is the only player on the team with a face-off win percentage over 50 percent. Koivu had a 55.2 FO% in the 2014-15 season, while Granlund finished with 48.4%. That's a 4.2% drop from the 2013-14 season.
Granlund's FO% decreased even further when playing beside Parise and Pominville to 44.7%.
Winning face-offs can be the difference between winning a game or losing it. The Wild struggled with this problem throughout all of last season, and it cost them multiple times. Granlund has the ability to provide an answer for Minnesota in this department, while also showing he deserves more than a two-year deal.
Granlund absolutely must have an explosive season, either this year or next. He has all the talent; now it's time to show it.
What do you think: was signing Granlund the right move for Minnesota?