The Minnesota Wild have re-signed center Mikael Granlund to a two-year bridge contract with an AAV of $3 million, according to the team.
BREAKING: #mnwild has re-signed Mikael Granlund to a two-year contract → http://t.co/V39c9X4SlZ #NHLfi pic.twitter.com/AnDKHB5jVI

— Minnesota Wild (@mnwild) July 1, 2015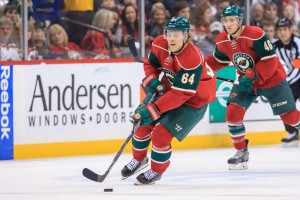 Granlund was the Wild's top line center last year, with Zach Parise and Jason Pominville on the wings. He was the 9th overall pick in the 2010 draft and has been key to the team's development, but only put in eight goals last year to go along with an impressive 31 assists through 68 games.
While his goal scoring touch didn't explode last year — it was the second year in a row he scored eight goals — his two-way game improved. He jumped from a score adjusted CF%Rel of -8.8% in his rookie year to -1.2% in his sophomore campaign (his first full season) to a 1.9% last year. No doubt aided in part by being on the top line consistently, but he continues to improve and will likely be the team's top line center again this coming year.
The bridge deal works well for both parties, as Granlund is still looking to explode one year and get his pay day. Term wouldn't make sense for him at this stage of his career. He will still be a restricted free agent when the two-year deal expires.
Dustin Nelson writes about news and the Minnesota Wild for The Hockey Writers.