The Toronto Maple Leafs could have a team interested in Tyler Bozak. This means, things have changed since this tweet was sent out a couple of days ago.
https://twitter.com/iancmclaren/status/614999378823127040
TSN's Darren Dreger mentioned on TSN 1050 and on Twitter that the Arizona Coyotes are interested in Bozak.
Mentioned this on TSN 1050. Coyotes remain interested in Tyler Bozak.

— Darren Dreger (@DarrenDreger) July 1, 2015
A deal between the two teams certainly make sense.
After trading Sam Gagner, the Coyotes could use a center to replace him after sending him to Philadelphia. Bozak's $4.2 million cap hit definitely wouldn't be an issue as Arizona needs to add salary so bad that they acquired the contract of Chris Pronger. Taking on Bozak would be useful for them both on the ice and on their contract list.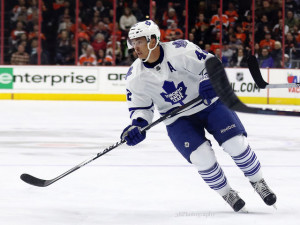 For the Leafs, the only thing about a return out there is that they want a second-round pick in return. Now, that was before the draft, so that might have changed. However, if it hasn't, the Coyotes have gathered up quite the prospect depth that they could probably give up a second-rounder without worrying too much about it.
Of course, both teams are rebuilding and each team wants to get themselves in the best position to take the best players in next year's draft. Although Arizona has the young players that might have them contending sooner than the Leafs, they're still a few years away. Bozak could give them a pretty good No. 2 center, but he's not going light the world on fire. He hasn't donethat for the Leafs, he won't do it for the Coyotes.
Is this a deal that happens sooner rather than later? Who know? All we know is that Leafs fans would certainly like to see someone be traded in the near future.
Follow all of Wednesday's free agent signings with The Hockey Writers' Free Agent Tracker.
[RELATED: Potential Bozak Destinations]
[catlist categorypage="yes" numberposts=3 excludeposts=this]