Hidden behind the big names of Phil Kessel and Dion Phaneuf lies Tyler Bozak.
While Bozak isn't as big a name as either of the other two, there just as big a chance, if not more, that Bozak will be traded. He has a smaller cap hit ($4.2 million) than either of them and his contract only has three years left on opposed to six or seven. The fact that he's a center also helps his cause.
Bozak gets a lot of grief from Toronto for not being a "true" No. 1 center. It's been said that he would be a good second or third-line center, just not a first-liner. However, his chemistry with Kessel has kept him on the top line most of the time. With Kessel on his way out for sure, that chemistry will disappear.
There are plenty of teams that could use a center like Bozak. He's relatively cheap by today's NHL standards and could fit as a second or third-line center on a team much better than Toronto will be in the coming years.
Let's take a look at four of those teams.
Anaheim Ducks
Ryan Getzlaf and Ryan Kesler form one of the NHL's best one-two punches down the middle. Bozak would fit just fine behind them. There's also the case that Kesler only has one year remaining on his contract. If they are unable to come to terms with him on a new contract, Bozak could easily step in to the spot. With the contracts coming off the books, the Ducks should have no problem taking on Bozak's cap hit.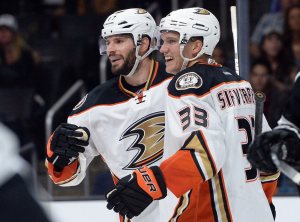 As for a return, it's a good guess that the Leafs would at least ask for the 27th overall pick in this year's draft. However, since Anaheim rarely trades picks, the Leafs would ask for one of the Ducks top prospects. Names like Nick Ritchie, Nicolas Kerdiles, Stefan Noesen or Shea Theodore would be sure to come up.
Arizona Coyotes
With all the problems going on around the Coyotes, don't be surprised if their five unrestricted free agents decide to look elsewhere for work. That would be unfortunate, as the Coyotes need to spend almost $19 million just to get to the proposed new salary cap of $71 million. Taking on Bozak's contract wouldn't be a problem for sure in Arizona, it would be considered a blessing. With the Coyotes, he actually has a chance to be higher in the lineup and could actually be a first-line center.
Again, the Leafs would probably ask for a first-round pick. Since the Coyotes own the Blackhawks' pick at 30th overall and have four more picks combined in the second and third rounds, it wouldn't be a bad idea. With the prospect core that Arizona is building, it's doubtful they want to give up anyone of them.
Colorado Avalanche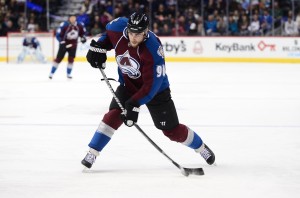 Bozak get's connected to the Avalanche a lot because he went to the University of Denver before signing with the Leafs. Now this deal would be different than any other on this list. The ongoing saga of "Will they or won't they?" in the case of trading Ryan O'Reilly continues. Even with the Leafs rebuilding, bringing in the 24-year old O'Rielly would give the Leafs their top center for when they're ready to compete again.
It could be a one-for-one deal, but it would not be surprising if the Avalanche wanted more. The Leafs could throw one of their defensive prospects in the deal in that case. That's one position of strength in the Leafs depth chart.
Nashville Predators
Mike Fisher, Matt Cullen, Mike Santorelli and Mike Ribeiro are all unrestricted free agents. Fisher is the only one that is pretty much assured to be back with the team. Bozak could take Ribeiro's spot in the lineup if he were acquired. With Nashville once again failing to make a dent in the playoffs, you have to know changes are coming.
This is a trade where the Leafs could take back a bad contract to get a better return. That bad contract would probably belong to Viktor Stalberg, who hasn't exactly earned his $3 million contract. The Leafs could ask for a player such as Ryan Ellis.
Toronto Maple Leafs Writer At The Hockey Writers.