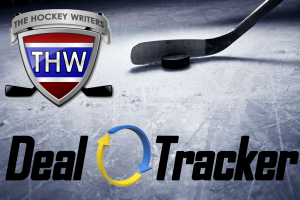 One of the most exciting times of the year is finally here as NHL Free Agency gets into full swing. Numerous players will be negotiating with teams, with many of them signing deals with brand new teams.
Of course, this time of year always means rumors will run amuck with most of them being too fartfetched to even come close to legitimate. Luckily, that's where The Hockey Writers comes in.
From trades to signings to, yes, even reputable rumors, this handy tracker will have everything that goes down during the start of NHL Free Agency. For a look at that status of the league's top unrestricted free agents, you can check out our updated Top 25 available free agents list.
*The tracker will be updated as information comes into the newsroom. Refresh the page for latest updates*
THW NHL Free Agent Tracker
SIGNING

G Jake Allen (2 years. $4.7 million)
SIGNING

F Andrew Desjardins (2 years, $1.6 million)
SIGNING

G Jason LaBarbera (1 year)
TRADE

RW Troy Brouwer
G Phoenix Copley
2016 third-round pick
RW TJ Oshie
SIGNING

Mark Arcobello (1 year, $1.1 million)
SIGNING

Mark Barberio (1 year, $600,000)
SIGNING

Max Reinhart (1 year, $575,000)
SIGNING

Shawn Horcoff (1 year, $1.75 million)
RUMOR

Montreal talking to Chicago about Patrick Sharp
RUMOR

Kevin Shattenkirk will not be traded via TSN
RUMOR

Ryan O'Reilly's extension to be in the range of 7 years, $52.5-$59.5 million
SIGNING

RW Justin Williams (2 years, $6.5 million)
SIGNING

F Antoine Vermette (2 years, $7.5 million)
TRADE

F Jimmy Hayes
F Reilly Smith
Marc Savard
SIGNING

F Gregory Campbell (2 years, $3 million)
SIGNING

C Daniel Winnik (2 years, $4.5 million)
SIGNING

F Matt Beleskey (5 years, $19 million)
TRADE

Conditional fourth-round pick
F Max Reinhart
SIGNING

Ryan Spooner (2 year, $1.9 million)
SIGNING

C Brad Richards (1 year, $3 million)
SIGNING

D Mike Green (3 years, $18 million)
SIGNING

D Raphael Diaz (1 year, $700,000)
SIGNING

F Viktor Stalberg (1 year, $1.1 million)
SIGNING

Zack Stortini (2 years)
SIGNING

D John Moore (3 years, $4.8 million)
SIGNING

D Matt Donovan (1 year)
SIGNING

F Jason Akeson (1  year)
SIGNING

C Cody Hodgson (1 year, $1 million)
TRADE

F Zack Kassian
2016 fifth-round pick
Brandon Prust
SIGNING

RW Eric Condra (3 years, $3.75 million)
SIGNING

F Alexander Burmistrov  (2 years, $3.1 million)
SIGNING

G Jhonas Enroth (1 year, $1.25 million)
SIGNING

D Zybnek Michalek (2 years, $6.4 million)
SIGNING

D Barrett Jackman (2 years, $4 million)
SIGNING

G Anders Lindback (1 year, $875,000)
SIGNING

F Mark Letestu (3 years, $5.4 million)
SIGNING

F Michael Frolik (5 years, $21.5 million)
TRADE

Kasperi Kapanen
Scott Harrington
Nick Spaling
2016 first-round pick
2016 third-round pick
Leafs retain $1.25M/yr
F Phil Kessel
Tim Erixson
Tyler Biggs
2016 second-round pick
SIGNING

F Brad Richardson (3 years)
SIGNING

P.A. Parenteau (1 year, $1.5 million)
SIGNING

F Steve Downie (1 year, $1.75 million)
RUMOR
F Michael Frolik close to long-term deal
SIGNING

G Michal Neuvirth (2 years, $3.25 million)
SIGNING

F Blake Comeau (3 years)
SIGNING

D Paul Martin (4 years, $19.4 million)
SIGNING

D Andrej Sekera (6 years, $33 million)
RUMOR

Arizona interested in acquiring Toronto's Tyler Bozak
SIGNING

D Francois Beauchemin (3 years, $13.5 million)
SIGNING

G Thomas Greiss (2 years, $3 million)
SIGNING

D Matt Hunwick (2 years, $2.4 million)
SIGNING

D Mike Reilly (2 years)/F Mikael Gralund (2 years, $6 million)
SIGNING

D Yannick Weber (1 year, $1.5 million)
SIGNING

Patrick Eaves (1 year, $1.15 million)
RUMOR

Penguins could be working on deal for Toronto's Phil Kessel via SN
RUMOR

Flyers heavy on G Michal Neuvirth via ESPN
RUMOR

Sharks could be out on D Paul Martin via TSN
SIGNING

C Mike Ribeiro (2 years, $7 million)
SIGNING

G Karri Ramo (1 year, $3.8 million)
RUMOR

C Ryan O'Reilly could sign his extension as early as today.
RUMOR

D Francois Beauchemin will sign with Montreal via RDS
RUMOR

RW Matt Beleskey — 6-8 teams interested/5-7 year contract expected via TSN
SIGNING

C Artem Anisimov (5 years, $22.75 million)
SIGNING

D Kevin Bieksa (2 years, $8 million)
RUMOR
C Mike Ribeiro — TVA reports contract extension is "imminent"
SIGNING

G Martin Jones (3 years, $9 million)
TRADE

F Lauri Korpikoski
C Boyd Gordon
TRADE

D Kevin Bieksa
2016 2nd-round pick
TRADE

LW Brandon Saad
C Alex Broadhurst
D Michael Paliotta
C Marko Dano
C Artem Anisimov
RW Corey Tropp
LW Jeremy Morin
2016 4th-round pick
SIGNING

D Brenden Dillion (5 years, $16.35 million)
SIGNING

D Brendan Smith (2 years, $5.5 million)
SIGNING

C Ryan White (1 year, $800,000)
SIGNING

C Anders Lee (4 years, $15 million)
SIGNING

RW Drew Stafford (2 years, $8.7 million)
SIGNING

D Dougie Hamilton (6 years, $34.5 million)
TRADE

G Martin Jones
F Sean Kuraly
2016 1st-round pick