The 2015 Stanley Cup Champions have cap issues. It's been no secret that they have to make some moves beyond letting some UFAs walk in free agency. Rumors have made the rounds that they've shopped both Patrick Sharp and Brian Bickell.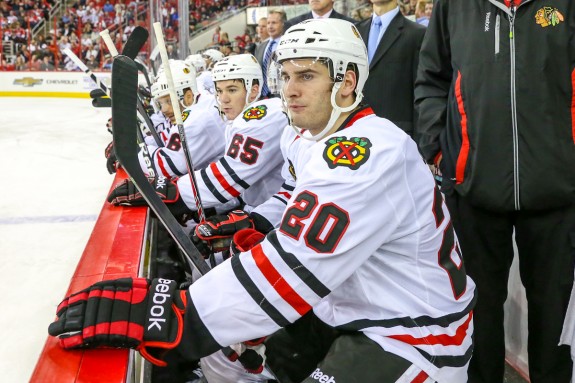 What was a given, was that they would try to sign pending RFA forward Brandon Saad, who had an incredible playoff run leading up to the championship. But on Tuesday, Elliotte Friedman reported that there were serious talks between Chicago and the Columbus Blue Jackets to send Saad to Columbus.
Chicago and Columbus are working in a trade involving Brandon Saad. More to come.

— Elliotte Friedman (@FriedgeHNIC) June 30, 2015
According to Bob McKenzie, this is a done deal.
Brandon Saad traded to CBJ.

— Bob McKenzie (@TSNBobMcKenzie) June 30, 2015
Chris Johnston first reported that the Blue Jackets will be sending center Artem Anisimov and Marko Dano (which McKenzie has also confirmed later).
The looming specter of offer sheets and the revelation on Tuesday that Saad and Chicago were further apart in negotiations than previously thought — he's reported to have asked for $6 million over six years — surely forced GM Stan Bowman to make a move before July 1 free agency opened on Wednesday.
According to McKenzie, the multi-player deal sends Saad, Alex Broadhurst, and defenseman Michael Paliotta to Columbus, while coming into Chicago will be Anisimov, Dano, Corey Tropp, Jeremy Morin, and a 4th round pick in the 2016 NHL draft. No salary will be retained in the deal, according to Pierre LeBrun.
Morin, Tropp, Anisimov and Dano and 4th in 2016 for Saad, Paliotta and Alex Broadhurst. CBJ-CHI deal.

— Bob McKenzie (@TSNBobMcKenzie) June 30, 2015
This deal may mean that Patrick Sharp hasn't seen his last days as a Blackhawk. However, Chicago may still need to clear more cap space. Big deals for their top players, including Bickell's $4 million cap hit in the next two years and $6 million for Corey Crawford until the end of time, make Chicago's cap situation incredibly difficult. General Fanager estimates that the Blackhawks only have $1,421,540 in cap space available after the trade.
While the trade doesn't get Chicago out of the woods entirely, it does mean that they don't have a major contract they need to make space for immediately, with only Marcus Kruger being a high-priority RFA at the moment.
UPDATE:
The trade has been confirmed.