On Monday night, the San Jose Sharks locked up defenseman Brenden Dillon to a five-year contract, according to ESPN's Katie Strang.
Brenden Dillon has agreed to terms on a five-year contract extension with the San Jose Sharks, agent Jarrett Bousquet confirms

— Katie Strang (@KatieStrangESPN) June 30, 2015
CSN Bay Area's Kevin Kurz added that the deal carries an AAV of $3.27 million, after the inclusion of a $500K signing bonus. The deal does not carry a no trade clause.
Breakdown of Dillon's salary: $1.9 in 2015-16; $2.75 in 2016-17; $3.4 in 2017-18; $3.9 in 2018-19 and 2019-20 #SJSharks

— Kevin Kurz (@KKurzCSN) June 30, 2015
The 24-year-old was acquired by the Sharks back in a November trade that sent Jason Demers and a 2016 3rd round pick to the Dallas Stars.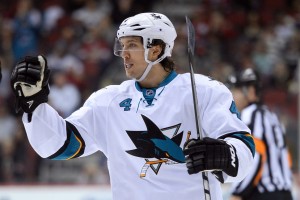 Dillon was coming off his second full NHL season at the time and had scored six goals and 11 assists with Dallas, as well as posting two years of score-adjusted positive relative Corsi, 3.5% and 0.5% in 2012-13 and 2013-14 respectively.
He was able to get a one-year deal in place with the Stars for $1.25 million, but it appeared that the negotiations were contentious, with the negotiation dragging on through the summer and resulting in just a one-year deal that had them shipping him out less than two months into the year.
Last season the offensive production dropped off a bit, with Dillon moving from a 0.6 P/60 to a 0.3, but part of that may have been his incredibly low 1.2% shooting percentage at even strength. Nonetheless, he continued to contribute defensively, posting a score-adjusted 1.3% CF%Rel. Importantly, his shot suppression numbers continued to improve, down to 27.9 shots against per 60 minutes of even strength play from 28.4 the year before.
All of that translates into the team taking more shots and shot attempts while Dillon is on the ice than off, even if his Goals For percentage (GF%) was an ugly -11% relative. (The ratio of goals for to against was worse while he was on the ice than when his teammates were on the ice without him.) That ugly number floats back, in part, to a rough 96.6 PDO.
Even with a bad GF%, it's easy to understand why the Sharks want him long-term. He's still developing and showing positive signs. His offensive game should rebound some and his defensive game continues to improve year-over-year.
Dillon is a consistent top 4 defenseman in the making and the Sharks have locked him up through his prime years.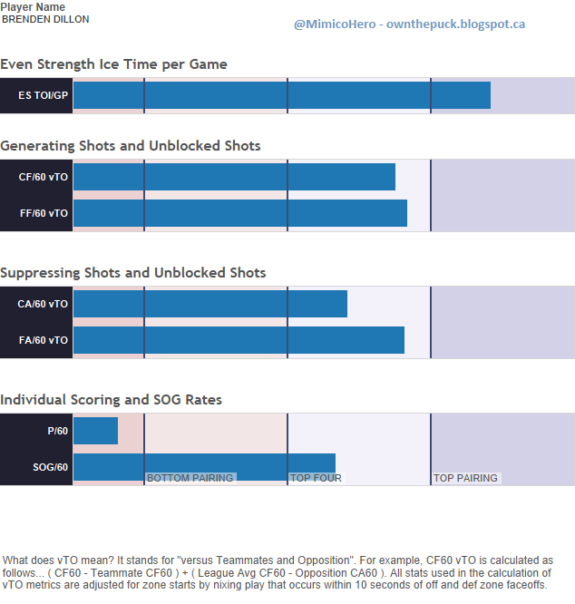 RELATED: 5 Free Agent Defensemen the Sharks Should Target
[catlist categorypage="yes" numberposts=3 excludeposts=this]
Dustin Nelson writes about news and the Minnesota Wild for The Hockey Writers.